'The Real World' at 25: How 3 Fan Favorites Are Nailing the Actual Real World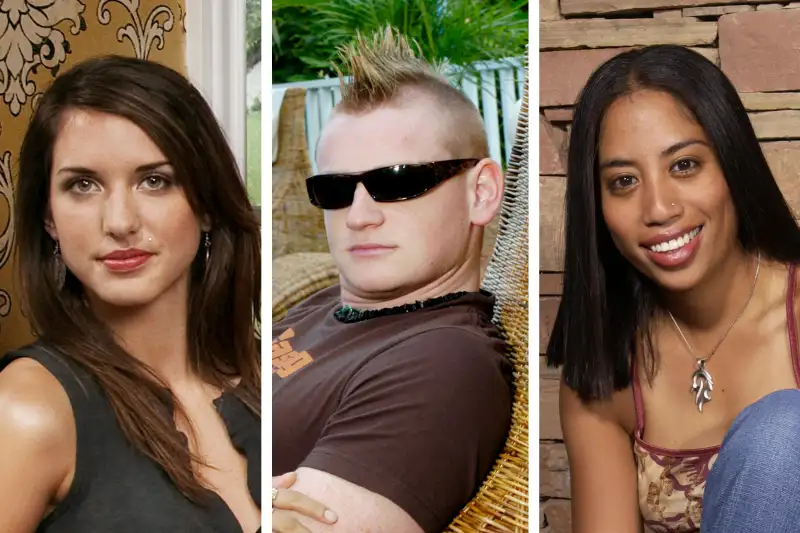 In 2005, Wes Bergmann moved into a two-story warehouse in downtown Austin, Texas for the 16th season of MTV's The Real World.
For 24 episodes, Bergmann and his six roommates--Danny, Johanna, Lacey, Melinda, Nehemiah, and Rachel--slammed tequila shots, started bar fights, and succumbed to the hot tub siren song familiar to any casual fan of the network's longest-running program. Bergmann, just 19 at the time, did all three in spades.
A year later, he reprised his role on The Challenge, an absurdly watchable spinoff that throws MTV reality TV alumni into an obstacle course-driven gameshow that looks something like American Ninja Warrior meets Keeping up With the Kardashian's (lot of dangling rope, lots of ugly crying). Filmed in a rotating backdrop of exotic locations, Real World cast members have a seemingly open invitation to compete for cash prizes that often top $100,000.
If you're one of the 1.6 million people who tuned into 2013's Challenge, you'll no doubt remember the episode where Bergmann squabbles with Johnny "Bananas" Devenanzio--a Real World: Key West (2006) cast member Bergmann calls his "nemesis"-- over something that isn't quite clear (who has a louder voice? How close they can get without touching noses?). Between a string of expletives, Bergmann unleashes a doozy of a brag. "I have a BMW, a Porsche, a monster truck, a house and 30 companies," he says.
As embarrassed as Bergmann is by the comment today, he wasn't bluffing.
Off camera, Bergmann has used the prize money he's made from The Challenge and other MTV appearances to lay the foundations of a mini business empire. A lead investor of BetaBlox, a five-year-old Kansas City-based startup incubator, Bergmann and his partners consult, mentor, and market entrepreneurs in exchange for a 5% stake in their business. By the end of 2017, Bergmann says he'll have a share in more than 200 companies.
What's going on here? Reality TV stars aren't supposed to have fulfilling lives outside the microcosm of our screens -- and they're certainly not supposed to have lucrative careers.
But for Bergmann and a handful of other Real World-ers, reality tv stardom was a springboard to something more meaningful. Their post-production accomplishments are a lesson in career reinvention -- and how to separate yourself from a reputation that precedes you.
***
The first episode of The Real World premiered 25 years ago, on May 21, 1992. Today, the show still rambles on.
In recent seasons, MTV has introduced a range of stunts to entice millennial viewers: Real World Seattle: Bad Blood, the latest iteration, featured pairs of cast members who are feuding in real life. But its underlying theme, to let anyone with a cable package tune into a group of ordinary young people doing ordinary, young people things, hasn't really changed.
Normal people react to the specter of celebrity differently, so the career path of a Real World star isn't clear-cut. Some drag out their 15 minutes as long as possible, with help from The Challenge and the occasional party appearance, where they can charge thousands of dollars just for showing up. Others fade into relative obscurity.
Ruthie Alcaide, one of the most popular cast members from one of the most popular seasons in Real World history, falls somewhere in the middle.
Alcaide made her mark on the very first episode of The Real World: Hawaii (1999), where she binge drank her way to the hospital shortly after meeting her new roommates, with rehab following shortly thereafter.
Now 40 (and sober), Alcaide has chopped off the long, black hair she donned on the show, and avoids talking about it when she doesn't have to. Alcaide's girlfriend, who was born outside the U.S., didn't know she was dating a reality star until the two had been together for nearly a year.
When she first joined the Real World cast, Alcaide was a student at Rutgers University. She had no solid career plans, and describes her time on MTV as a serendipitous nudge into an industry she was destined for.
During one season of The Challenge (she did four of them), Alcaide struck up a conversation with some of the camera crew. They were having a blast, she recalls, and unlike the people they were filming, didn't face any of the pressure to perform, act, or dress for a national audience.
In 2014, Alcaide launched a production career of her own. It was a slow start -- she had to convince a lot of people she was worth taking a chance on.
"It was difficult at first," she says. "People wonder what you have to offer, as if you're not a person who can be interested in an actual career. I had to adapt quickly."
In the years since, Alcaide has worked as a production coordinator and assistant for dozens of film and tv sets -- including reality shows like Bad Girls Club, and Big Brother. She wants to work as a creative producer someday, and is building her resume with music video and commercial shoots. It's not a new goal so much as a latent one: digging through a box of college mementos, she recently found an old notebook with movie and TV pitches scribbled alongside her lecture notes.
"I never thought I would get serious in production," she says."I'm finally putting two and two together."
Emily Schromm from The Real World: D.C. (2009) offers another perspective on the reality star career track.
Raised in a fundamentalist Christian household, Schromm was working at a Starbucks on the University of Missouri campus when a Real World casting director asked her to audition.
"I lived such a sheltered life," she says. "I wasn't allowed to watch the show, so I didn't know what to expect. But I knew I wanted to get out."
Schromm was just 20 years old when the D.C. season taped, and she looked, acted, and spoke like anyone her age. But there's a certain, inescapable self-consciousness that comes from seeing your mannerisms and mistakes play out on national television, she says, and it sent her into a downward spiral.
Naturally athletic, Schromm agreed to go onto The Challenge after the season ended. She placed third in her first competition, and was motivated to train for another. By her third challenge, Schromm was in the best physical shape of her life, she says, and her mental health followed suit. She won that challenge, and left the series with a new outlook on life.
Today, Schromm is a Denver, Colo.-based health and wellness coach, founder of a series of online 21 day fitness programs, and CEO of Evolved Motion, which makes a patented backpack that turns into a weight training device.
Four years after her last Challenge, Schromm still gets recognized every time she goes to a bar in Downtown Denver -- often by fans who try to convince her to go back on it.
"It's hard to say no to those shows," Schromm says. "It's a consistent paycheck, and it's easy to get stuck in that adrenaline addiction. But for now, I love the daily challenge of being my own boss."
***
There are more dramatic Real World to real world transitions. Sean Duffy ("Boston," 1997) is a Republican representative for Wisconsin. Mike "The Miz" Mizanin ("Back to New York," 2001) is a WWE wrestler. Pamela Ling and Judd Winick, "(San Francisco," 1994) are a doctor and comic book artist, respectively (and have been married since 2001).
MTV never really left any of these people -- from wedding announcements to Wikipedia pages, The Real World seems to follow them everywhere.
"Austin's" Bergmann thinks about that a lot. He's dreamt of being an entrepreneur since he mowed lawns as a kid, he says, and was studying business at Arizona State University during his MTV debut. But people have trouble conflating his on- and off-screen personas.
"It's tough to get someone to believe what I've accomplished," he says. "Either they don't believe me, or they think it was all given to me by MTV. It's easier for people to sit in those two schools of thought."
Bergmann's dalliances in reality TV are blips on the radar screen of his career trajectory, he says. But occasionally, he gets sucked back in.
Through the end of June, fans can watch Bergmann compete in The Challenge's latest iteration, a charity version airing now on MTV. This time around, a group of professional athletes, like UFC fighter CM Punk and retired NFL linebacker Kamerion Wimbley, join in on the fun. And yeah, so does Bananas.
Correction: An earlier version of this article incorrectly identified the new season of The Real World as The Real World: Bad Blood. It's The Real World Seattle: Bad Blood.