4 Reasons It's Actually a Good Time to Buy a House (for Some People)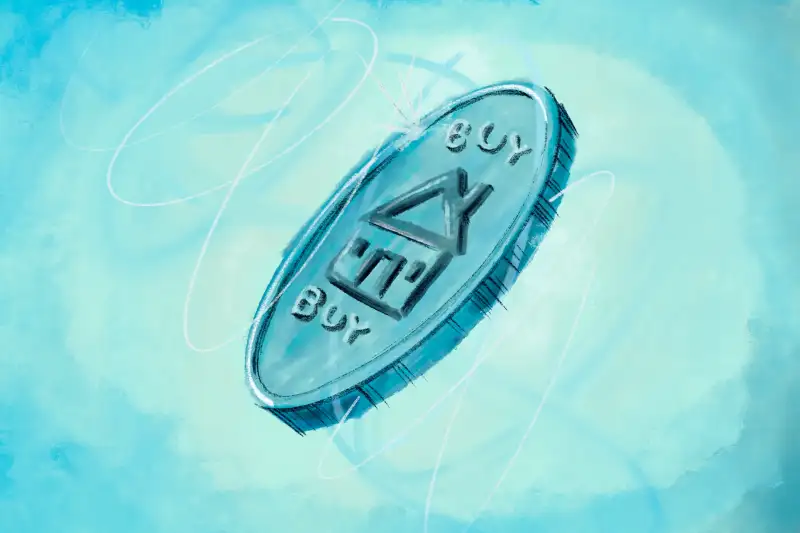 A record number of Americans think it's a bad time to buy a house, and with housing costs near an all-time high, it's hard to blame them.
Mortgage rates are higher than they've been in decades, and the sales price of the typical American home — $394,300 — has shot up about 40% in the last four years.
For many would-be homebuyers, this is a uniquely difficult time to get into the real estate game. But for some people, experts say, it's actually opportune.
With so many people spooked out of the market, there's a lot less competition (and a lot more negotiating power) for those willing to tough it out.
And while navigating a house hunt under the current conditions certainly isn't for everyone, buyers with good credit and enough cash to make a sizeable down payment can shield themselves from some of the pain of high interest rates — or rely on a well-padded savings account until they can eventually refinance.
If you're determined — and financially ready — to buy a house right now, here are four reasons the odds could be in your favor:
The housing market isn't so crowded
During the pandemic, mortgage rates were near historic lows, which drove up demand and led to bidding wars that pushed home prices well above asking. Current mortgage rates (which are hovering around 8%) and the fact that people who bought homes in 2020 and 2021 now feel "locked in" to their ultra-low rate (which is closer to 3%) have led to a shortage of homes for sale.
But there are also fewer homebuyers these days, and there's less competition between people who are in the market. That gives prospective buyers a lot more leverage than their pandemic-era counterparts — especially if the listing they're eyeing was posted weeks ago (or longer).
"When something's been on the market... there's typically more of an opportunity to negotiate, whether it be price or terms," says Sarah Glovsky, senior vice president at The Charles Realty in Boston.
Most of the buyers Glovsky has worked with recently have been able to seal the deal with traditional offers, comprehensive home inspections and contingencies that let buyers back out of a purchase if they're unable to secure a loan. That wasn't the case during the pandemic-era home buying frenzy, and if mortgage rates drop swiftly, it won't be the case in the future, either.
Qualified buyers can keep interest rates at bay
When mortgage rates are high, all-cash buyers have two major advantages: They get the benefits of less competition while avoiding the burden of large interest payments. That's why more than a third of home purchases were made by all-cash buyers in September, the highest level since 2014, according to Redfin.
Home buyers with good credit scores and enough money on hand to make sizeable down payments also have a leg up, though to a lesser degree. Mortgage lenders offer better rates to these buyers, and offering up a large down payment reduces the size of their loan.
Glovsky says about half of the deals she's brokered in the past year have been all-cash deals. And even though many of her clients are still financing their home purchases, she says, more buyers are putting closer to 35% down; up from the traditional 20% down payment.
Selma Hepp, chief economist for CoreLogic, says this is especially true for Americans moving out of expensive cities to smaller, more affordable markets, where the equity they've gained in their previous home goes much further.
Some older Americans who are ready to downsize may also have an advantage in today's market.
"If they have a lot of equity in their home, or own the home free and clear, they can cash out basically and buy the next home with cash," Hepp says.
For everyone else — that is, buyers willing to stomach a 7% or higher interest rate — there's always the option to refinance down the road, and replace their mortgage with a new loan when rates are more favorable. Keep in mind that this can be risky: It's a gamble when rates will fall (and by how much) and refinancing comes with additional costs.
Home sellers are more motivated to close
The fall and winter months are historically slow for the real estate market since it's hard for families to relocate during the school year and people are less inclined to move during the holidays or in bad weather.
That means, in many cases, the homes put on the market around this time of year "are being sold by people who need to sell and not by people who want to test the market," Glovsky says. "You may be able to negotiate."
When more buyers are looking in the spring, there's a good chance that the home you end up falling in love with will get multiple offers, she says. If you find a great home now, that's far less likely.
In a slower market, buyers can also try to get rate buydowns, where the seller pays to essentially lower the mortgage rate for a couple of years, Glovsky says. In a 2-1 rate buydown, one of the most common of these concessions, a home buyer with a 7% interest rate would pay 5% for the first year of the loan and 6% for the second.
Next year could be even worse
High mortgage rates may be an obstacle for homebuyers well into 2024, or longer. The Federal Reserve is still focused on controlling inflation, and the agency says it's not even considering interest rate cuts right now.
There's also uncertainty about where home prices are headed, and experts at CoreLogic and housing economists at real estate firms like Zillow are forecasting that even higher prices are in store, due to the lack of inventory.
The truth is, nobody knows what will happen next, and for people who can comfortably afford it, the age-old advice that buying a house is a good investment still holds true.
"Simply because home mortgage rates are higher and have, in fact, wiped out some of the purchasing power for homebuyers, [is] not in itself a reason to not buy," Hepp says.
More from Money:
The Share of Homes for Sale With Price Drops Hits a Record High
Here's What 8% Mortgage Rates Could Mean for the Housing Market