The Share of Homes for Sale With Price Drops Hits a Record High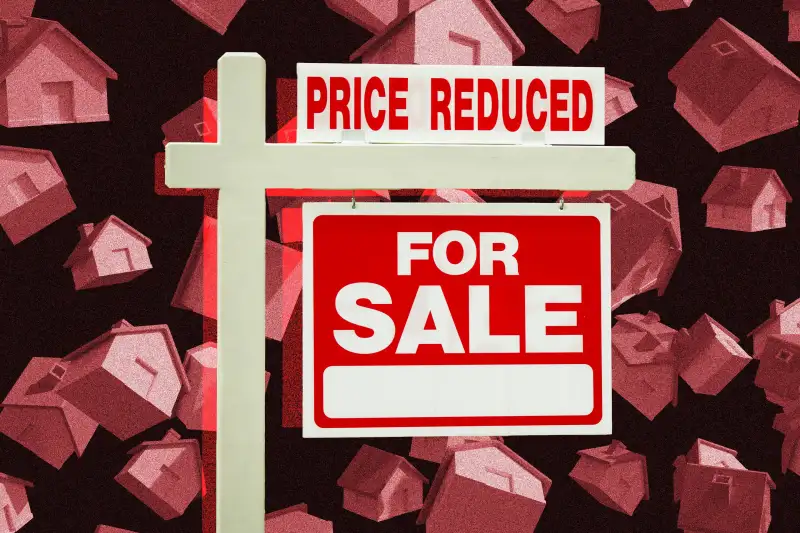 The real estate market is fairly harsh for all parties involved right now, but here's a glimmer of good news for homebuyers: Sellers are slashing their prices at record levels.
Real estate company Redfin reports that the share of homes for sale with price drops is at its largest ever. The company measures this share by averaging the share of listings with price drops within a four-week window. During the four weeks ending Oct. 29, a whopping 6.9% of all homes on the market underwent price cuts.
Why sellers are reducing home prices
Redfin data analyst Dana Anderson wrote in a blog post that the spike in price reductions comes as sellers account for the high mortgage rates facing buyers. Influenced indirectly by the Federal Reserve, which has been ratcheting up rates for months to curb inflation, mortgage rates recently reached 7.79% — the highest in 23 years.
"High rates have forced some sellers to lower their asking price to make up for high interest rates on monthly payments," Anderson added.
Mortgage rates have been a major influence on both buyer and seller behavior throughout 2023. Many sellers are essentially trapped by their old mortgage rates, not wanting to give up their favorable 2-3% loans obtained during the pandemic. As a result, the number of new listings has only gone up by about 1% year-over-year. Buyers, therefore, have had to deal with low inventory and high asking prices in addition to surging mortgage rates.
The rise in price cuts is also a result of sellers reckoning with the fact that buyers don't have the budgets to afford high list prices like they did in recent years. Mortgage rates aside, sticky inflation and stagnant wages have been major setbacks for buyers today, but, as Redfin agent Patrick Beringer said in the report, "some sellers are pricing too high because they have FOMO after their neighbor's house sold well over asking price two years ago."
Are homes becoming more affordable?
This month's record high in home price cuts might come as little surprise to those who have kept an eye on the market. The share of homes with price drops has been on a fairly consistent upward trajectory since mid-spring, mirroring the rise in mortgage rates.
Does it mean homes are becoming more affordable, though? Not necessarily.
Median sales prices have risen by 3% nationwide year-over-year. In fact, all but five metro areas (Austin, Fort Worth and San Antonio, Texas; Tampa, Florida; and Portland, Oregon) saw price increases over the last 12 months. Newark, New Jersey, is the city with the largest spike, seeing prices rise by 14.8% over the last year, followed by San Jose and Anaheim, California.
Make no mistake: Bidding wars for the limited inventory of homes are still very common in most areas, allowing prices to keep rising. Redfin says 29% of homes sold in the four weeks ending Oct. 29 closed above their listing prices. Still, that figure has been declining since July, when it was about 35%.
It's a confusing time for the market overall. And while price cuts are becoming more normal, we certainly aren't in a buyer's market just yet.
More from Money:
14 Cities Where Home Sellers Are Slashing Prices
This Surprise Expense Is Likely to Upend Your Budget in Retirement (Hint: It's Not Health Care)
More Homebuyers Are Canceling Sales at the Last Minute