Homebuying Guide: 5 Expert Tips for Buying a Home This Winter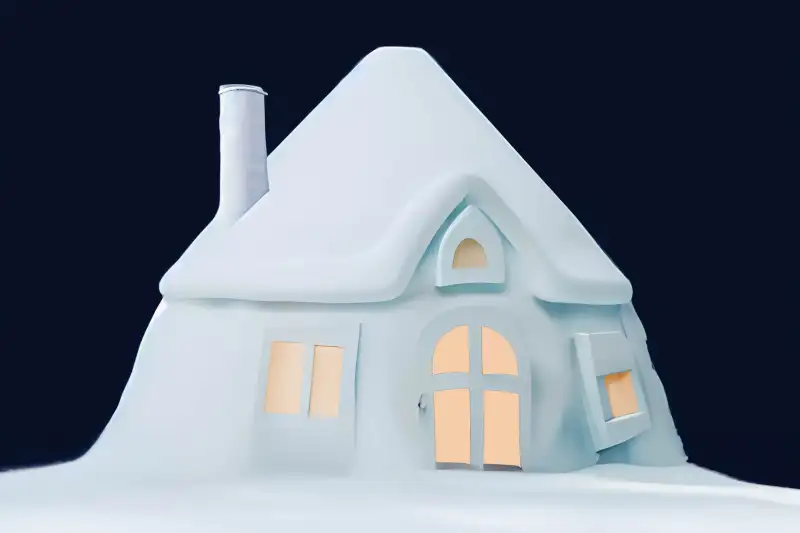 The real estate market in the final month of 2023 and into 2024 will be very different from other years.
The fall/winter months are when we typically see a slowdown in homebuying activity. The school year is in full gear, the weather turns cooler, and fewer people are out searching for homes. Home prices tend to slide as well, as buyer demand cools, making the months before and after the new year a good time to find a deal.
But this year is very unusual. If the pandemic housing market was red hot, the post-pandemic market is now ice cold. Both buyers and sellers are staying on the sidelines as mortgage rates remain above 7% and home prices hover near record highs. As a result, home sales are at their slowest pace since 2008 and many buyers who signed purchase contracts in the last few months are backing out of their deals at the last minute.
Still, life goes on, and many buyers don't have the luxury of waiting for the "perfect time to buy," says Amit Arora, vice president of investments at digital real estate platform Opendoor, adding that the "best time to buy is your time."
Will mortgage rates go down this year?
Many housing economists were expecting mortgage rates to ease lower, ending the year in the low 6% range, but that's no longer realistic. Fueled by persistent inflation, economic uncertainty and a labor market that has exceeded analysts' forecasts, rates have moved in the opposite direction. The possibility of 8% mortgage rates before year's end was a real concern just five weeks ago, before rates eased lower.
Most experts believe, however, that both inflation and the economy will cool enough to hold rates fairly steady in the low to mid 7% range, with the possibility of some easing in 2024.
How to buy a house in today's market
Today's housing market is challenging for homebuyers, who can use any help they can get to navigate some rough seas. These tips can help smooth the journey, especially for those in the market for their first home.
1. Narrow down what to look for in a home
In a market where there aren't many options to choose from, you have to be flexible when it comes to your home search. You may have to compromise on some of the features you'd like, as well as the location.
Buyers have to be "very clear about their needs versus wants," says Bianca D'Alessio, a real estate broker with Nest Seekers International. For example, if having a third bedroom is more important than having a yard, then you focus on homes that have three bedrooms.
Make a list of the must-haves you're not willing to compromise on and a second list with those "wants" you could live without. That way, you can quickly act when you come across a home that fulfills your first list, and if it so happens to check some boxes on your second list, consider it a bonus. But if you wait for a home that covers all your needs and wants, you may be waiting a long time.
2. Research different housing markets
You need to set the right expectations for your home search. Research different neighborhoods, find out how much buyer interest there is, and see how much for-sale inventory is currently available. Online listing sites are a good source for this information, but your best bet will be working with a good real estate agent (more on this below). The goal is to get a good idea of how competitive the market is and whether home prices are rising or falling.
Shop around. It's important not to limit yourself to a specific neighborhood. Consider other areas that you may not have been initially on your radar. You may find the right home in a less competitive market that you might have otherwise skipped.
You should also be flexible regarding the style of home you're looking for. Even if you're in the market for a ranch-style home, it doesn't hurt to look at other designs. You may find that a duplex has all the features you "need" plus some you "want."
3. Pick the right real estate agent
If you've already bought and sold a few homes, you probably feel comfortable navigating the housing market on your own. You know what to look for and can avoid some common beginner missteps.
But especially if you're a first-time homebuyer, working with an agent familiar with the markets that interest you can give you a leg up. A good real estate agent can give you insights into how competitive a market is and the price range of available homes for sale.
More importantly, real estate agents can help identify off-market homes that won't appear on listing sites. In some cases, these could be "pocket listings" or homes for sale but not widely advertised. In other cases, says D'Alessio, agents could know about homeowners who are interested in selling but don't "want to go through the process" of prepping and listing the property.
4. Calculate how much house you can afford
Mortgage rates are at 21-year highs, so it's more important than ever to look beyond just home prices and consider the overall cost of the purchase.
A mortgage calculator estimates how much your monthly payments will be considering different loan amounts, down payments and mortgage rate scenarios. This is how you can figure out how much house you can afford. Make sure to do the math with higher and lower rates to see how your monthly payment would change. For example, a $450,000 loan at 7.22%, Freddie Mac's current average rate for a 30-year fixed-rate loan, would have a $3,060 monthly payment (without taxes or insurance). If the rate goes up to 7.50%, that payment goes up to $3,146.
Mortgage rates are expected to ease eventually, so you may be able to refinance in the future at a lower rate and save money. But no one knows when rates will decrease or by how much, so it's important "not to depend on refinancing for affordability," says Hannah Jones, senior economic research analyst at Realtor.com, adding that "buyers should not take on a loan today that they cannot afford comfortably in their current [financial] situation."
5. Be creative with your home search and mortgage financing
In a tough market, you sometimes have to think outside the box. Both Arora and D'Alessio recommend being flexible throughout the homebuying process and considering options you may not initially believe will work.
For example, shopping around among different mortgage lenders, such as banks, credit unions and online lenders, can lead to significant savings on monthly payments. Many lenders also offer rate buydown options and lender credits to help offset today's high rates and bring a home purchase within reach.
Being creative also means looking at homes you might skip. Don't overlook homes that have been on the market for a while. Many people assume that a home that hasn't sold quickly must have something wrong with it. That's not always the case. Sometimes, notes Arora, the home may have been overpriced, and the owners may now have more incentive to sell at a more reasonable price or with significant concessions.
More from Money:
Here's How Far Home Prices and Mortgage Rates Could Drop in 2024
Top 10 Big Cities With the Most Affordable Home Prices Right Now