6 Things You Need to Know About Rent Control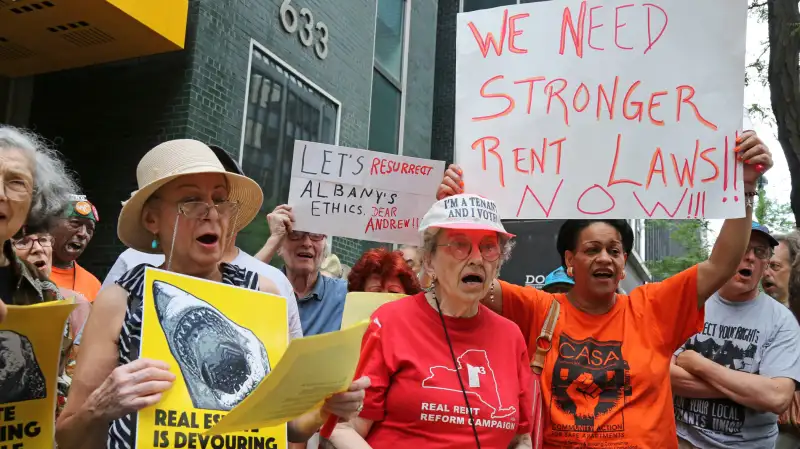 Murray Head—Splash News/Newscom
In some big cities, finding a place to live that doesn't break the bank can be a serious challenge. But residents in a comparative handful of locations have an edge up, thanks to rent control regulations that make at least some of the local rental housing stock affordable.
As you might imagine, though, it takes some legwork and patience to track down one of these places, and real estate experts say there are some quirks that would-be renters need to know.
It's not everywhere. A number of municipalities, including the two biggest cities in the United States, New York and Los Angeles, have rent control regulations. This chart provides a rundown of the towns and cities that have rent control, as well as states that actually have laws against the practice. Sorry, heartland dwellers; you're out of luck. Currently New York, New Jersey, Maryland, and the District of Columbia have rent control. In the face of what tenants' rights groups say is as much as a 150% leap in rental rates, Seattle's been considering it, but it would have to get the state to roll back its law prohibiting the practice.
Every city handles it differently. This report from Trulia.com breaks down the ins and outs in two infamously pricey cities, New York and San Francisco. It's a case in point of how many variables there are to rent control, including building size and age and how long the tenant has been residing in the unit.
It's not the same as rent stabilization. New York is especially complicated when it comes to rent rules. In the Big Apple there are roughly 27,000 rent controlled apartments and about 1 million rent stabilized units. Rent control, which covers older buildings (pre-1947), sets a cap on rent. But only in certain circumstances: "For an apartment to be under rent control, the tenant (or their lawful successor such as a family member, spouse, or adult lifetime partner) must have been living in that apartment continuously since before July 1, 1971," according to New York City's Rent Guidelines Board.
Rent stabilization (which applies to buildings built between 1947 and 1974) sets limits on how much a landlord can raise the rent, and gives tenants the right to renew their lease. "The one big advantage of having a rent stabilized apartment is, by law, they have to renew your lease," says Daniel Kramp, an associate real estate broker at Corcoran in New York.
It doesn't mean your rent will never go up. Rent control doesn't mean you get to lock in your rent forever; it just puts parameters on how much landlords are allowed to hike your rent when your lease comes up for renewal. The formulas differ by city but are often pegged to a local inflation or cost-of-living metric.
There might be income restrictions. First, the good news: Rent control is different from subsidized housing, so there often aren't any income caps for would-be renters. (If you're looking at public or subsidized housing, that's where you need to ask questions about how much you can make before you become ineligible.) The caveat is that there are some outliers here, so if you're pulling down a sizable salary, you should check the local rules and regs. In New York City, for example, if your household income tops $200,000 for two years in a row, you might lose rent stabilized status.
Figuring out if an apartment is rent controlled might not be easy. Sure, landlords are supposed to let you know if you're signing a lease for a rent controlled apartment, but you shouldn't rely on them. It's not always clear — or intuitive — which apartments or buildings are rent controlled. "I think the most basic thing [to ask] is if the unit you're going to move into is subject to rent control of any kind," says Dan Hang, vice president of rentals at Zillow.com. If you're not getting a straight answer, your city's rent board can help out.
Read next: 10 Rules Every Renter Needs to Know