4 Tips for Renting Your House on Airbnb During the 2016 Political Conventions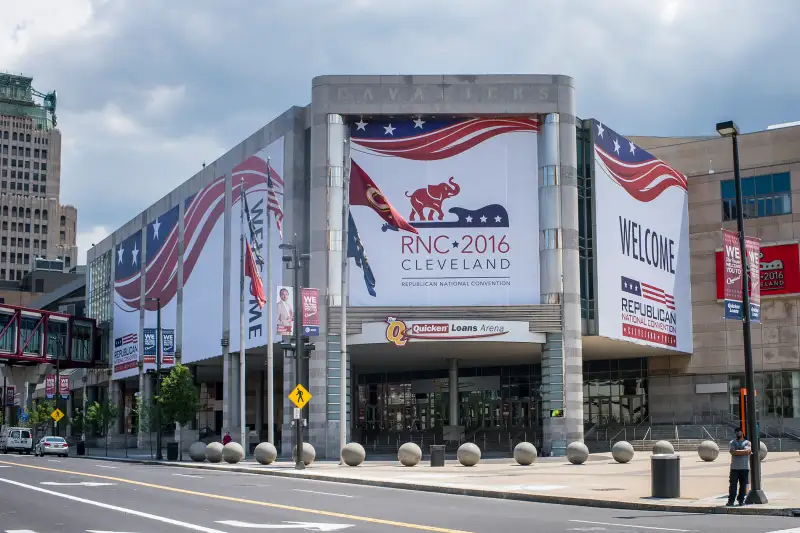 Angelo Merendino—Getty Images
Renting out your home when there's a major event in town might seem like easy money. Consider this summer's national political conventions in Cleveland and Philadelphia. The average price of an Airbnb rental during the week of the Republican National Convention is $924 a night, about 262% higher than the average just a week later, according to price tracking site Airdna. During the Democratic National Convention, the average rental is $540 a night, about 186% higher than the following week.
Financial benefits aside, there are some things to consider before renting out your apartment, or just a room in your home. Even if you're used to regularly hosting friends and family for visits, you'll need to prepare very differently for renting through Airbnb.
Know the Rules
Depending on your living situation, renting out your home, or even just a room, may violate local housing or zoning regulations. For example, New York City laws essentially stipulate you can rent a room in your place for a short period of time, but not an entire apartment—making as many as half of all Airbnb listings in the city illegal. While several police departments have said they're not looking to bust people for housing violations, it's worth doing your homework to determine where your local laws stand.
Accepting rental income may also violate the terms of your homeowners association in your development or apartment, and if you're a renter you may have signed an agreement with the landlord to never host via a service like Airbnb. So find out what's up before you get into big trouble.
Brushing up on the tax implications, particularly around the 14-day rule, is also important. You can avoid paying taxes on income generated through short-term rentals as long as the stay doesn't exceed 14 days in the course of a year, according to TurboTax. Also, you won't have to report the income on your annual tax filing. It's best to keep meticulous records, in case Airbnb or others report the income to the IRS.
Prepare the Space
Airbnb recommends that hosts get an extra set or two of sheets and towels, as well as ample amenities like soap, toilet paper, and tissues. It's also a good idea to have a first-aid kit handy, and to verify your home is equipped with working smoke detectors. Legal site NOLO.com offers a comprehensive check-list, starting with giving your place a thorough cleaning, especially the kitchen and bathrooms. For your own protection, invest in some locks, or rent offsite storage to keep valuables that you would be loathe to part with.
If you're planning to offer Wi-Fi as an amenity, consider setting up a guest network for increased security. This will keep guests from accessing your private network and any unsecured devices. It may also be useful to post a notice informing guests that if they use your Wi-Fi, they're agreeing to use it only for legitimate activities and refrain from illegal downloads, uploads or other banned behaviors.
Maybe the biggest chore about renting your place is getting the key to your guests. While there are smart locks on the market that allow users to unlock a home sans key, they can set you back hundreds. Instead, opt for a low-tech lockbox or key safe that your guests can access. They can be purchased at hardware stores or though retailers like Amazon starting at $15.
Price Appropriately
You don't want to be left without any guests because you priced the rental too high, but at the same time, don't leave cash sitting on the table. For new listings, Airbnb suggests a base price, and several websites, including Airdna, specialize in helping price rentals. Pricing is more complicated if you're renting during a major event like a political convention, because demand--and therefore, asking rates--are extraordinarily high. Scope out what the competitors are charging for rentals similar to yours before deciding on a price.
Read Next: Thinking About Renting a Room to Travelers? Here's What You Need to Know
While listing your home on Airbnb is free, the site does charge a 3% host service fee on each reservation, and guests are charged a booking fee that ranges from 6% to 12%. Other rental sites, like FlipKey—which offers rentals through TripAdvisor—charge a similar 3% host fee. Vacation home site HomeAway offers two pricing models: a flat annual fee of $349 for high-volume hosts or a 10% commission per booking structure.
Limit Your Risk
Airbnb provides Host Protection Insurance and Host Guarantee programs, which cover claims regarding property damage or bodily injury that occur on the property up to $1 million. But those programs only offer limited protections for things like credit cards, documents, jewelry, and artwork. It's worth checking with your homeowners' or renters' insurance policy to see what's covered when it comes to guests and short-term rentals.
Another way to protect yourself is by requiring a security deposit from renters to cover everyday damage, like broken appliances. Airbnb host and author of the DareBNB blog Chris Jennings recommends setting a security deposit to the equivalent of one night's stay.
Charging a cleaning fee is also recommended. Even if it's a one-time rental, you'll need to thoroughly scrub down your home before and after your guests, and your time is worth money. A good rule of thumb is to charge half of what you think it will take a cleaning service to do the job, according to Jim Breese of LearnAirbnb.