A Republican Congressman Was Accused of Using Campaign Money to Buy Tequila Shots, a Ton of Fast Food, and a Flight for a Bunny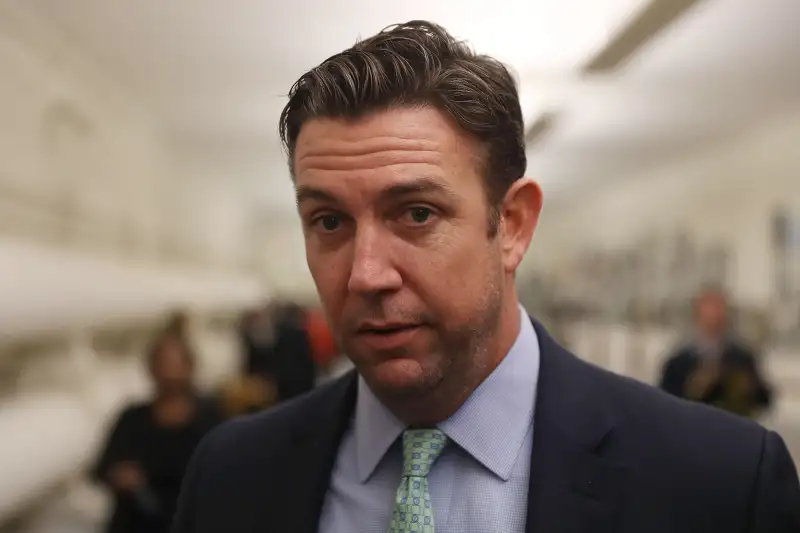 California Congressman Duncan Hunter and his wife have been overdrafting their accounts and dodging their credit card bills for years. But this week, those money problems earned them a lot more than just a fee and rebuke from their bank — they got a federal indictment.
The U.S. Department of Justice formally accused the Hunters on Tuesday of illegally using $250,000 in campaign funds to pay for a host of personal expenses between 2009 and 2016 — and, subsequently, lying to hide it. In legal papers, the DOJ describes the couple's rocky financial history and details dozens of questionable charges, including tequila shots, a plane ticket for a rabbit and one really expensive Olive Garden meal.
"The indictment alleges that Congressman Hunter and his wife repeatedly dipped into campaign coffers as if they were personal bank accounts and falsified [Federal Election Commission] campaign finance reports to cover their tracks," U.S. Attorney Adam Braverman said in a news release.
The arrangement appears to date back to 2009, when Duncan Hunter first joined the House of Representatives. The couple had a variety of bank accounts, but they overdrew them more than 1,100 times in seven years. They were also constantly racking up credit card fines — to the tune of nearly $25,000.
Hunter, who has represented the 52nd and 50th districts near San Diego, earns a $174,000 base salary. Still, the DOJ says he and his wife, Margaret, "knew that many of their desired purchases could only be made by using campaign funds." So they swiped the campaign credit cards whenever possible, often inventing excuses for why they needed to spend cash designated for Duncan Hunter's campaign.
The congressman said he hasn't been interviewed as part of the investigation, which he thinks is politically motivated and timed to influence his upcoming election.
"I believe in our American system of justice, I support our system of justice," Duncan Hunter said in a released statement. "I cannot say the same, however, for those within our justice system that have a political agenda to harm those with whom they differ."
Here are a few of the weirdest things the Hunters are accused of buying:
Plane Tickets for Family, Friends... and Animals
The DOJ says the Hunters spent more than $15,000 on flights and hotel accommodations for guests including Margaret Hunter's nephew, her mom and her mom's boyfriend.
Their generosity also extended to the family pet, who got a $250 ride to Washington, D.C. as part of a family vacation. The indictment doesn't identify the pet in question, but Duncan Hunter previously admitted to flying his kids' bunny across the country — something his campaign said was blown out of proportion by the Office of Congressional Ethics.
"[The office] has in their report $600 in campaign expenditures for in cabin rabbit transport fees," Joe Kasper, Duncan Hunter's then-spokesman, told the Press-Enterprise in 2017. "Since travel is often done on [airline] miles — which is entirely permissible — the credit card connected to the account was charged several times even when his children were flying. This was nothing more than an oversight. In fact, it's such an obvious example of a mistake being made but [the office] wants to view it through a lens of possible intent. The same goes for many other expenditures."
(The congressman paid the campaign about $49,000 in 2016 after some of these charges, like the rabbit flight, came to light.)
Tequila for a Bachelor Party
Duncan Hunter is accused of buying 30 tequila shots and one steak during a friend's bachelor party in March 2016. The couple also allegedly picked up the drink tab at places like Hill Country BBQ and Jack Rose Dining Saloon in Washington, D.C., as well as the Montage Resort and the Cowboy Star Restaurant and Butcher Shop in California.
Theme Park Tickets and Souvenirs
In 2015, the indictment says, Margaret Hunter used $253.62 to pay for a trip to the SeaWorld-operated water park Aquatica. She said the charges were connected to an "educational tour." She and her family went to SeaWorld itself the next year, spending about $419 to check out the theme park.
The couple also used campaign money at Disneyland, where they allegedly bought a Star Wars beanie, a Star Wars T-shirt and two Minnie Mouse headbands.
A Whole Bunch of Fast Food
Margaret Hunter allegedly spent $5,068.34 on some 200 trips to fast food restaurants "without documenting a legitimate campaign purpose." She picked up snacks at places like Wendy's, McDonald's, Taco Bell, Burger King, Kentucky Fried Chicken and Panda Express.
This was in addition to the $11,375.46 the couple is accused of splashing out at Costco between 2010 and 2016 for groceries and other items, as well as a $105 meal she had at Olive Garden in 2012.
Uber Rides
The DOJ says Duncan Hunter took $990 worth of Uber rides on 43 dates between 2013 and 2016 in order to hang out with his friends.
He's also accused of renting a $351 car in Reno, Nevada so he could drive on a 2010 ski trip. That same year, the congressman told his campaign he needed to be reimbursed $257 for a Virginia Beach trip — on which, the indictment points out, he did not take his car. In 2011, he handed over about $345 to rent a car in San Diego, California, in order to drive to a relative's dance competition.