35+ Restaurants Open on Thanksgiving Day 2018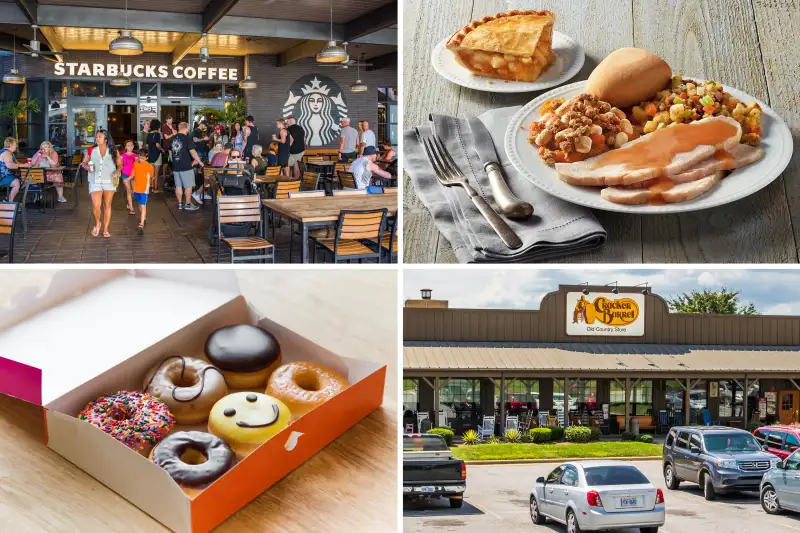 (clockwise from top left) Shutterstock; courtesy of Boston Market; Getty Images; Shutterstock
Don't feel like cooking on Thanksgiving? Seeking a quick escape from your overbearing family? Simply craving a waffle?
If you answered "yes" to any of the above, here's something to be thankful for: There are dozens of restaurants open on Thanksgiving 2018.
No matter where you are or what kind of cuisine you're looking for, you have options. Major chain restaurants like Cracker Barrel, Denny's, IHOP, Starbucks, and Steak 'n Shake all have locations open on Thanksgiving — and many are offering special holiday-themed entrées and desserts for Turkey Day. For that matter, your favorite fast food spots, including McDonald's, Burger King, and Dunkin' Donuts, will most likely be open on Thanksgiving too, which could be handy if you're on the go on the holiday.
Check the hours of your local restaurant before you pile the family into the car, but here's a list to get you started salivating.
What Restaurants Are Open on Thanksgiving Day 2018?
Applebee's: Select Applebee's restaurants are open on Thanksgiving Day and serving turkey, stuffing, and the works, but you should check to see if your nearby location is open or closed.
Bahama Breeze Island Grille: Participating locations are open on Thanksgiving and offering an island-style turkey dinner with callaloo and cinnamon mashed sweet potatoes.
Buca di Beppo: This Italian chain will be serving up its famous family-style dishes starting at 11 a.m. on Thanksgiving. Make a reservation, stop in or order a Thanksgiving dinner to-go ($68.99 for three people; $134.99 for five).
Black Angus Steakhouse: Locations of this western chain are open on Thanksgiving, but they have limited seating and a limited menu. Options include crispy fried garlic-pepper zucchini, prime rib, macaroni and cheese, pumpkin pie.
Bob Evans: Restaurants are open until 8 p.m. on Thanksgiving Day. Stop by for a $14.99 dine-in special that includes turkey, ham or country-fried steak with three sides, bread and pie. Or check out the Farmhouse Feast, a full meal that serves four or more people and starts at $49.99.
Boston Market: Boston Market restaurants are open on Thanksgiving Day 2018. Customers can get a catered meal or order from a special in-store menu that includes rotisserie chicken, sweet potato casserole, cranberry walnut relish and pecan pie.
Burger King: For the most part, Burger King is open on Thanksgiving Day, and if you're up for breakfast locations have special offers like three pancakes for only 89 cents.
The Capital Grille: This restaurant invites customers to "make our dining room yours" with a $42 Thanksgiving dinner that includes slow-roasted turkey with brioche stuffing. Hours are 11 a.m. through 9 p.m.
Carmine's: Locations will be serving their regular menus as well as a family-style Thanksgiving meal that feeds up to 8 people and starts at $249.95 in certain cities.
Chevy's: Select locations are open from 11 a.m. to 7 p.m. on Thanksgiving. Order a Tex Mex-inspired three-course meal including roast turkey with mole sauce and jalapeño cheddar bread.
Cracker Barrel: The old country store estimates it'll serve 8 million ounces of gravy and 650,000 pounds of turkey over Thanksgiving 2018. It offers both in-store and carryout options; if you go in person after 11 a.m., you can order a special Homestyle Turkey n' Dressing Meal that comes with all the fixings. Plus, you'll also get a slice of pumpkin pie — and you can order salted caramel nut ice cream on top for free.
Del Frisco's Steakhouse: Sure, you could have turkey. Or you could make a reservation at Del Frisco's and ring in Thanksgiving with dry-aged steak and pumpkin cheesecake. Your choice.
Denny's: America's diner is open on Thanksgiving. Try its Holiday Turkey Melt, a sandwich packed with turkey, stuffing, cheese and cranberry honey mustard sauce, or Pumpkin Spice Pancakes. Yum.
Dunkin' Donuts: Dunkin' Thanksgiving hours vary by location. Some Dunkin' locations have normal hours, while others open late and close earlier than usual, and still others are closed on Thanksgiving. The only way to know for sure if your Dunkin' is open on Thanksgiving is to call or swing by on Thursday.
Eddie V's Prime Seafood: Have your pick of turkey or lobster from 11 a.m. to 9 p.m. on Thanksgiving. Then polish it off with a slice of pumpkin pie with butter pecan ice cream.
Fleming's Prime Steakhouse: Customers can enjoy a three-course Thanksgiving meal from 11 a.m. through 8 p.m. You can even make it a family affair: Fleming's has developed a special kids menu for the holiday, as well.
Fogo de Chão: All locations are open from 11 a.m. to 9 p.m. on Thursday for Thanksgiving. And go ahead and bring the whole family — kids under 6 eat for free.
Golden Corral: This restaurant urges customers to "start a tradition at our table," whether that's by dining in or taking out its buffet dishes. The holiday menu includes savory slow-roasted beef and coconut cake.
Hooters: A spokesman confirms to Money that certain Hooters restaurants are open on Thanksgiving. Contact your nearby Hooters location for details.
Hometown Buffet:: Open from 11 a.m. to 6 p.m. on Thanksgiving, Hometown Buffet is also offering holiday to-go packs that include an entire quart of cranberry sauce. The possibilities are endless.
IHOP: A spokeswoman confirms to Money that most IHOP restaurants will be open on Thanksgiving, but guests should check with their local restaurant for any changes to hours.
KFC: A spokeswoman confirms to Money that participating stores are open but encourages people to call their local franchise location for more information.
Legal Sea Foods: Hours vary by location and reservations are recommended, but many Legal Sea Foods are open and serving traditional Thanksgiving fare for $24.95 a person.
McCormick and Schmick's Seafood and Steaks: Locations will be serving up roasted turkey dinners with cornbread stuffing, apple squash casserole and — of course — cranberry sauce on Thursday.
McDonald's: Most McDonald's are open on Thanksgiving Day 2018.
Morton's The Steakhouse: Locations open at 1 p.m. on Thanksgiving Day 2018, though hours are subject to change. Stop by for Côte de Boeuf made with care.
Old Country Buffet: Restaurants are open from 11 a.m. to 6 p.m. on Thanksgiving. But if you don't have time to sit down and stay, you can always just pop in and grab an entire pie for $8.99.
Romano's Macaroni Grill: Make a reservation at Romano's Macaroni Grill to chow down on a $24.99 dinner with options like roasted butternut squash, crispy Brussels sprouts and pumpkin cheesecake. All locations are open.
Ruth's Chris Steak House: Select Ruth's Chris locations will open their doors at noon to serve a three-course Thanksgiving feast complete with roasted turkey, sausage and herb stuffing, and sweet potato casserole for $39.95.
Ryan's: Not only can you sit down at Ryan's buffet from 11 a.m. to 6 p.m. on Thanksgiving, but also you can order a to-go meal for $89.99. It comes with turkey, ham, dressing, green beans, macaroni and cheese and more.
Starbucks: It should be no problem to get your coffee fix on Thanksgiving, because most Starbucks locations are open on Thursday, according to Delish.
STK: Nine U.S. locations are open on Thanksgiving from noon to 9 p.m. and offering specials. The STK in Orlando has even more availability, with plans to serve food from 11:30 a.m. to 11 p.m., a spokesman confirms to Money.
Steak 'n Shake: Feel free to Takhomasak on Thanksgiving, because most locations will be open, as Delish reports.
Ted's Montana Grill: Prices vary by location, but the Thanksgiving Day menu options at Ted's are plentiful. Order bison nachos, cedar plank salmon and cream of tomato soup and finish it off with apple pecan crisp.
TGI Fridays: A spokesman tells Money that hours vary by location, so people should call their local Fridays to find out whether they're open. If you visit, check out the holiday feast deal, which gives you two appetizers, two entrées and two desserts for $20.
Waffle House: Every Waffle House is open all day, every day, which means you can have Thanksgiving with your family and still stop by for a midnight snack.