This Grocery Shopping Habit Could Be Making You Fat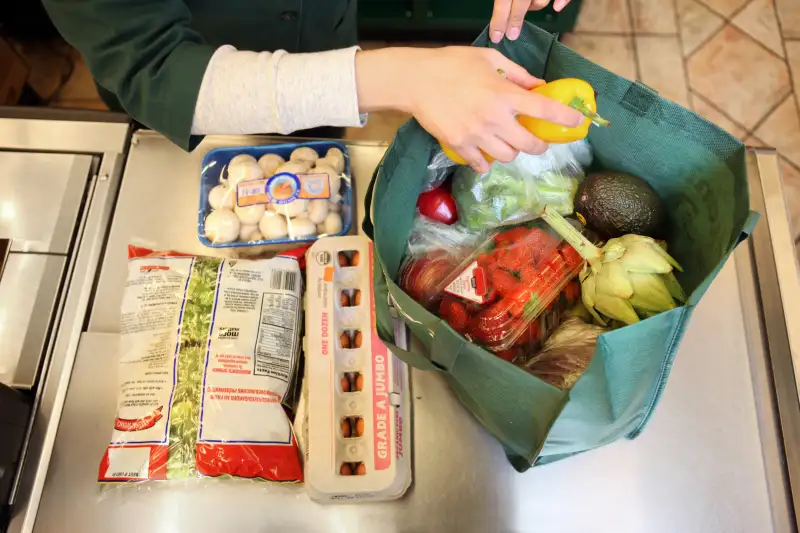 Katrina Wittkamp / Digital Vision
Eco-friendly grocery shoppers beware: Toting a reusable bag to the market can be a diet destroyer, new research finds.
The study, conducted by Harvard and Duke business school professors, suggests that when people do something that feels noble, they're then subconsciously motivated to seek out a reward—often in the form of junk food.
"Grocery store shoppers who bring their own bags are more likely to purchase organic produce and other healthy food," write the authors, "but those same shoppers often feel virtuous, because they are acting in an environmentally responsible way. That feeling easily persuades them that, because they are being good to the environment, they should treat themselves to cookies or potato chips or some other product with lots of fat, salt, or sugar."
This effect seems to be stronger on non-parents than parents, perhaps because people with children are more influenced by what their kids want than what they themselves want, the authors suggest.
Generally speaking, these findings seem to support the classic wisdom that grocery runs are best done with the aid of a shopping list to keep you on track. Other studies have found that shoppers are easily (and intentionally) led to buy extra groceries because of carefully engineered store layouts, among other retail tricks.
And—in any case—there's some good news: Those lightweight plastic bags at the grocery store might not be as bad for the environment as you thought, after all.
Read More: Here's How to Save Hundreds on Groceries
This Is America's Favorite Supermarket