Here's What It Costs to Train Your Kid to Be the Next Simone Biles or Michael Phelps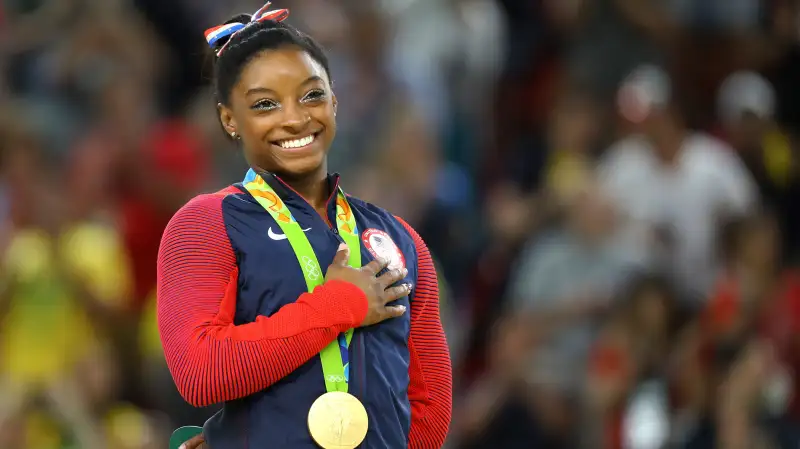 Head to a neighborhood pool these days and you're bound to see several kids whipping their arms back and forth like an albatross before plunging into the water. Poke your head into a gymnasium, and you may see an abnormal number of young ones lined up to try the vault.
Olympic fever may not know any age range, but it's especially inspiring for young children, who see the accomplishments of these athletes and the excitement it creates, sparking an interest in the sports they see on TV. And that usually results in more than a few lost weekends and added expenses for parents.
Generally, those expenses won't be too bad, as most kids won't come anywhere close to the Olympics. But if you've got a child with a true athletic gift and a passion to go far beyond the local Y, brace yourself to cough up lots of silver before they can compete for the gold. (Travel costs alone can quickly reach into the thousands of dollars.)
Here's a look at some of the costs you can expect for kids who want to emulate their heroes in the most popular Olympic sports:
Swimming
After watching people like Michael Phelps, Katie Ledecky and Simone Manuel dominate the pools, expect a surge in competitive swimming in the coming months. Costs for lessons vary by location, of course, but you can generally find competitive stroke and turn development classes at your local YMCA for $50 (for members) and $105 (for non-members). Check with your local park system for pool memberships for the upcoming winter months. (In New York City, expect to pay $150 for adults, though kids under 18 are free.)
If a possible Olympic berth is in your child's future, expect to pay A LOT more, though.
Read Next: Michael Phelps Could Owe Uncle Sam $55,000 for His Rio Olympic Wins
First, there's equipment. The Speedo Fastskin LZR Racer X suits Olympians were wearing run $500 and up per suit. High-tech goggles will cost $55 and more. You'll also want to become a member of one of the more elite training aquatic clubs in the country. The North Baltimore Aquatic Club, where Phelps trained, carries a non-refundable $500 registration fee as well as additional registration and activity fees of $175 for each swimmer.
A three-day winter camp for kids at that club runs between $675 and $850 (depending on if they spend the nights there). Individual coaching, an essential for Olympians, will, of course, cost tons more.
Gymnastics
The first thing to determine when pricing gymnastics is the type your child is interested in learning more about: Competitive gymnastics, rhythmic or artistic? Each carriers different expenses. For now, let's assume they're interested in competitive, which gets the most attention during the Games.
Costs vary wildly, depending on who's giving the lessons. A multi-month program for children between 7 and 14 costs just $56 to $75 for YMCA members in Austin, TX and $101 to $135 for non-members. But a five-week summer session at the Los Angeles School of Gymnastics ran as much as $1,700 this year.
Read Next: How Much Is an Olympic Gold Medal Really Worth? Here Are 4 Possible Answers
If you get onto the competitive circuit, expect to pay for a Booster Club membership (anywhere from $500 and up), coaches fees and more. And if you were to enroll your child at a top-tier camp, like the one run by Bela and Martha Karolyi, you could expect to pay $615 to $645 per session.
The good news? Leotards aren't super expensive, generally, though the ones worn by Team USA in Rio retail for $1,200 each.
Track & Field
If your child wants to be the next Usain Bolt, the good news is it doesn't really cost anything to run. Whether it's on the sidewalks in your neighborhood or an open lot, kids can build their stamina on their own. And many schools have track and field programs to foster that interest, at minimal expense.
Taking things a step further gets a fair bit more expensive, though. Shoes alone can run $150 or more, and you'll need to plan on buying several pairs per year. Private coaching lessons (and not Olympic-level coaches) run between $50 and $100 per session. If your child is good enough and focused enough to head to the IMG Academy Track & Field Boarding School Program (6th grade and up), expect to pay between $55,600 and $72,900 per year.
Read Next: Meet the Realtor Who Just Won an Olympic Medal for Team USA
The good news, though, is if your child does make it onto the US Track & Field team, many of their costs, like programs at the high performance training centers, may be covered by the organization.