Ronda Rousey Is the First Woman in the UFC Hall of Fame. Here's How Much She's Made Over Her Ground-Breaking Career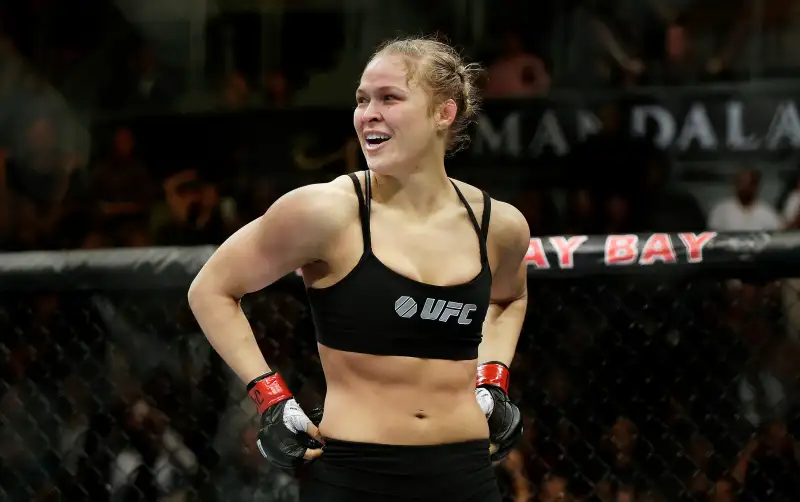 Isaac Brekken/AP/REX/Shutterstock—Isaac Brekken/AP/REX/Shutterstock
A trailblazer in her sport, Ronda Rousey will now be honored as the first woman to be inducted to the UFC (Ultimate Fighting Championship) Hall of Fame this week.
The 31-year-old legendary MMA fighter helped create a woman's division in the UFC and collected win after win — setting multiple records for four of the five fastest finishes in the women's division bantamweight history and defended her UFC title six consecutive times.
"This is an immense honor, to not only take part in bringing women to the forefront of this sport, but now the UFC Hall of Fame," Rousey said in a statement. "May I be the first of many."
While Rousey exited the UFC after two heartbreaking loses and has largely been absent from the octagon recently, she signed a contract with World Wrestling Entertainment (WWE) earlier this year.
Before the UFC, Rousey honed her skills in judo, earning bronze at the 2008 Summer Olympics in Beijing. Rousey rose to fame in recent years for her domination in the UFC, eventually dabbling in endorsement deals, acting roles, a Saturday Night Live hosting gig, a Sports Illustrated swimsuit cover, and earning nicknames like "The Baddest Woman on the Planet." While it is unclear exactly what her net worth is, Forbes has ranked Rousey among the top 10 highest-earning female athletes in 2015 through 2017, earning millions each year. In 2016, Rousey raked in $14 million in total earnings, according to Forbes — coming out ahead of professional racing driver Danica Patrick, who has also paved the way for women in her sport.
Here's what we know about Rousey's money and how she spends it.
Her personal life and meteoric rise
Born in Riverside, Calif., with an umbilical chord around her neck, Rousey suffered developmental delays — and did not speak "coherently in sentences" until she was six years old, she told the New York Post. Rousey faced more hardships in her childhood — her father died by suicide when she was 8 years old.
Not long after that, however, she found inspiration from her mother: a former judo champion, who became the first American to win a world judo championship when she clinched the title in 1984, according to the Post. Rousey took up the sport, eventually landing at the 2008 Olympics, where she earned a bronze medal.
Bloomberg—Bloomberg via Getty Images
Rousey went on to bartend in Los Angeles to pay the bills when she saw MMA footage on the television and thought that could be a path she could pursue, according to the Post. After several years of training and odd jobs to make ends meet, Rousey entered a MMA organization with a women's league — and eventually went over to the UFC and helped develop a women's league there.
In 2017, Rousey married Travis Browne, a UFC heavyweight fighter.
The couple has an assortment of pets, including their dogs, chickens and new goats. When asked earlier this year by TMZ if she and her husband would have children, she replied: "Soon, someday soon."
Rousey's UFC earnings
Jae C. Hong/AP/REX/Shutterstock —
Rousey earned millions in the octagon during her UFC career — in some cases raking in hundreds of thousands of dollars per second of a high-profile match, according to Forbes.
While the UFC does not disclose the exact earnings each athlete gets for a match, Rousey has dropped clues about how much money she earned compared to other UFC fighters — including male competitors like Floyd Mayweather, who was the highest-paid athlete in the world in 2012, 2014, 2015 and 2018, according to Forbes. In her last UFC match in late 2016 when she lost against Amanda Nunes in just 48 seconds, Rousey walked away with $3 million, according to ESPN. That, along with the purse Conor McGregor earlier that year, was the highest amount for a MMA fighter to walk away with in the UFC's 25-year history.
Along with fight purses, Rousey also earned an income from a percentage of the pay-per-view profit. Like most industries, women are generally paid less in professional sports. But Rousey has defended the UFC's model for paying, as it rewards fighters who bringing in high viewership.
"They do it because I bring in the highest numbers," told a reporter in 2015, according to Forbes. "They do it because I make them the most money."
Rousey's contract with WWE
MediaPunch/REX/Shutterstock
Rousey signed a contract with WWE back in January. The move launched Rousey into another world of sports and entertainment, though the details of her contract have not been released. Based on WWE's pay-per-view model, however, it's likely Rousey could bring a host of fans — which could equate to millions of dollars in her pocket — to watch her appearances.
Originally a fan of professional wrestling, Rousey had appeared several times on the program — once with Dwayne "The Rock" Johnson. Wearing a "Rowdy" shirt, Rousey surprised fans in January with her first appearance under contract with WWE at the Royal Rumble.
A slew of endorsements and magazine covers
Richard Levine—Corbis via Getty Images
Rousey's success has also brought on the inevitable: endorsements, magazine covers and fame. Over the years Rousey has had endorsement deals with Reebok, Carls Jr., Metro PCS, Monster headphones and, recently, she became the co-owner of Max Effort Muscle, a nutritional supplement line.
She appeared as herself in the EA Sports UFC game, and wrote a biography in 2015, titled My Fight/Your Fight, which appeared on the New York Times bestseller list.
In addition to Rousey's sponsorship deals, she's also been on the cover of a number of magazines, including ESPN's Body Issue, SELF and Sports Illustrated annual swimsuit issue, which is typically the best-selling issue the magazine puts out each year.
Film and television roles
Rousey's fame in her sport has also brought her on the screen as well.
The MMA fighter hosted Saturday Night Live in 2016, and has appeared in movies like The Expendables 3, Entourage, and Furious 7, as well as a guest appearances on NBC's Blindspot.
She also will appear in Mile 22, an August 2018 film that stars Mark Wahlberg.