This 26-Year-Old Created a Money-Making Empire With Viral Videos Featuring His Grandma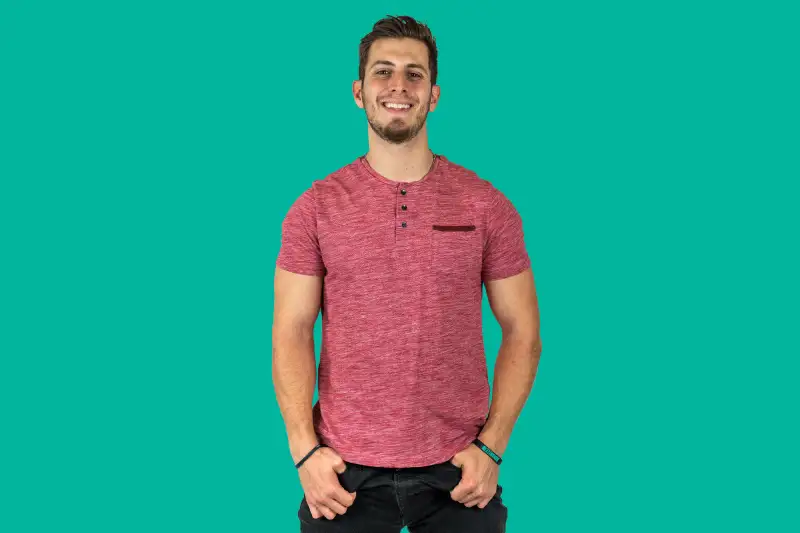 Courtesy of Anderson Group PR
Despite what you might think, being an influencer involves a lot more than taking obscene amounts of selfies. For Ross Smith, it means spending $200,000 a year on content.
Smith, an ex-Vine star famous for making funny videos with his grandma, can invest upwards of $1,000 creating a single photo. All you have to do is visit his Instagram profile to see how. One day, he's decked out in an Irish kilt and suspenders; the next, he's dressed up like a pilgrim preparing to carve a turkey. In the past six months, Smith has posed with 2,000 fireworks, poured bottles of champagne over his head, filmed his granny brandishing a flamethrower and more.
"Props, cameraman, equipment, promotions, building the brand ... I'll just get up late on Amazon some nights and I'll drop stupid money," he says.
Working for the internet can be expensive, but it's also lucrative. The 26-year-old says he's learned he has to take risks in order to get rewards, which in his case include brand deals with companies like Wendy's, a series on Facebook and 19 million followers across platforms.
Here's how he makes it work — and the lessons anyone can use for any career.
Realize the Internet Is Unpredictable
When Vine shut down in 2017, Smith thought his life was over.
He was famous on the short-form video app for uploading funny clips of his grandma pretending to be a thug. His six-second videos of her bragging about a mixtape, listening to Fetty Wap and wearing a gold grill got millions of views.
But then "one day — snap — it all ended. And I had nothing," Smith says. "I had 3,000 Instagram followers. I was dead. I was like, is it time for me to just move on from social media?"
Luckily, he had a viral hit on Facebook a few weeks later, but the lesson stuck. Smith says he realized he couldn't rely on one website for cash, similar to how "you wouldn't put all your money on one stock." Algorithms can shift without warning; accounts get deactivated for no reason. There's not even steady demand when it comes to spon con.
"Things are changing every day," Smith says. "There's no consistency there. Quarter four? You're getting 50 brand deals from big Fortune 500 companies. The other three quarters? You're getting like one app who wants to sell you dating services or whatever, and it's not good money."
If you've ever been derailed in your own career, Smith's moment of panic may sound familiar. But as someone who came out on the other side, he recommends persistence.
"Treat your brand as your most important thing," he says. "I've seen so many people sell out and just try to make money as fast as they can. Think about the long game. Think about trying to stay relevant for as long as you can."
Courtesy of Anderson Group PR
Diversify Income Streams
Vine's demise changed how Smith thinks about making money. He now wants to have as many "branches" of income as possible.
His latest passion is exploring ecommerce. In December, he teamed up with a custom pillow company, and in February, he helped sell custom art. Basically, Smith finds a product he likes, approaches the founders and offers his platform in exchange for a cut of the profits à la Shark Tank.
"I know the space, and I know very well what people want and how to put it in front of them," he says. "I'm the Mark Cuban of the internet now."
The goal is to get to a point where Smith doesn't need to use his giant platform for ads at all.
"In an ideal world, I don't have to do a brand deal, I don't have to do an advertisement on my videos. I have a massive company out there that's generating revenue that's not even attached to my name, and I can just do exactly what I want," he says.
Smith says it's smart for everyone to develop multiple revenue streams out of caution.
"The good thing about diversifying yourself and spreading out is that if something goes bad, you have other things to lean on," he adds. "Don't be too dependent on one thing in the money game."
Enjoy the Ride (and the Revenue)
Smith is known for his collaborations with his 92-year-old grandmother, who can often be found in videos pulling off insane beer pong trick shots. But she doesn't care about the profits like he does.
"My mom and I have come up with a strategy — I hope [Granny] doesn't read this article — where we sneak money into her bank account every month," Smith says.
Smith says his grandmother grew up poor during World War II and worked blue-collar jobs for decades. When he started making videos, she didn't know what the internet was. "For the first three years, she thought I was taking pictures," he adds.
His personal financial goal is to get to a place where he can afford to randomly tip nice waiters $1,000. But Granny doesn't even like gifts. (Out of frustration, Smith recently started getting her poop-themed presents.)
She simply enjoys having an excuse to hang out with her grandson.
"I've offered multiple times to buy my grandma a new house to be closer to me because she legit lives in the hood, and she refuses," Smith says. "She loves her 700-square-foot house that she's lived in for 70 years."