Here's How Much the Royal Baby's Birth Cost, Compared to the Average American's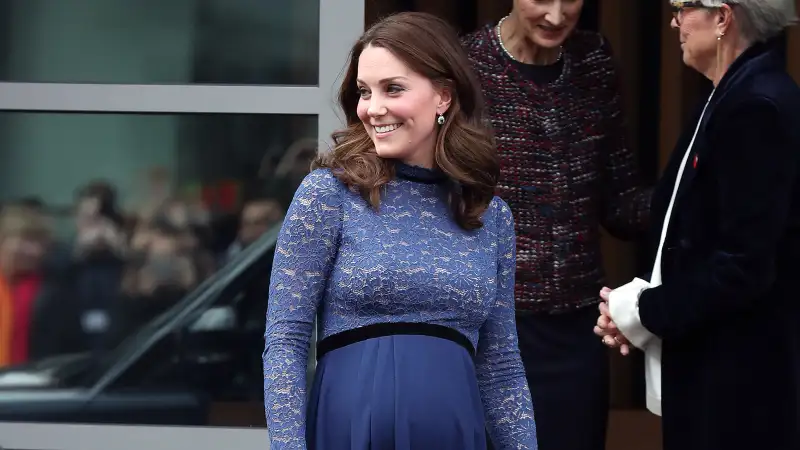 When Catherine, Duchess of Cambridge went into labor with the third royal baby on Monday morning, she did it in style. At the Lindo Wing, she enjoyed access to state-of-the-art equipment, WiFi, modern decor, daily newspapers, meals prepared by on-site chefs and afternoon tea, among other amenities. Kate Middleton gave birth to a boy at 11:01 a.m. local time, or about 6 a.m. EDT.
The royal baby weighs 8 pounds and 7 ounces, according to the Kensington Palace. His name hasn't been publicly revealed yet, but the little prince is fifth in line to the throne.
And even with all the fanfare, his delivery will likely still end up costing less than the average birth in the U.S.
Here's what we know about the bills associated with the royal baby.
Debt to Expect When You're Expecting
The National Health Service provides free maternity care to U.K. residents who give birth in their hospital system, but new moms also have the option of pursuing private care, according to Quartz. That's what Kate did twice before, choosing the private Lindo Wing at the NHS hospital St. Mary's for the births of Prince George in 2013 and Princess Charlotte in 2015.
It's hard to know exactly how much the royals will pay this time around — as Imperial Private Healthcare writes on its website, "the cost of private treatment will depend on a number of factors such as the length of your stay, the procedure or the drugs that you require." But we can work up a rough estimate.
According to the Lindo Wing's maternity prices document, Kate and Prince William will be on the hook for at least £6,275, or about $8,800, if the duchess had a normal delivery and stays for one night in a deluxe room. She can also reserve a suite for a fee, which Us Weekly reports could leave the couple's total bill exceeding $9,650.
Then there are the extras. Antenatal care before the baby's birth, for example, costs £500 (about $703) for three hours. Additional nights in the Lindo Wing cost a minimum of £1,175 (roughly $1,650).
Nobody knows how long Kate will stay in the Lindo Wing — but history tells us she's not one to linger. With Prince George in 2013, the duchess left the hospital the day after giving birth; with Princess Charlotte in 2015, she was discharged 10 hours later.
Kate could incur additional charges if she had a blood transfusion, required certain diagnostic tests or is given medication to take home. Quartz reported she also has to pay her gynecologist to the tune of £6,000, or about $8,500.
"The bill you get at the end is very long and slightly scary," British mom Sarah Harcourt, who gave birth at the Lindo Wing, told the Evening Standard in 2013. "You pay for breathing really. But I was quite anxious about giving birth and felt I wanted the kind of concentrated attention the Lindo offers."
So what's the bottom line? Elisabeth Rosenthal, a former New York Times reporter and current editor-in-chief of Kaiser Health News, estimated that George's birth cost $15,000 total.
But with this third royal baby, at least the duchess will get a discount — the Lindo Wing takes 10 percent off for moms who have previously given birth at its facilities.
Congratulations! It's a Bill
The price points are much different in the U.S. — even when the baby in question is not royalty.
A 2013 study from Truven Health Analytics found that American hospitals charged moms with employer-provided insurance about $32,000 on average for natural births and $51,000 for Cesarean sections. However, most of that was covered by insurers.
Prices also vary significantly by state. Money teamed up with FAIR Health last year and found that the average amount insurance providers agree to pay for vaginal delivery in Alaska, for example, is $10,413 — much higher than the $5,017 they cover for the same procedure in Alabama.
For C-sections, Alaska, New Jersey, New York and Connecticut are the most expensive states, with the average prices exceeding $11,000. On the other end of the spectrum, the cheapest places to have a C-section included Washington, D.C., Alabama, Louisiana and Arkansas.
Laws, salaries and the availability of supplies account for most of the fluctuation.
Unlike many other countries, the U.S. is notorious for charging separate amounts per test, drug or service. This allows hospitals to offer — and subsequently bill — parents more. For example, in 2016 case in which a new mom had to pay $39.95 to hold her baby after giving birth.
"It's mostly healthy moms and healthy babies, so these costs are pretty shocking from that point of view," Carol Sakala, director of Childbirth Connection Programs at the National Partnership for Women & Families, told Money.
That said, both the Duchess of Cambridge and regular American moms share one crucial expense: ordering pizza to the hospital room.