The Best $2 You Can Spend at the Grocery Store, According to 'Salt Fat Acid Heat' Star Samin Nosrat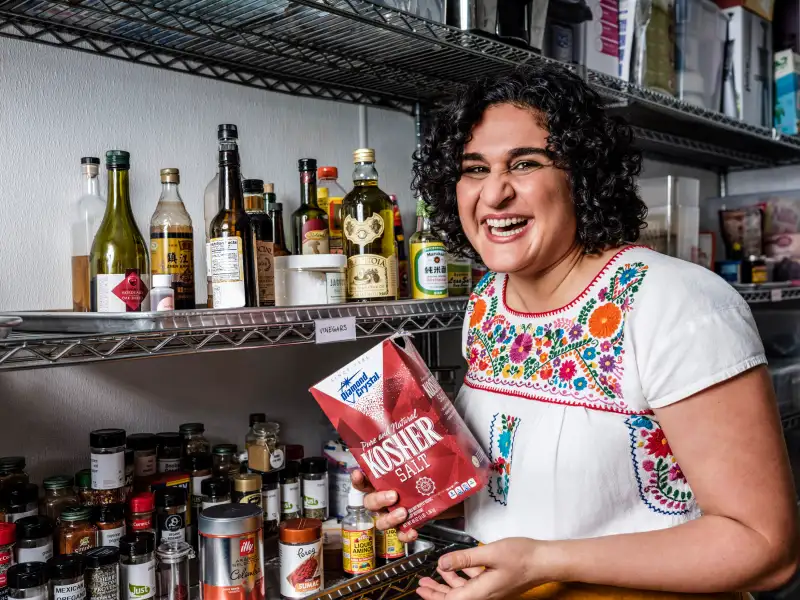 Photograph for Money by Chris Sorensen
Samin Nosrat shines when she's teaching in the kitchen.
That's not surprising, for someone who once told a journalist she'd like to become an Iranian-American Martha Stewart, and who was dubbed "America's next great cooking teacher" by renowned chef Alice Waters.
But you don't actually feel the energy the star of Netflix's Salt Fat Acid Heat exudes in the kitchen until you see her in action. We can't, sadly, clone Nosrat and send her to your kitchen for an actual, live cooking lesson. But we can bring you behind the scenes of Money's April cover shoot, where she showed off her cooking and teaching techniques by demonstrating to us a homemade pasta and pesto recipe.
"It's (a recipe) I love teaching because it's so simple, and it gives you this feeling like, 'I accomplished something.'" she says. "We had a table of ingredients and now we have a bowl of pasta 30 minutes later."
Nosrat also gave Money the lowdown on how to get the most out of your kitchen spending. Good cooking doesn't have to cost a fortune. Here's how.
Fresh Herbs Are a Game Changer
The best two dollars you can spend at the grocery store is buying fresh herbs. They'll make your food come to life and taste vibrant, Nosrat says. She recommends buying a bunch of your favorite, cutting their stems and putting them in a glass of water as if they were flowers. They'll look nice, and stay fresh for over a week.
"It's a really budget-conscious and also powerful way to make your food taste good," she says.
Know Where You Can Get Your Umami
Something that's always helpful to have in the fridge—Nosrat's number one kitchen staple for an easy, delicious dish—is Parmesan cheese.
"And when I say Parmesan, I mean real Parmesan from Italy, definitely not the stuff in a green tube," Nosrat says.
Real Parmesan is versatile, she says. And it's full of flavor, thanks to umami. That's your fifth taste, after salty, sweet, sour, and bitter.
"It's what makes your mouth taste full. And it's kind of like savory-ness and mouth-smackingness," she says. "It's so delicious."
You've probably heard of monosodium glutamate or MSG. That's a manmade imitation of umami used as a flavor enhancer. But umami occurs naturally in plenty of foods, including Parmesan cheese, Nosrat says. It's also in fish sauce, soy sauce, mushrooms, ketchup, and more. A basic 8-ounce block of Parmesan will set you back anywhere from about $3 at Aldi to $7 at Whole Foods.
Delicious Doesn't Mean Fancy
Ok, so you're having a dinner party, and you'd like to impress your guests. Should you buy a nice cut of steak? Sear some sea bass? You could. But you'd be shelling out some serious cash.
Instead, consider chicken—that workhorse of American at-home cooking.
"My classic recipe that everyone loves is the buttermilk roast chicken," Nosrat says. "It's my favorite recipe."
An added bonus is that it's a simple recipe, one where you can do all the work well before your guests arrive. All you need to do is salt a whole chicken, pour some buttermilk into a Ziploc bag, and let the chicken marinate in it for a day. Then pop it in the oven for an hour or so at 400 degrees.
Nosrat says she'd pair that with salad and vegetables. Too many people think of vegetables as something they have to eat, and so she loves turning them into something people love to eat—especially when someone claims they don't like a certain vegetable. The key to nailing the dish is making sure the veggies are spaced out on the baking sheet so that there's plenty of room for them to brown while they roast and for steam to escape in the oven.
"It's doesn't even have to be fancy stuff, (it can be) a bunch of carrots, a bunch of broccoli," she says. "Once you roast it, get it all brown and caramelized on the outside, people are like 'this is candy.'"
Buying Good Equipment Will Make You a Happier Cook
You could spend a fortune on kitchen gadgets and appliances. But spending on a few quality tools is all you really need to become a strong at-home cook. Nosrat says everyone needs a cast iron pan, and a quality cutting board. She likes wooden ones because they absorb less germs and you can get a thick, heavy one that won't slip under you while you're chopping.
And of course, you need to a nice, sharp knife. It doesn't have to be wildly expensive, Nosrat says. She recommends looking for a stainless steel or carbon steel one with a clean edge. (You should only use a serrated knife for bread, tomatoes, and some types of cake, she says.) One of her favorite brands is Forschner, which is made by Victorinox, the company behind Swiss Army knives. A quality Forschner chef's knife will set you back about $40, and while Nosrat has other, more expensive knives, she says she's been happily using her Forschner knives for 20 years.
"It's a nice investment that's going to make life a lot easier," she says. "Having a good tool is going to make cooking a lot more pleasurable."