As Their Suits and Stilettos Collect Dust, Employees Are Making Quick Cash Selling Old Office Clothes Online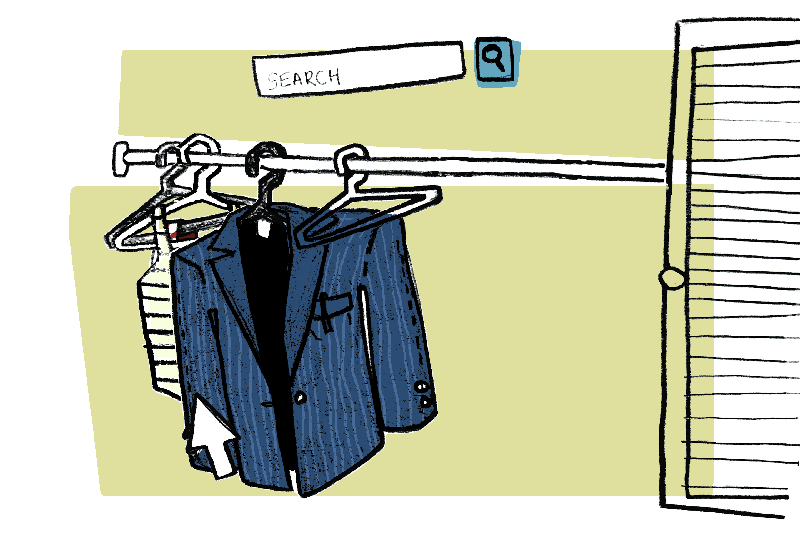 When Robin Camarote attends a Zoom meeting, she no longer needs the heels, the blazer, or even the pants she used to wear to the office. So instead of letting these "business casual" staples idle in her closet, she's selling them all online.
"I don't see a scenario where I'm going to wear these clothes again," says the 45-year-old management consultant.
As the coronavirus pandemic stretches into fall, Camarote is one of many former corporate warriors getting rid of her newly-useless office attire through second-hand websites like Poshmark, The RealReal, Facebook Marketplace, and eBay.
At the RealReal, women's pumps are now the most consigned type of shoe, according to Sasha Skoda, category director for women's and kids' apparel at the online consignment retailer. In May and June, the number of men's ties on the site increased by 47% compared to two months prior, she says. The number of cocktail dresses increased by 93%.
"Some people are definitely ditching the classic 9 to 5 suit and tie mentality," Skoda says.
There's less demand, of course. Suit and tie purchases are down 12% and 9%, respectively, compared to last year. But bargain hunters, some living in parts of the East Coast, South, and other areas where shutdowns have begun to ease, are still scooping up deals.
Emily Ho, a 39-year-old digital marketing consultant in Louisville, Ky., has used the fashion resale platform Poshmark to sell 21 items—mostly cocktail dresses that fetch roughly 60% of what she paid for them—since May. So far, she's earned about $1,000; money that's helped buffer her emergency savings account.
"I kept getting overwhelmed by how much I'm not wearing," Ho says.
Ho has used Poshmark sporadically since 2016, she says, but her shoes, dresses, and other items sold at a snail's pace before the pandemic. Now she gets a lot more traffic.
Teressa Peirona, an executive assistant for a technology company in Rocklin, Calif., also says her Poshmark sales have gone up since the start of quarantine.
Peirona, 30, sells previously-worn clothes from her own closet—a pair of J.Crew women's dress pants earn her between $20 and $30 a pair, she says—plus clothing from her friends and relatives, who pay her a commission fee of at least 20% for every item she successfully pawns off online.
Altogether, Peirona says her earnings "make enough to pay my student loan payments."
This trend has staying power, even as some U.S. workers start to trickle back to their desks, says Alison Gary, a style blogger in Greenbelt, Md. who sells some of her gently-worn clothes on Poshmark and Facebook Marketplace.
Americans are rethinking their wardrobe and aiming for smaller, more curated closets, "not just because they need to make money," Gary says, but because their lifestyles have changed. At last count, 13.6 million Americans were unemployed (more than double the unemployment rate from this time last year) and millions more have gone telecommute for the foreseeable future.
"People seem to be offloading," Gary says.
They've got more options than ever. Poshmark and The RealReal, both founded in 2011, operate as consignment middlemen, meaning sellers get money added to their account once an item is received by a buyer and, in some cases, its return window expires. The RealReal typically charges consigners a 45% fee for every item sold, with prices for some designer pieces fetching $200 and up. Most sellers send in an itemized box of vetted designer items. Those items are then photographed, sold and shipped directly to buyers. Poshmark, which asks sellers to photograph, sell and ship their own wares, takes a 20% cut on items priced higher than $15, and charges a flat rate of $2.95 for items under $15.
Consigners can find buyers directly on Facebook Marketplace without paying a cut. Or they can turn to eBay, a 24-year-old e-commerce auction site that's free for most small-time sellers, and comes with a built-in audience of global bargain hunters. So sellers can ship their business casual castoffs to buyers in Germany, Korea and other countries that are faring better in their response to COVID-19 than the U.S.
"In a lot of other countries you're still physically going to your job," says Amanda Miska, a stay-at-home mom in Wyncote, Pa. who makes hundreds of dollars each month selling used clothes online.
In recent months, Miska has sold many of the dresses she used to wear to conferences and meetings to overseas buyers, she says.
As a seller across multiple online platforms, she's also been fielding lots of questions from people who want to make some extra cash by paring down their wardrobe.
These days, Miska is something of an expert in the subject.
"I literally wear yoga clothes every day," she says.
More from Money:
Covid Scams From A to Z: 26 Ways Fraudsters Are Fooling People During the Pandemic
What if the Coronavirus Makes us Work From Home Forever?
True or False: Ignoring the Census Could Cost You $5,000