3 Signs You're Too Casual About Debt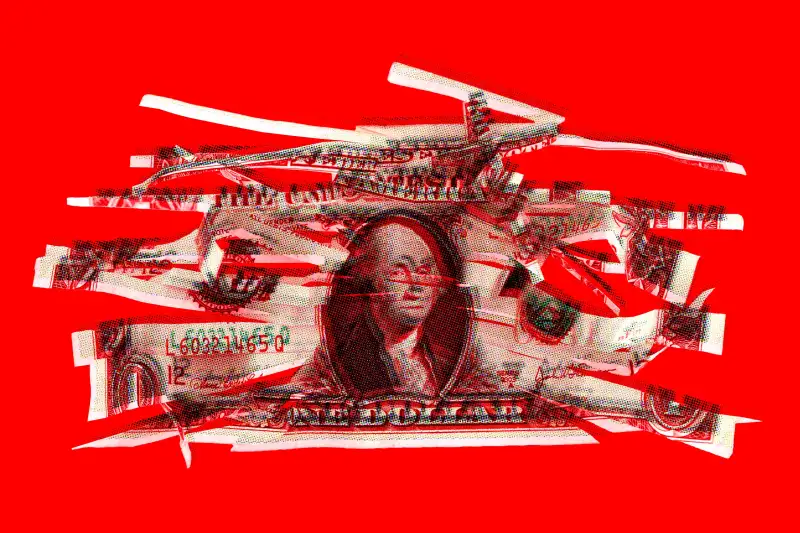 Olive Burd / Money; Getty Images
It started with a trip to England. Logan, a 24-year-old working a desk job at a car rental agency to pay down his student loan debt and cover his increasing monthly rent, wanted to go on a music festival vacation with some friends in 2020. The only way he could afford it was to book the flight on a credit card.
"At first, [I opened a credit card] for big expenses," Logan, a friend of mine who preferred to not share his last name, tells Money. He first used the card to "help with financing plane tickets and occasional bigger purchases" that he couldn't afford otherwise.
Prior to that adventure to England, he paid for everyday expenses like groceries, gas and clothing with a debit card, to avoid spending money he didn't have. But over the past several years, inflation ate into his budget, and more and more he swiped his credit card for purchases rather than his debit card.
Because of rising prices everywhere he turned, Logan felt justified in the increased use of his credit card — which he eventually maxed out. One card turned to two, and then three. He confesses that at some point, his attitude toward taking on more debt became blasé. It led to a situation where he now has almost $9,000 to pay off, not counting student loans.
"As long as I was making the minimum payment I didn't really concern myself with paying things off in full," he says.
Logan's situation isn't necessarily unique. The average American credit card holder carries about $6,000 in credit card debt, and 43% of all credit card holders pay only the minimum amount owed each month. Meanwhile, typical credit card interest rates are lurking at over 20%, making now an especially bad time to carry a balance.
I've written before about my paranoiac aversion to credit cards, driven by my worries about overwhelming myself with debt. But the reality for most people is that it's frighteningly easy to take on debt and not think much about it until it's the size of a mountain looming over you.
Logan is hoping to break his habit of financing almost all his purchases and plans on consolidating his debt through the means of a balance transfer credit card. But, like so many other people carrying big credit card balances and watching the fees pile up month after month, he wishes he hadn't been so casual about digging himself into debt in the first place.
Good debt vs. bad debt
R.J. Cross, director at Public Interest Research Group (PIRG), spoke with Money about how people are taking on debt more casually than ever. "Indebtedness is a fact of life in America," she explains. "We're constantly receiving the message that debt is normal and necessary."
It's worth noting that not all debt is created equally. You've likely heard of "good debt" and "bad debt." Things like mortgages, car loans and student loans are ostensibly "good debt." They are debts taken on to cover major necessities, and they usually help you build wealth in the long run.
"Bad debts," on the other hand, are expenses taken on unnecessarily, and often impulsively — expensive items you don't need and can't afford. Even good debts have their limits, too; taking out a loan on an expensive sports car at 20% APR is not the same as financing a reliable sedan for commuting to work.
Debt is not a new concept, and sometimes taking out a loan is the smartest financial move you can make. But Cross says that people are increasingly being influenced to take on more "bad debt," and they're piling it up at a faster rate.
"There are ways in which that attitude [of normalcy] has proliferated in a part of the economy that's dedicated to getting you into more debt than you really need to be," she says.
"It used to be 'Keeping Up with the Joneses,' where you wanted to have the same stuff as your neighbor, but now it's like 'Keeping Up with the Kardashians,'" Cross says. "We have these wealthy images aimed at us and you start to think that's what I want my life to look like. It creates this aspirational ladder that you're probably never going to achieve."
Nowadays, credit card debt makes up almost one-third of the total debt owed by an average household. All said, Americans carry a cumulative $1 trillion in credit card debt alone.
"Buy now, pay later," or BNPL services, too, have emerged as a new potential source of "bad debt." These services, which allow consumers to break payments on almost anything into installments, can sometimes nudge consumers into buying more items and paying higher prices for them.
Cross calls BNPL and the social media era the new iteration of what credit cards and television were in the 20th century. "I think, especially with credit cards and 'buy now, pay later,' that debt is becoming increasingly casual throughout the entire American economy," Cross says. "There's been a long evolution in making it as frictionless as possible for people to spend more."
How to tell if you're too casual taking on debt
According to Cross, there are a few signs that could indicate you're taking on debt too casually — and hopefully you can correct the situation before it becomes overwhelming. Here's what to monitor (and avoid):
Turning small purchases into serious debt
Frivolous expenses, be it takeout for dinner or something you saw on TikTok Shop, might seem harmless enough, but when thoughtless purchases become a habit they can add up quickly. If you aren't paying them off in full, you're just taking on interest for that dinner you had two weeks ago, or that shirt that won't be trendy in a month. And that can lead to a debt treadmill of minimum payments that don't go away without seriously overhauling your budget.
"If you're going into debt for stuff that you're paying off longer than you get to benefit from the actual purchase, that's really not sound financial planning for yourself," Cross says.
Using debt to pay off other debt
It's bad enough when you use a credit card to buy something you can't afford. But because you can still apply for new credit cards while you owe on current ones, it's possible to dig yourself into an even bigger hole.
It might seem like paying off debt from one credit card with a different card is a fast and easy way to create breathing room, but you're ultimately only raising the stakes when you miss a payment. Now instead of dealing with just one APR and card balance, you must cope with multiple — and the interest rates could increase higher and higher as you fall behind.
"Buy now, pay later" apps like Affirm and Afterpay are also becoming increasingly popular ways people are layering their debts, according to Cross. Consumers can connect credit cards to BNPL purchases, which could then compound those multiple payments with credit card interest and lead to a bigger hit to your wallet. And while BNPL companies often advertise themselves as having no fees, they might carry exorbitant interest rates (some as high as 30%) if you miss a payment.
Turning "good debt" into "bad debt"
Car loans and mortgages are generally considered good debt. Even so, they shouldn't be taken on lightly, and you should be realistic about what you need and how fast you need it.
"You see people spending $50,000 on a new truck, what's another $2,000 for like the heated seats?" Cross says. "That can happen to people when they don't keep laser focused on what they actually need and situation and not what they can get away with because they can finance something and pay it off later."
The timing of when you take on certain debt can determine whether it's truly "good" for you as well. For example, do you absolutely need to buy a home now, at a time when you will be paying a mortgage rate of around 7%? Or would it be ultimately better to rent for another year and save more for a down payment, or to simply hold onto the home you already own?
Student loans are one of the biggest sources of what's considered "good" debt. And, sure enough, people with college degrees earn between $630,000 and $1.5 million more over their lifetimes compared to those with just high school degrees. However, there's a threshold of debt one must consider before going to a school. Sure, your dream school might seem like a great fit, but if you're taking on too much in student loans, it very well might not be worthwhile. You might also regret taking out a hefty student loan if you wind up dropping out before earning a degree or attend a dubious for-profit school that doesn't help your career path.
Properly weighing these decisions is the difference between reaching your financial goals and bogging yourself down with debt you'll come to regret.
More from Money:
Why Downgrading a Little-Used Credit Card Is Smarter Than Closing It
Here's How Much Debt the Average American Has in 2023
Pros and Cons of Debt Consolidation