This Airline Just Rolled out New Luxury Suites with Full-Size Beds. Take a Look Inside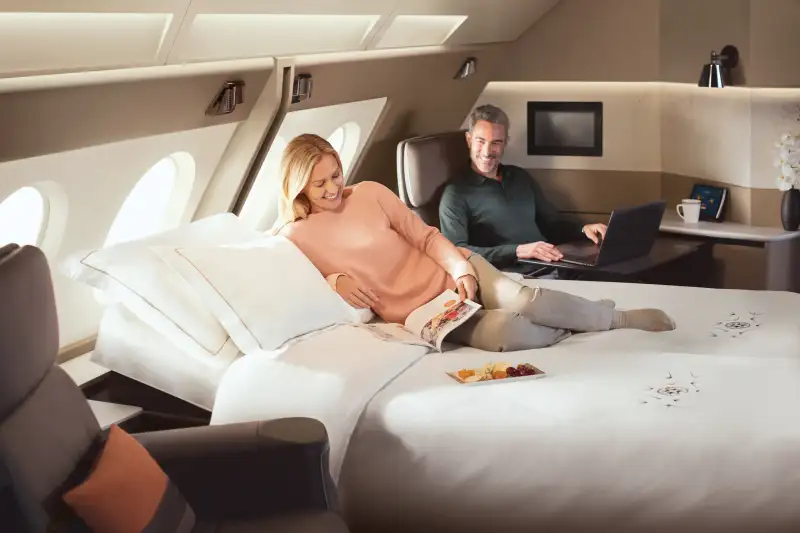 This is about as far away from a "flying bus" as you can get.
Singapore Airlines, which is routinely rated as one of the world's best airlines, recently unveiled a new set of amenities for its A380 planes, which serve its 13-largest hubs, including London, New York, and Paris. The upgrades represent a new benchmark in the arms race to serve (and pamper) international luxury travelers.
Singapore Airlines says it is launching the first of five new A380s in December, and will be retrofitting 14 other A380s starting next year. New amenities and features will be found throughout the planes, but the most impressive upgrades are in the aircraft's suites and business class section.
SUITES
Singapore's suites feature full-size beds and a "fluffy" cotton duvet with embroidery crafted by French luxury brand Lalique. Passengers in suites get their own private 32-inch HD monitors, up from 23-inch screens in the past. The screens can be angled just optimal viewing if you're in a seat or lying down in bed.
Select suite users will also receive an amenity kit with toiletries and perfumes, or a unisex kit containing lifestyle items, both designed by Lalique. The first set features a fragrance, lip balm and a specially designed pouch; the ladies' set includes a face moisturizer and hand cream while the men's set includes a body lotion and aftershave balm. The unisex kit contains a Lalique candle, scented soap, lip balm and body lotion.
The suite lavatories come with citrus-scented facial mist, body lotion and fragrance by Lalique.
Each suite passenger gets a full-size personal wardrobe too. Food will be served on Wedgwood serviceware and Lalique-designed crystal glassware.
How much does all of this cost? Prices vary widely for Singapore Airlines suites, but we priced out some flights between Sydney and Singapore in January and found one-way airfares from around AUD$4,000 (or a little over $3,000 in U.S. dollars). A round trip in the suite section from New York-JFK and Singapore, with a stopover in Frankfurt, costs about $13,000 in January.
BUSINESS CLASS
Business class customers will also enjoy beds in the middle aisle, as well as customers a range of washroom amenities by Penhaligon available on board such as hand lotion, facial mist and fragrance. Food will be served on Narumi-designed chinaware.