The Curious Ways Brutal Snowstorms Affect How We Shop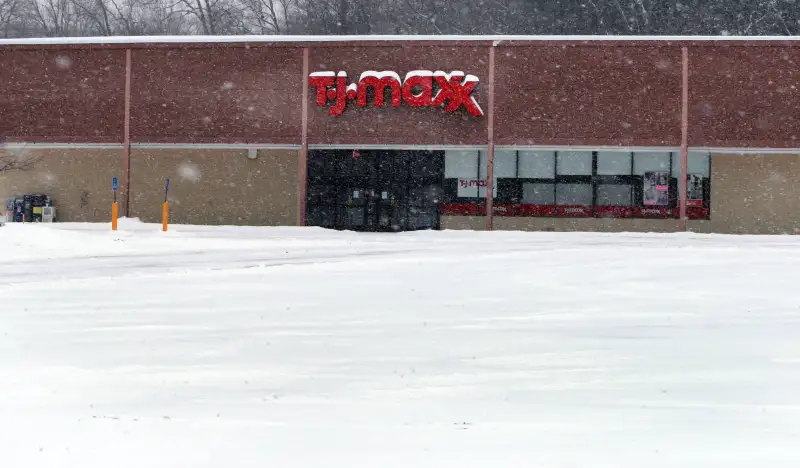 Jim Davis—Boston Globe via Getty Images
We've seen the pattern repeat itself many times over. Weather forecasters predict a big winter storm, and long before the snowflakes appear, panicked shoppers hit the supermarkets to grab whatever milk, bread, eggs, and, if you're at Whole Foods, kale, is still available.
Likewise, the arrival of a blizzard—or rather, the forecast that one could be coming—all but guarantees that there to be a run on shovels, sand, salt, and other snow-coping materials at hardware stores and home improvement centers. Gas stations and stores selling winter boots and other cold-weather gear can rely on storm forecasts to create sales spikes too.
In these ways, at least, the storms pounding New England and much of the Mid-Atlantic region over the past few weeks have boosted retail sales in ways not seen since, well, last winter, when the polar vortex caused mad rushes on grocery stores throughout the Midwest.
And yet, bad winter weather is hardly a good thing for retail in general. In fact, for stores that aren't selling groceries, gas, shovels, or boots, blizzards can be business killers. Jon Hurst, president of the Retailers Association of Massachusetts, told the Boston Herald that "conservatively," retailers in the state have lost $10 million for each day they've been closed or had almost no business thanks to relentless snow. Restaurant owners in Rhode Island are calling this "the worst February in years" thanks to snow keeping would-be customers at home. Overall, a 2014 IHS Global Insight study found that a single-day shutdown in New York can add up to $700 million in total economic costs, including $152 million in lost retail sales.
Presumably, the bulk of those lost sales transactions would have been conducted in person. After all, snow and cold weather can only prod more consumers to stay indoors and shop online, right? Actually, the impact of big snowstorms on online shopping is a bit muddled.
On the one hand, 16% of consumers in a recent survey from Fluent said that they have shopped less this winter, while 27% said they have done more online shopping. So snow + frigid temperatures = increased online sales, right? Not so quick.
According to Adobe Digital Index data, the winter storm that hammered the Northeast in late January resulted in a $35 million decrease in online sales, largely because people were home rather than at work. "During the work week, a lot of people really do shop from their work desktop," Adobe analyst Tamara Gaffney explained to InternetRetailer.com. "You also have power outages and people out shoveling snow. They're not shopping, they're doing other things. It has a negative impact on e-commerce."
Another way that winter storms can wreak havoc on e-retail is that when roads are impassable or close to it, it's extraordinarily difficult for goods to simply be picked up or delivered. For instance, a Federal Express Service Alert issued this week warned that in light of persistent snowy weather in the Northeast, "some service delays and disruptions can be anticipated for inbound and outbound shipments in CT, ME, MA, NH, NJ, NY, PA and VT."
For what it's worth, the impact of snow—even a series of storms in a particularly bad winter—is generally short-lived. Often, if snow or cold weather brings about a slow period for sales of cars or home appliances or whatever, there will be a significant, corresponding rise in sales once things warm up. In other words, the sales shift; they don't simply disappear.
Besides, retailers really shouldn't go blaming uncooperative weather as the reason sales have been poor. "It's usually one of those 'dog ate my homework' excuses," Forrester Research analyst Sucharita Mulpuru told Bloomberg News last fall, when some apparel stores were pointing the finger at warm weather for why winter fashions weren't selling well. "Whenever something can't be explained and is an anomaly -- and it happens to coincide with an unusual weather pattern -- that becomes the reason people supposedly didn't shop."
The observation calls to mind the way that Big Beer blamed unseasonably cold weather in the spring of 2013 as a prime reason macro beer brands like Budweiser, Miller Lite, and Heineken were experiencing slumping sales. Meanwhile, Bud and other major beer brands have seen sales decrease for years, and why this is so has a lot more to do with the increasing popularity of craft beer, cider, boutique spirit distilleries, and other alternatives to pale mass-produced American lagers than it does to any bad spell of weather.