This American-Made Washing Machine Is So Good It's Got a Cult Following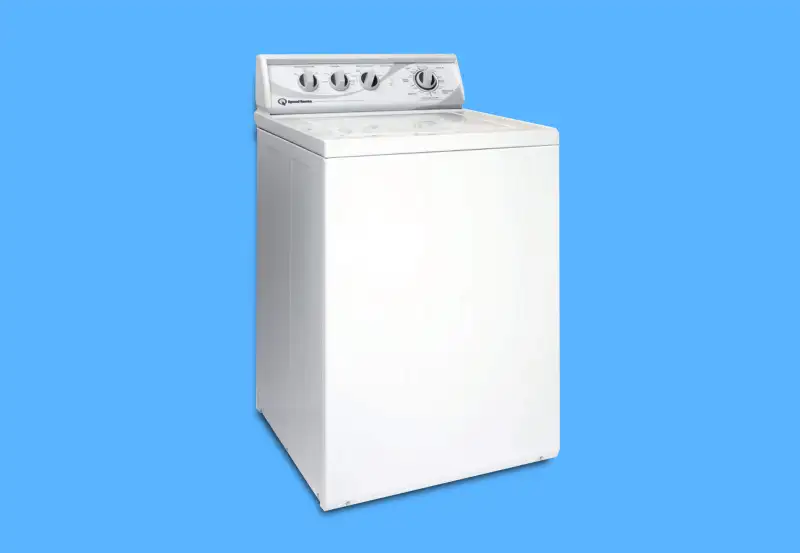 Washing machines probably aren't what come to mind when you think of products with devoted cult followings. But one company that cranks out highly praised industrial machines for laundromats, apartment buildings and hospitals also makes units designed to go in your laundry room — and many owners can't stop raving about them.
Speed Queen is a Wisconsin-based brand — and yes, they build all of their washers here in the U.S. of A. — that's been around for 100 years, but don't feel bad if you've never heard of them. They don't run any national advertisements, and you won't catch one of their washers in a big-box store.
But people who have discovered the brand are big fans of their durability and cost-effectiveness, and some say it's the best washing machine you can buy period. Speed Queen spokesman Randy Radtke says sales of the company's home washing machines have been growing, partly due to people's discontent with the way other brands grow mold or conk out after a few years. Millennial homeowners in particular have shown a willingness to pay more for what they perceive as better-quality products, including household appliances. Speed Queen buyers also like that the machines don't have a lot of complicated parts.
"People just like that built-to-last mechanical control," Radtke says. "We're seeing that people gravitate to our brand of late after going through one or two sets of laundry equipment."
Best Washing Machine Brand: Speed Queen?
Radtke says Speed Queen's most popular in-home model is the mechanical-control AWN432. Like all Speed Queen products, this one isn't available in big-box home-improvement or electronics stores; the brand uses independent dealers (often, mom-and-pop shops) to sell their washers and dryers instead. Buy you can buy a Speed Queen washing machine at Amazon for $899.
But don't just take his word for it. "This is the only way to go. A manual dial commercial Speed Queen will outlast any of the fancy computerized pieces of imported junk on the market," one Amazon customer wrote in a recent review. "I've gone through 3 American and foreign brand name units in the last 10 years and all failed."
According to the Consumer Reports, "Speed Queen top-loaders are among the more reliable washer brands." The observation came from a review of washing machines two years ago that drew on a survey of more than 115,000 subscribers.
Consumer Reports tested both a top-loading and a front-loading machine, both with electronic controls; it found that the washers could handle a load of dirty clothes in 35 minutes and 55 minutes, respectively.
Readers gave both models nearly perfect reviews. "You want this washer!" one reviewer wrote about the top-load model. "This washer is a tank… Before purchasing this machine I called several appliance repairmen and they all recommended Speed Queen hands down." Based on more than 200 Amazon reviews, the "People just like that built-to-last mechanical control," Radtke says. "We're seeing that people gravitate to our brand of late after going through one or two sets of laundry equipment."">AWN432 gets an overall rating of 4.5 out of five stars, and more than three-quarters of reviewers gave it five stars.
"Best washer I have bought in 50 years," one verified user wrote.
Here's the asterisk: They're not cheap. The two models Consumer Reports looked at cost $1,000 and $1,900 at the time, respectively. (You can now buy the front-loader for about $400 less, but still — that's a lot of money given that one of Best Buy's top-selling washers is a top-loading Whirlpool model you can pick up for less than $500.) The AWN432 now rings in at just under $900.
Radtke says the significant price difference is due to the quality of materials used and the engineering that goes into Speed Queen machines. "You're paying for metal instead of plastic. We could build a cheaper machine, but you're buying a metal product with a metal tub, metal transmission and a lot of engineering behind it," he says.
Two factors that help offset the price, according to owners, are the speedy wash cycle times and heavy-duty spin cycle that means less time in the dryer. Both help homeowners cut down on energy usage, translating to lower monthly utility bills.
Then there's the longevity factor. Radtke says Speed Queen's units are tested for 25 years — that's a total of 10,400 loads if you're running the eight loads a week typical for many families. And there are plenty of anecdotes in product-review listings and online forums of machines that have kept on truckin' for 40 years. "It sounds like a cliche, but the equipment I have in my house is from the mid-to-late 1980s," Radtke says.
More from Money.com:
How to Get the Best Deal on TurboTax, H&R Block, and Other Tax Prep Software
The Very Best Moisturizers, According to Dermatologists
We've included affiliate links into this article. Click here to learn what those are.