Spencer Pratt Used to Be Filthy Rich. Here's His Plan to Get It All Back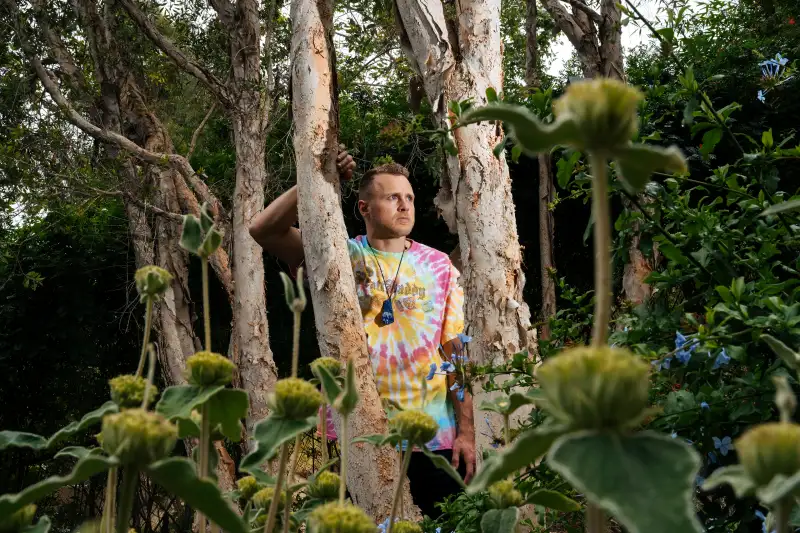 Photograph by Brinson+Banks for Money
It's 11 a.m. and sunny in Pacific Palisades, California, so Spencer Pratt is on his deck feeding hummingbirds. One is hovering inches away, flashing its magenta neck feathers and poking a long black beak into the plastic container of nectar Pratt made on his stovetop earlier. It's peaceful and silent except for the soft beating of wings, the sound of wind blowing through the trees below. Pratt recognizes the bird — he's given all the regulars names — but he's frozen, not even blinking, in hopes the tiny creature will feel confident enough to perch on his fingers.
Oh, and millions of people are watching.
That's because Pratt is recording this entire interaction on Snapchat, the social media app where he's cultivated a massive following of fans who faithfully tune in to see him go about his day, every day. Feeding the hummers, as Pratt affectionately calls them, is just one of the inexplicably addictive routines he regularly films. There's also brewing espresso into his sloth mug, dancing to Taylor Swift's "Look What You Made Me Do," reading magazines in silly voices, buying breakfast burritos, inspecting crystals, playing with his 8-month-old Miracle Baby, downing gigantic glasses of red wine and wearing tie-dyed shirts with his own logo on them. And that's just to start.
Sure, it's mundane. But it's mesmerizing.
For those tuning in to the 30 to 50 posts a day, Pratt's Snapchat is a break from reality — ironic, because reality TV made him famous way back in the mid-2000s. But it's also the headquarters of a growing empire in which Pratt is monetizing every aspect of his life and becoming financially stable on his own terms, a new concept for him.
"I've finally put together a world of things I just love talking about, I love doing, I love packing up," he tells Money. "Snap has literally been a miracle in my life."
Photograph by Brinson+Banks for Money
The Rise and Fall (and Rise) of Speidi
A decade ago, Pratt was a pretty big deal.
As an early reality TV villain, Pratt was pulling in up to six figures an episode as The Hills antagonist who spread rumors about Lauren Conrad, graffitied his apartment and fought with his estranged sister. Speidi, the portmanteau the press used to describe him and his then-girlfriend Heidi Montag, became a household name (or, at least, in those households with teenagers). Together they were unstoppable, spending their days staging over-the-top paparazzi photos and pissing people off. At one point, an NBC exec called Speidi "everything that's wrong with America"; they even had a feud with Al Roker, possibly the least feud-worthy television personality to grace the airwaves.
By 2008, they were crazy famous, ridiculously rich, and it seemed impossible that they ever wouldn't be.
"We were more famous and [making] more money than Kim Kardashian," Pratt says.
But as frosted tips fell out of style, so did Speidi. MTV canceled The Hills after six seasons, and the Pratts' luxurious lifestyle quickly caught up to them. After years of splashing $30,000 on shopping sprees and ordering $4,000 bottles of wine at dinner, the now-married couple had officially blown through their $10 million fortune. Tabloid OK! Magazine announced the news in all caps, writing "HEIDI MONTAG & SPENCER PRATT ARE BROKE."
"It's really easy to spend millions of dollars if you're not careful and you think it's easy to keep making millions of dollars," 34-year-old Pratt says. "The money was just coming so fast and so easy that my ego led me to believe that, 'Oh, this is my life forever.'"
In 2010, the couple moved to Carpinteria, California, to live in a house owned by Pratt's parents, and though that helped their bank account, it killed their buzz. Tabloids that clamored to cover them backed off. They'd been making $1 million a year calling the paparazzi on themselves, but their old tricks were becoming obsolete.
Enter Snapchat.
About two years after its 2011 launch, the social service debuted Stories, a feature that let users upload public photos and videos for their followers to view over 24-hour periods. @prattspencer became an early adopter.
"Everyone was just responding to every video, like, 'I love this,' 'thank you,' and it just made me feel so good," he says. "I was depressed — but then all of a sudden in my Snap DMs, I'm having so much more positivity and love. It was just like, 'Wow, this is the greatest fricking thing ever.'"
Pratt's early Snaps were different than they are now: A lot more dancing to Enya on the beach, for one thing. But he was hooked. He'd initially shied away from YouTube because he saw the content there as polished and produced. Snapchat, on the other hand, was all about the unedited and unfiltered.
For someone who spent nearly a decade stirring up drama for ratings, that was revolutionary.
"I feel like the reason why people hated me so much is because they only saw a manufactured couple minutes of me," he says. "[With Snapchat] it was very empowering to be able to produce myself finally and to be able to show who I am and break out of the mold."
Big Crystal Energy
If you consume even a moment's worth of Pratt content, you'll notice the crystals — decorating his home, studding his Snap filters, popping up every few paragraphs in this story. Once just a collector, he is now a crystal entrepreneur: The gems are responsible for his most prosperous business yet.
On his website, Pratt sells between 200 and 300 pendants a week, all of them hand-carved by his partner, a man he calls "the Picasso of the crystal game." Prices start at about $120 and can reach up to $300 depending on the size. Some people like the crystals for their healing properties; Pratt says the others realize "they just look cooler than 99.9% of anything else you can wear around your neck."
The hype seems to be real. Pratt has learned that if he announces a new crystal drop on his Snapchat, the crystals will sell out within an hour. They're so popular it's actually kind of becoming a problem: "I get so many DMs like, 'I missed the rose quartz, I'm on the East Coast' or 'I'm in New Zealand' . . . I don't want people to be all bummed out." (Money asked Shopify to verify that Pratt's sales were spiking, but it doesn't comment on individual merchants, so you'll have to take his word — or, rather, his Snaps — for it.)
Photograph by Brinson+Banks for Money
Instead of making money on Snapchat, Pratt is profiting from it, using the app to stay in constant contact with a carefully built fanbase that clamors to buy the products he uses in his routines.
It's simple. He brews a lot of espresso, so he's coming out with his own brand of coffee beans (each Pratt Daddy Coffee bag costs $22.22 and comes with a crystal "so it's already energetically supercharged").
He drinks red wine most nights, so he's partnering with a nearby vineyard to release Pratt Daddy bottles (accompanied by crystal glasses, natch).
He cares for hummingbirds, so he's releasing his own Hum Daddy feeders (Price? $11.11, but he's adamant you have to boil your own nectar, as store-bought contains red dye dangerous for the birds).
Already, he sells T-shirts with the Pratt Daddy logo on them for $25. Over the past few weeks, he expanded into hoodies ($70 for tie-dye; $60 for rhinestones). He doesn't need to advertise — he wears his own products on Snapchat almost every day.
But it all comes back to crystals, which taught him it's possible to take something he genuinely likes and turn a profit off of it.
He says other celebrities are starting to copy him, but he's not bothered. After all, their crystals aren't as high quality as his.
"My customers now can't stop buying them. People get them, and they're just like these are the greatest things ever, because you can't get a crystal like this anywhere," Pratt says. "You know all these other people are getting their crystals from China — all due respect to China, I love my iPhone 10 — but you cannot get to my level."
The Influencer Issue
All of this hustle is paying off.
In April, the Shorty Awards named him Snapchatter of the Year. The community he's fostered adores him, and the feeling is mutual. Pratt spends two hours a day responding to DMs from fans about everything from avian pox to algorithms.
"I have closer relationships to my Snap DM people than I do to actual people in my life," he says. "People write me essays, like longer things than I've written in college. I'm like, 'God, this is incredible. You just spent this much time to write me?'"
Those Snapchat relationships provide more than good vibes — they have an actual business benefit. Customers are more likely to buy Pratt's products because they have a connection with him, says Karen Freberg, a strategic communications professor and social media expert at the University of Louisville.
"Having that exchange and experience really resonates with people," she says. "The fact that Spencer Pratt takes the time to do that makes these experiences meaningful. We're all human beings, and we crave that interaction."
@prattspencer via Snapchat
Freberg's theory as to why Pratt is so popular on Snapchat revolves partly around his authenticity. Marketing research has shown that Generation Z particularly prizes transparency and truth. Sure, he's done brand deals with FabFitFun and DIFF Eyewear, but he also posted a Snap recently where he danced so hard a crystal hit him in the mouth.
"From what I've seen with Spencer Pratt, that's him. That's what he is," Freberg says. "What he's doing is he's trying to disrupt the current celebrity influencer viewpoint."
That word — influencer — has developed an almost negative connotation, bringing to mind a Logan Paul-type personality with low standards and dollar signs for eyes. Maybe that's why Pratt, who was arguably a mainstream influencer in the Hills heyday, hesitates when you ask whether he considers himself one now.
"I know I've influenced a lot of people to get into feeding hummingbirds," he says. "I've influenced a lot of people to dance to 'Look What You Made Me Do' while making coffee; I get thousands of videos [of it] a day. I have a unique niche. I'm a micro influencer."
It's hard, too, because Snapchat is "an emotional rollercoaster": For a while, Pratt was convinced the company was conspiring against him. Its widely unpopular redesign this spring moved his Stories to a different section of the app that made them harder to access and unable to autoplay. He tried to work around the issue by creating a profile as his son Gunner, but that failed, so he briefly quit.
(Snapchat did not return Money's multiple requests for comment about Pratt's follower count or design changes.)
Pratt rejoined, obviously, and for now, things appear to be resolved. Pratt is back on the Discover page, and he says he's "definitely sending some Sidecar Doughnuts over to Snap HQ as a nice peace offering."
In any case, his numbers appear to be climbing again. At peak, Pratt says he accumulates 14 million Story views a week. To put that in perspective, the 2010 finale of The Hills had 3 million viewers.
Doing Better Than He Ever Was
Pratt is definitely rebounding in business, but he and Heidi are spending smarter, as well. After they lost their cushion, she took a hard look at their finances — starting with eliminating the bookkeeper they were paying $25,000 a year. She got private lessons to learn how to use the accounting software QuickBooks, and now Pratt says there's "no playing around."
"I love to spend money, and she loves to not spend money," Pratt says. "If we had her as the accountant back in the day, we would have $20 million in the bank account right now."
Pratt often refers to Heidi as "my accountant," as in "my accountant did the math and was like, 'no more going to the coffee shop every single day.'"
Photograph by Brinson+Banks for Money
But they do splurge sometimes. Usually it's at Tallula's, a Mexican restaurant in Santa Monica with good churros and skinny margaritas. Last month, it was at the Taylor Swift concert, where Pratt bought two PopSockets, two hoodies, three T-shirts, a ring and a hat at the merch table. ("To be honest, my biggest regret was that I didn't buy all the merch," he adds.)
In addition to improving his money habits, Pratt says he's working harder now than ever before. Whereas "all the money I used to make was like, oh, say something rude to somebody and they're going to pay you a million dollars," he now works with his hands — mostly packing, sealing, addressing and mailing every single envelope of Pratt Daddy crystals.
"That's made me really appreciate the value of a dollar, 'cause now every time I do spend money at the Gucci store or whatever, in my head, I count each bag of crystals that I hand-packed, printed the thing, wrapped in bubble wrap, paid [for postage]," he says.
It's clear his future is Snapchat, but he has other things on the horizon, too. He's preparing for the second season of his podcast with Heidi, appropriately titled "Make Speidi Famous Again." In late May, he launched an MTV series called Spencer Pratt Will Heal You on YouTube. He's trying to schedule a Hills reboot; he might get into the music business with rapper King Samson. He needs a better phone battery so he can take more Snaps. He wants to go to another Taylor Swift show. But he'll always keep feeding the hummers — without them, it's hard to say where Pratt's comeback would be.
"I have the hottest show on," he says. "It's right in my hand, and I don't have to listen to anyone."