All the Members of the Spice Girls, Ranked by Net Worth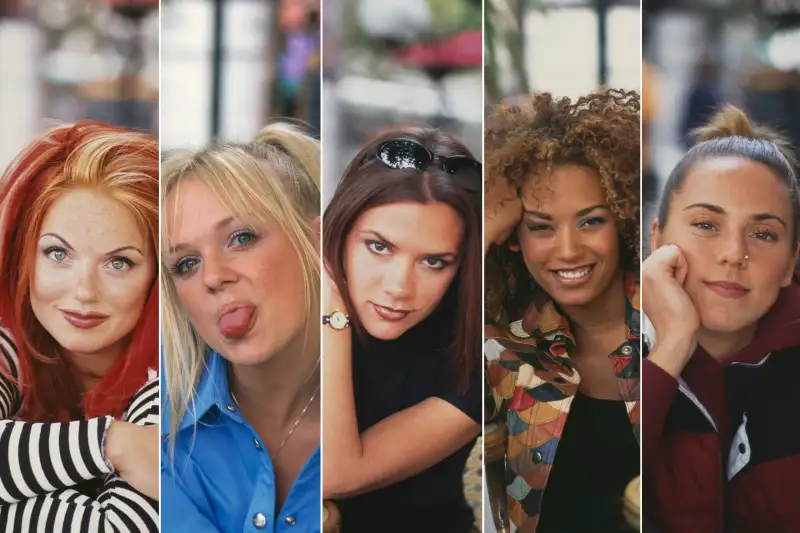 Twenty-some years after they topped the international pop charts with "Wannabe," literally the catchiest song of all time, the Spice Girls may finally get the reunion fans have been pining for.
If the tabloids are to be believed, the Spice Girls are currently in talks to collaborate on an upcoming tour, a new album, and maybe, just maybe, Prince Harry and Meghan Markle's royal wedding.
For now, none of this has been confirmed. But if it does happen, each Spice — Emma "Baby" Bunton, Victoria "Posh" Beckham (née Adams), Geri "Ginger" Horner (née Halliwell), Melanie "Scary" Brown, and Melanie "Sporty" Chisholm — will each net a reported $14 million. That's enough to make anyone really really really wanna zigazig ah. Except maybe Posh Spice.
In their late-90's heyday, the Spice Girls earned up to $75 million a year, according to Rolling Stone. Their first tour in 1998 grossed $60 million in its American leg alone, and a brief reunion tour in 2008, snagged the group another $70 million.
All these years later, some members could use the extra pocket money more than others. Here's a look at what each Spice Girl is worth today, with help from Celebritynetworth.com and TheRichest.com.
Victoria Beckham/Posh Spice Net Worth
Alain Benainous—Gamma-Rapho via Getty Images
In the Spice Girls era, Beckham was notorious for not really … doing … anything. Remember how every music video made her look like she'd won a walk-on role in a Spice Girls fan contest? It was bad.
But Posh's second act has been the most lucrative of the group. Today, 43-year-old Beckham's net worth is about $450 million, thanks to brand sponsorships, modeling contracts, and a massively popular fashion label.
After the Spice Girls broke up, Beckham inked ad deals for household brands like LG and Giorgio Armani — sometimes posing with her husband, soccer superstar David Beckham. In 2008, she launched a "Victoria Beckham" high-end fashion label that, as of last fall, was worth $139 million, according to Harper's Bazaar. Last year, she teamed up with Target for a discount clothing line that sold out online minutes after it went on sale.
Whether or not Beckham is game for a reunion tour is still up in the air, but either way, she probably won't fade into the shadows anytime soon. According to Vanity Fair, royal-to-be Meghan Markle is collaborating with the fashion icon on a "working wardrobe" for Markle's increasingly public life. The debut piece? A Beckham-designed sweater Markle donned in her official engagement pictures.
Emma Bunton/Baby Spice Net Worth
Bunton, 42, launched a solo singing career after the Spice Girls split, but none of her three records gained much steam on the pop charts or in album sales. Still, through a combination of brand sponsorships, TV cameos on shows like Absolutely Fabulous and The X Factor, Bunton's net worth has reached a not-too-shabby $40 million.
Bunton also earns money as the co-founder of "Kit and Kin," a company that sells eco-friendly baby products like diapers and soap. And since 2009, she's also worked as a radio host for the station Heart FM, currently in the Sunday night time slot.
Last year, when Bunton interviewed Prince William for an episode of the radio program, he asked if the Spice Girls would ever reunite. "Only if you come and see us," she replied. Wink Wink.
Geraldine Horner (Halliwell) /Ginger Spice Net Worth
Horner, 45, who has a net worth of about $40 million, is a Jill of all trades.
She's got three studio albums and four number one singles under her belt. She's had guest roles in dozens of TV shows, including Sex and the City and Top Gear, and has served as a guest judge on programs like American Idol and The X Factor. She's behind a series of yoga and exercise videos, and a swimsuit collection for the clothing company Next. And, for awhile, she was a Goodwill Ambassador for the U.N.
But most notable, probably, is her writing career. Since leaving the Spice Girls, Horner has written two autobiographies and six popular children's books.
In a 2015 essay for Marie Claire, Horner recalls her life pre-Spice world, and the moment that changed everything:
Melanie Chisholm/ Sporty Spice Net Worth
With a net worth of about $33 million, Mel C, 44, isn't the wealthiest Spice Girl, but by many metrics, she's the most successful.
Since the group split, Chisholm has made seven solo records, which have sold 12 million albums altogether. Like the rest of the Spice Girls alumni, she's done stints as a guest judge on talent competitions like The X Factor Australia, and Asia's Got Talent. She's landed a few stage acting roles, too: first in the musical Blood Brothers, and later in Jesus Christ Superstar.
In a recent radio interview, Chisholm spoke about a February meeting between the five pop stars that led to rumors of a Spice Girls reunion.
"The funny thing is, unfortunately, we can't do anything without it being all over the press," she says. "It's the worst kept secret in showbiz, isn't it?"
Too true, Mel C. But for future reference, if you want to keep a meeting private, you probably shouldn't pose for a meticulously-staged photo of said meeting. And you definitely shouldn't let two of your former bandmates post that photo to Instagram — especially if they're going to caption it, "the future is looking spicy!" But yeah, the press is pretty sneaky.
Melanie Brown/Scary Spice Net Worth
Of all the Spice Girls, 42-year-old Mel B's finances have definitely made the most headlines. Brown, who currently has a net worth of about $10 million, has a reputation for lavish spending. The singer reportedly blew through so much money on jewelry, handbags, private jets that she was forced to put her Hollywood home on the market in 2017.
In divorce proceedings late last year, ex husband Stephen Belafonte claimed she'd "wiped out all of her Spice Girls Money, approximately $50 million (£38.3 million), if not more." To add insult to injury, as part of the divorce settlement, a judge ordered Brown to pay Belafonte $40,000 per month in spousal support. DAMN GIRL.
The good news is, it can only go up from here. And it looks like it's starting to: Brown, who has been a judge on the singing competition America's Got Talent since 2013, is reportedly returning to the show this summer to the tune of $3 million.
An international concert tour probably wouldn't hurt, either.