Spring Home Buying Outlook: A Changing Market for Both Buyers and Sellers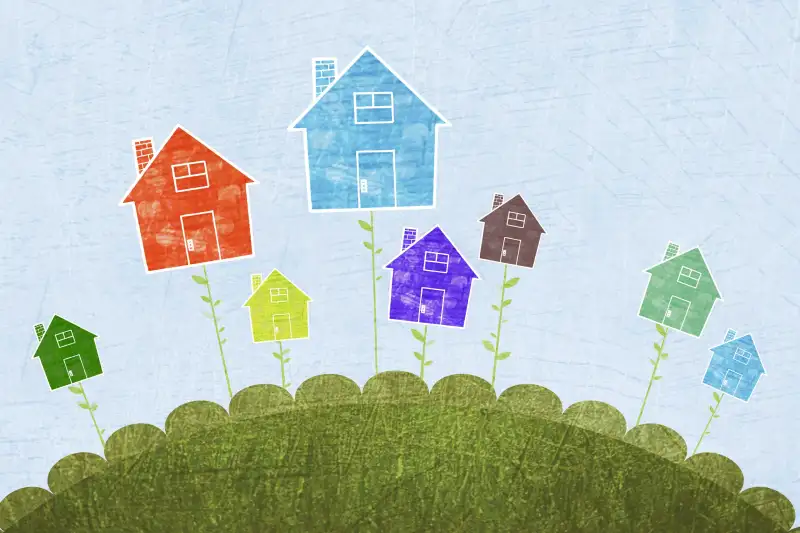 The housing market may still be feeling a winter chill, but there are signs this year's spring buying season will bloom after all.
For most of the country, March through June is usually the busiest time of year for home buyers and sellers. Buyers moving to a new zip code typically want to be in their new home by the time summer rolls around (and before the new school year begins, if they have kids) and sellers want to cash in on the increased competition (and premium prices) that brings.
This was especially true for the 2021 and 2022 spring buying seasons, which saw high prices, low mortgage rates and record-setting home sales. This year is a different story.
"I think it's going to be a little bit of a bumpier road," says Lisa Sturtevant, chief economist at listing site Bright MLS.
Still, there's reason to be hopeful. Mortgage rates likely peaked last November, and although rates are still much higher than they were at this time last year, they're slowly coming down.
Pending home sales, an indicator of future sales based on contract signings, have increased for three consecutive months, according to the National Association of Realtors (NAR). Over the last month, mortgage applications have also increased, according to the Mortgage Bankers Association.
We spoke to several housing economists about what you need to know this spring buying season. Here's what they had to say.
Prepare your budget
This may sound trite, but getting your financial house in order is more important than ever if you're planning on buying a home this spring. Mortgage rates are still relatively high and are likely to stay above 6% for the foreseeable future. You need to be ready to jump in when the right opportunity presents itself.
"Talking to a mortgage lender, shopping for rates and then ideally getting preapproved for a loan is all very helpful for figuring out your budget … [and] ensuring that you're in a position to move really quickly once you find the home that looks good to you," recommends Jeff Tucker, senior economist at Zillow.
You should also come up with a plan for how to navigate different rate hike scenarios. See how much house you can afford at today's mortgage rates, then calculate how your budget changes if they go a little higher or lower. This way, "you'll know the [price] range you're working with and how sensitive your budget is to changing mortgage rates," says Danielle Hale, chief economist at Realtor.com.
Don't expect home prices to crater
If you're counting on a significant drop in home prices this spring, you may be disappointed. Home prices are still higher than they were before the pandemic started, and are unlikely to fall back to 2020 levels.
Even though sales prices are declining in some markets — especially cities that saw an influx of buyers and double-digit price growth during the pandemic (think Austin, Seattle and Boise) others are still seeing prices move up. In a few markets, like West Palm Beach and Ft. Lauderdale, prices are still rising by double digits, according to Redfin.
Nationwide, the gain in home equity over the last few years means some sellers can still make a nice profit.
"The kind of person who can actually do well in a market like this is somebody who is downsizing, like selling a 4 bedroom single-family home and moving into a one or two-bedroom condo," says Daryl Fairweather, chief economist at brokerage Redfin.
Inventory is still tight
By the end of February, the total number of unsold homes on the market was 980,000, according to NAR, an increase of about 15% compared to last year. At the current pace of sales, the supply of homes would last 2.6 months.
However, that uptick in available homes for sale is the result of houses staying on the market an average of 16 days longer than they did last year — due, in large part, to the fact that homeowners are reluctant to trade their 3% mortgage rates for a new rate with a six (or even seven) in front of it.
"It's still not going to feel like the proverbial shelves are fully stocked," says Hale. Compared to the market pre-pandemic, "We still are looking at almost half as many homes for sale now than before that time period," she says.
Some markets will still be competitive
The housing market may have cooled from its pandemic firestorm, but buyer competition has not.
The fact that sales jumped in January (when mortgage rates moved lower) shows there's still plenty of buyer interest. If rates remain stable or continue to trend down, and home purchases become a little more affordable, more would-be homeowners will likely come back to the market.
Case in point: According to a recent survey of the mid-Atlantic region by Bright MLS, more than two-thirds of homes sold above the asking price last month, and 60% of homes on the market received more than one offer.
Before jumping into a home purchase, find out how competitive your preferred neighborhood is. A real estate agent who is familiar with the area can tell you how aggressive you need to be when making an offer. They can also point you to more affordable neighborhoods if the competition is too stiff.
Be prepared to negotiate
Here's the bright side for buyers: the slowing market is starting to tilt in your favor, and bidding wars are becoming a thing of the past.
"There's still this mismatch between buyers and sellers in terms of where they think prices are," says Selma Hepp, chief economist at real estate analytics firm CoreLogic. "But if a home sits on the market for, at this point, two to three weeks . . . that opens up an opportunity for buyers."
Both buyers and sellers have to be ready to sit down at the negotiating table and come to a "meeting of the minds," Hepp adds.
Sellers will have two options if their home doesn't sell quickly: they can delist it, wait until the market picks up a little and then relist, or be willing to hear offers lower than their asking price.
This means buyers should negotiate "hard," Fairweather says. If you know a home doesn't have any competing offers, start by bidding 5% under the asking price. If the seller rejects a price cut, try to work out other concessions, like rate buydowns and cash on closing — two options that will help reduce what you end up paying for the home.
More from Money:
Best Mortgage Lenders of March 2023
3 Moves to Make if You're Retiring in 2023
The Fed Just Raised Interest Rates Again Despite Recent Bank Failures. Here's What It Means for You