Are Bidding Wars Back in Your Town? Housing Market Shows Signs of Recovery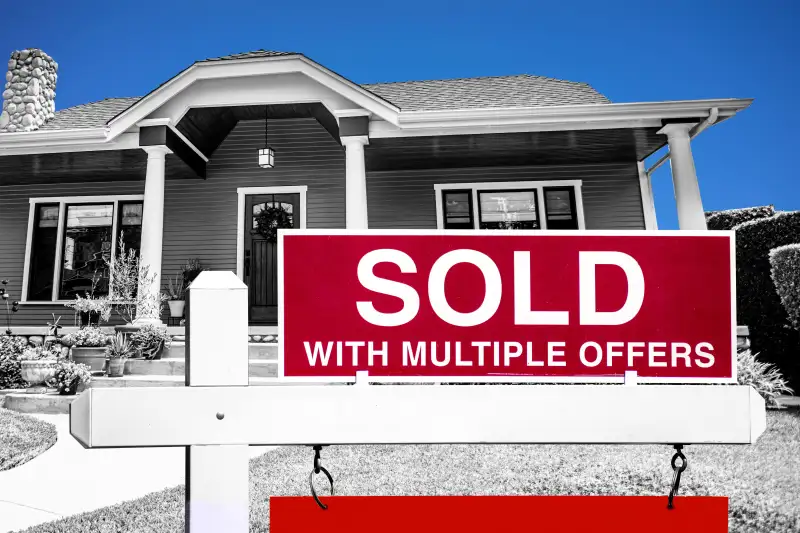 Could the housing market be heating up again? After a sharp uptick in mortgage rates in 2022, both buyers and sellers headed to the sidelines. But new data from the real estate brokerage Redfin provides evidence that a recovery is underway now that mortgage rates are falling.
The average rate on a 30-year fixed rate mortgage is now 6.13%, according to Freddie Mac. That's nearly a full percentage point less than its peak of 7.08% in early November, and many experts expect rates to keep falling in the months to come.
What the data shows
The number of customers requesting first tours of homes on Redfin has risen 17 percentage points since November.
The number of people contacting Redfin agents to begin the home-buying process has risen 13 percentage points since November.
Mortgage applications have risen 28% since early November, when mortgage rates appear to have peaked.
Redfin says that bidding wars are once again on the rise in some markets — notably Seattle and Tampa.
Keep in mind
Those first two numbers are still significantly lower than they were a year ago — down 23% and 27%, respectively. That's an indication that the market is still far below its 2021 peak.
Homebuilding is ticking up: Data released Thursday by the Census Bureau showed that sales of newly built homes (not existing homes) ticked up 2.3% in December.
What's next, according to experts
"January thus far has shown promise of offering a turning point in the market," Zillow Senior Economist Nicole Bachaud said in email commentary shared with Money. "With builder sentiment up, mortgage rates down, and mortgage applications picking up steam again, we might see the market thaw out before the spring shopping season sets up."
Redfin deputy chief economist Taylor Marr says that even though the thaw is likely to continue over the next months and weeks (helped along by falling inflation and interest rates), "there's still a long way to go."
In a blog post, he notes that the recovery will vary significantly on the local level — some places could see the return of ultra-competitive bidding wars, while others could see the market continue to stagnate.
More from Money:
Are We in a Housing Recession? What the Slowdown Means for Buyers and Sellers
Shopping Around for a Mortgage Is More Important Than Ever. Here's How to Do It