Shopping Around for a Mortgage Is More Important Than Ever. Here's How to Do It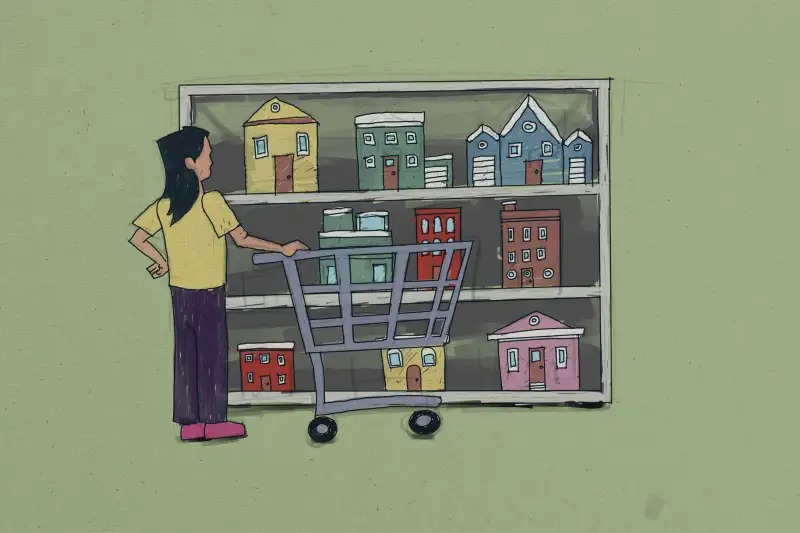 Homebuyers looking for an edge when it comes to high mortgage rates should double down on an oft-repeated financial strategy: shopping around.
Looking for the best deal on a home loan can net you thousands of dollars in savings over its life. For example, a borrower paying 6.00% on a $300,000 mortgage will pay $147 less per month than one paying a 6.75% rate. That represents a yearly savings of $1,764 — a significant sum of money that could be put to good use elsewhere.
Finding an outright lower rate isn't the only way to save, either. Different lenders will charge different fees and closing costs that may make one deal more attractive than another.
Still, many potential homebuyers don't take advantage.
"We've got surveys that [show] people spend much less time shopping for their mortgage than they do their appliances," says Skylar Olsen, chief economist at listing site Zillow.
The ability to compare lenders is one of the most important tools a buyer has, especially as 2023 gets underway. Olsen says mortgage rates are still going to be volatile this year, both in terms of weekly fluctuations that may occur and variations between the rates and terms offered to borrowers. Because of that volatility, borrowers should feel empowered to scrutinize various lenders and find the right fit.
"You'll get a lot of different rates, and it might come down to really forming a relationship with a lender [over another]," says Olsen. "It's okay to call a loan officer and have a conversation. It's OK to call another."
5 questions to ask when comparing mortgage lenders
Shopping around for the best mortgage lender involves more than just comparing mortgage rates. Before you start your search, here are some questions you should ask yourself.
1. What are my lender options?
When shopping around for lenders, you may initially think of the bank where you hold most of your accounts. Being a longtime customer may provide some advantages when it comes to applying for a home loan, but it's not guaranteed. There are likely other options you should consider as well.
Online lenders, credit unions and community banks might be able to offer lower rates and fees compared to larger conventional banks. You can also submit your financial information to a mortgage broker who can provide quotes from multiple lenders within a short period of time.
Most experts recommend comparing loan products from at least three different lenders to try to find the right fit. Over that, you may end up getting overwhelmed.
"The more advice you get, just like anything else, it kind of all runs together," says Erica Davis, branch manager at Guild Mortgage in Myrtle Beach, South Carolina. "You really want to make sure you understand and you're clear about your options."
2. What loan products work best for me?
There are plenty of loan types out there — conventional, FHA, VA, fixed- and adjustable- rate, and more. Choosing the right product is key. Do some preliminary research to learn about the pros and cons of each kind of loan to get an idea of what might work best for you.
Don't be afraid to talk to a lender if you have questions or aren't sure about the difference between loan products. A reputable lender will be more than willing to provide information without requiring an application commitment on your part.
Once you've narrowed the choices down to one or two, compare the same types of products from different lenders. For example, compare FHA loans with FHA loans and fixed-rate loans with fixed-rate loans.
3. Which mortgage rate is the lender offering?
It's important to compare the mortgage rates offered by each lender. This information will determine how much your monthly mortgage payments will be and is an important part of understanding what the true costs of the loan will be, says Scott Bridges, senior managing director of consumer direct lending at Pennymac.
When comparing rates, look at the annual percentage rate (APR), which will be your interest rate plus any additional fees and costs associated with the loan. You can use a mortgage calculator to compare how different rates will affect your monthly payment.
You should also beware of advertised rates that may be significantly lower than those of a competitor. They may seem very low, but there's a catch: You will likely be required to have a high credit score to qualify, pay a lot of points or both.
Another point of comparison is whether the lender offers a rate lock option in which it'll guarantee a specific interest rate for anywhere between 60 and 90 days. Many lenders will also offer a float down option, which means that if mortgage rates decrease during the lock period, the rate you qualify for will also adjust downward. Being able to lock in a rate provides stability, especially in a highly volatile market like today's.
4. How do the lender fees compare?
The APR isn't the only loan cost you need to evaluate. Lenders also charge a series of fees that can include charges for applications and originations, document preparation and credit report requests. All of these add to the total cost of the loan.
When you apply for a mortgage, the lender will provide what is called a lender's estimate. This will include information on the interest rate, loan amount, monthly payment, closing costs, basic loan details, taxes and any additional costs.
Lender estimates are provided by the lender at no cost and are usually provided within three days of applying for a loan. These are the best way to compare costs between lenders because they're accurate — and the lenders must live by what they say.
"It was created so you can shop with power and knowledge of what your total loan costs are," Bridges adds.
Lender estimates can also be used as a negotiating tool when shopping around. If you are more comfortable with one lender but another has lower costs, Bridges points out that you can always ask the lender you prefer if they are willing to reduce fees and match the competition. And now you've got proof to back up your claims.
5. Does the lender also service the loan?
Most lenders will sell the loans they originate to other lenders to free up money to make new loans. The buyer will then be in charge of servicing the loan — which essentially means you will have to deal with a lender you didn't pick. (Don't worry: The new servicer can't change the terms of the loan, the monthly payments or the interest rate.)
This can happen multiple times throughout the life of the loan.
Some lenders, however, do not sell their loans, opting instead to service the mortgage for its full term. This can be an advantage because it provides stability, Davis says. You'll have a go-to contact familiar with the terms of your loan and can help if, for instance, you want to make a payment towards the principal or refinance.
"It's almost like a doctor. You want to make sure that you've got a good connection, that trust is there," Davis adds.
More from Money:
Best Mortgage Lenders of January 2023
Here's a Key Sign the Housing Market Is Shifting in Advantage to Buyers
'Everything is Negotiable': 5 Ways Homebuyers Can Take Advantage of Today's Market