Build Your Own Standing Desk for $22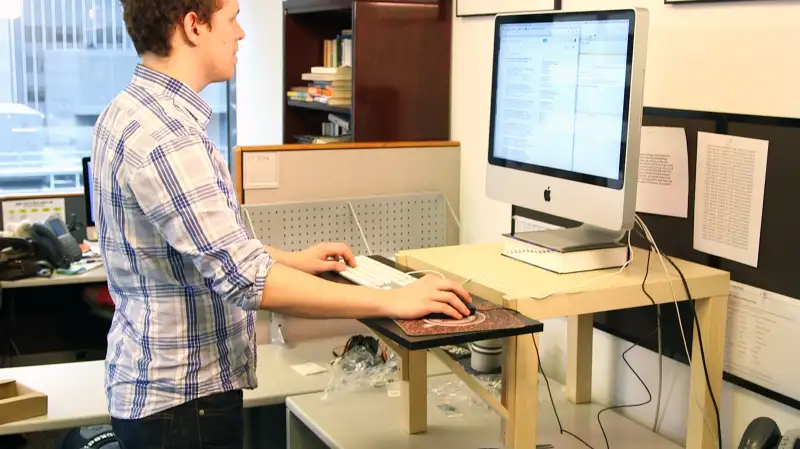 You may have heard that sitting down is bad for you. In fact, an overwhelming amount of research shows that sitting, like everything else we enjoy, will eventually kill us.
I'll let the no-fun patrol at the New York Times explain:
So we all need standing desks, that's clear. But here's another problem: Standing desks are really expensive. A mid-range standing desk will run you at least $300; Ikea's new model is $275; and the best-in-class stand-up desks will run you nearly $1,500. Thanks again, science.
Luckily, there is an alternative to raiding your savings account. Smart people Colin Nederkoorn and Ryan Witt have hacked a standing desk made out of Ikea furniture that costs only $22. For that price, even I can afford to improve my health. After procrastinating for a few months, I finally broke down and tried to put my own standing desk together using their instructions. You can follow along in the video above.
Putting It Together
As it turns out, building the desk—affectionately called the Standesk 2200—wasn't that difficult, even for someone who hasn't actually built anything out of wood since summer camp. The entire Standesk consists of three different Ikea parts: A Lack side table to go on top of your existing desk; a Viktor shelf to hold your keyboard; and two Ekby Valter brackets to attack the shelf to the table. (You'll need four extra 1.5 inch-long flathead screws for that last part.)
The construction takes about 45 minutes at most, and other than looking like an idiot in front of your entire office as you laboriously screw together furniture instead of, like, working, it's a pretty painless process. In the end, you're left with a jank-looking-but-effective standing desk that will be the envy of everyone else in the office too cheap frugal to buy a real one.
Potential Pitfalls
While the finished project works a lot better than you might imagine a patched-together collection of Ikea parts would, there are still some issues.
For one, the desk isn't adjustable, meaning that unlike with some more expensive models, you won't be able to sit down at your Standesk 2200 when your legs get tired. That's bad, because even standing desk advocates recommend you sit for at least some of the work day.
If your desk is big enough (and you have a second computer or monitor), you can just sit down next to your standing desk and do work there when your feet start feeling weary. If it's not, your best bet is to get a higher chair (preferably a foldable one that you can stash out of the way when it's not in use) and keep that in reserve for when you want to sit.
Another issue is that if you're not careful in constructing the Lack side table, your monitor will shake when you start typing. That's because—shocker—Ikea furniture isn't always super stable. Make sure you screw the table's legs in as tightly as possible and put a few shims under any uneven legs to make them level. That solved most of my issues, but if the wobbling persists, consider putting furniture pads under the table legs for a bit of shock absorption.
Finally, make sure to consult this ergonomics diagram when deciding your keyboard height. You don't want to build the whole thing and then find out your desk is too uncomfortable to use.
Did you hack together your own standing desk? We want to know! Send photos (and any information you'd like along side them) to HelpDesk@moneymail.com.