Staples Wants You to Rent Office Space Inside its Big Box Stores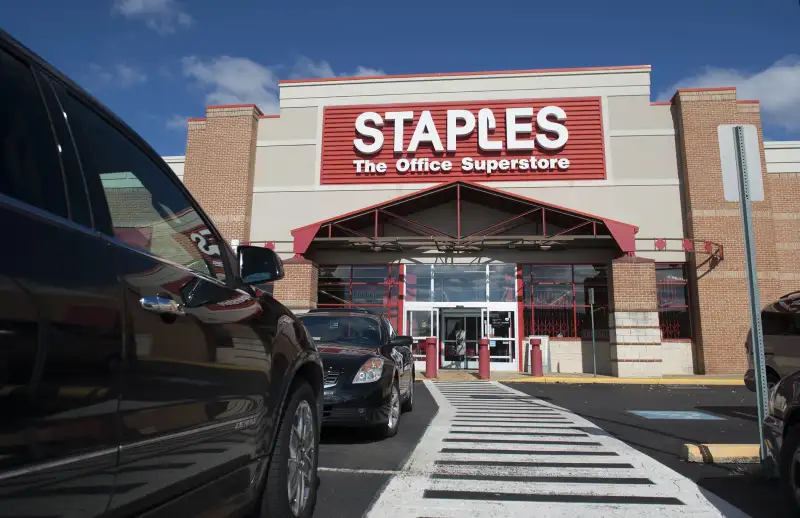 Saul Loeb—AFP/Getty Images
The office supply chain Staples, which has seen declining revenue for the past four years, has come up with quite a creative use for its spacious big-box stores. Soon, Staples will not only be encouraging people to shop in its stores, but to set up shop and work inside them as well.
The hope is that mobile professionals and small business owners who rent office space inside repurposed sections of Staples locations will shop for office supplies right there in the store, reports The Wall Street Journal.
"Obviously, it drives traffic for us," says Staples head of merchandising Peter Scala. "Our goal here is to continually focus on making large stores more productive."
Staples will partner with Workbar LLC to launch its initiative by opening three co-working spaces at stores in the Boston area. Considering the many locations of Staples stores across the U.S., the arrangement could bring co-working—typically focused in urban areas—to the suburbs as well.
The move by Staples is obviously an indication that the classic big-box store model isn't thriving like it once did. Foot traffic in general in U.S. stores is falling precipitously—dropping 6.4% just in November and December, according to RetailMetrix. Big-box retailers are facing competition from e-commerce and the stark reality that many had expanded too quickly in recent decades, opening locations with enormous footprints that have become cavernous in the age of fewer in-store shoppers. Staples' problems have been compounded by declining sales in our digitized offices of paper, binders, pens, ink and other trappings of the offices of old.
Staples joins other chains, including Sears and Macy's, which have sold or rented parts of their large, increasingly unproductive store spaces to other businesses setting up offices.