WeWork Opens Its First Dorm-Like Apartments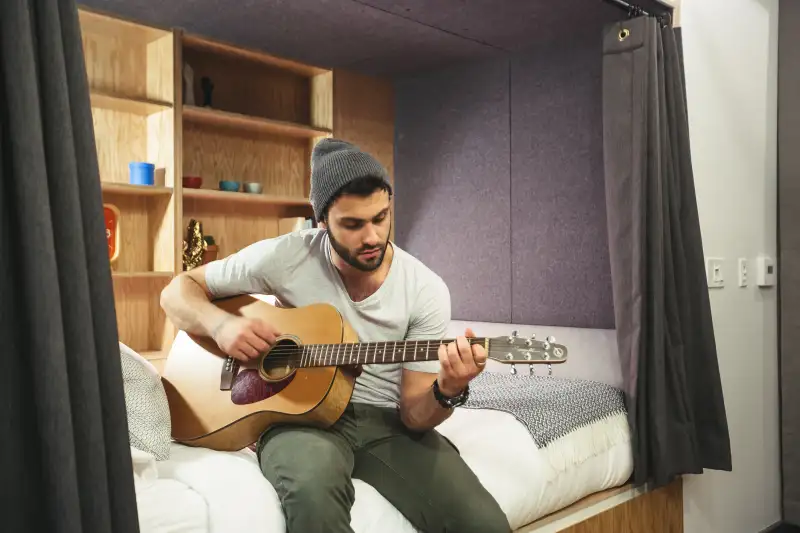 WeLive, the micro-apartments operated by the co-working space company WeWork, officially opened for business in Lower Manhattan TechCrunch reports.
WeWork—founded in 2010 with a valuation today of more than $5 billion—got its start renting shared workspaces for mobile professionals like entrepreneurs and freelancers, and fostering a sense of community in its co-working offices. With its new venture WeLive, the company hopes to bring a similar ethos around community and minimalism to residential living.
The cheapest apartments on offer are shared studios, with two beds separated by a curtain or an alcove, which rent for $1,375 (per bed) and come fully furnished with towels, bedding, and other necessities, plus high speed internet, a fridge stocked with water and beer, and access to yoga classes for a monthly amenities fee of $125.
With it's plug-and-play apartments and month-to-month leases WeLive could appeal to the same highly mobile younger set that WeWork does, as well as recent college grads, or people new to the city looking for a place to land before settling down.
The New York apartments at 110 Wall Street are near the southern tip of Manhattan. In May WeLive will open an additional group of similar apartments in Arlington, just outside of Washington, D.C.
Here's a sneak peek: