Now You Can Buy Your Dog a Craft Beer (Soft Of)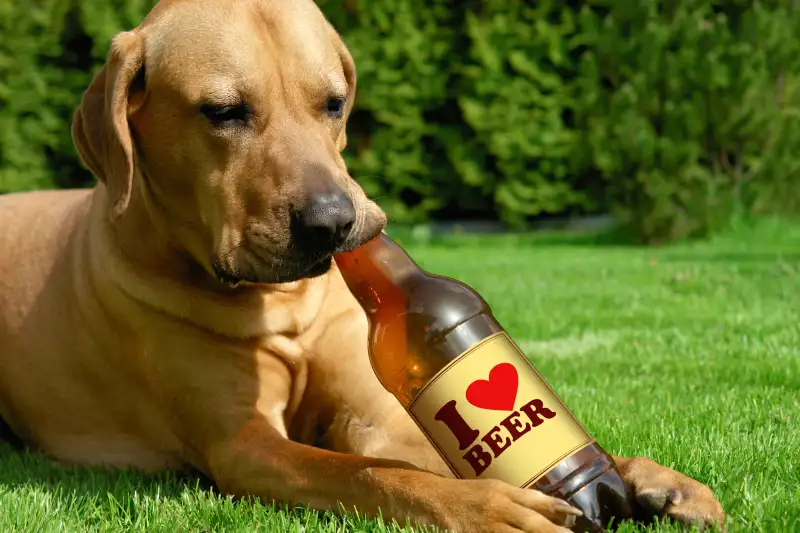 You can buy your dog a stroller, a gourmet meal, a spa treatment while jet-setting at the airport and even an annuity to protect your pup in case you pass away. Now you can add something else to that list: a beer.
A number of breweries have started making and selling "beer" especially brewed for dogs — "beer" is offset in quotation marks because it's hard to say if what they're making is actually beer. These non-alcoholic brews aren't fermented (even non-alcoholic human beer is fermented) and are comprised of sundry ingredients, like, in the case of Bottom Sniffer — perhaps the newest arrival to the dog beer scene — non-fermented beer wort, seaweed extract, natural chicken flavoring and some other stuff. Other brands of craft beer brews for dogs include Bowser Beer and Dawg Grog in the U.S., and Snuffle in the UK.
What dog beers tend to have in common is the presence of some kind of brewing grain (often barley), plus vegetables and often meat or meat broth of some kind, and, crucially, an absence of alcohol.
If you want to kick it with your dog over a cold one, keep the beer to yourself. Plenty of people have laughed seeing a dog lap up beer but the truth is that alcohol in any form can be quite toxic to dogs, whose small livers did not evolve to process alcohol. Dogs are also much smaller than humans and just a little bit of alcohol can poison them even worse than you poisoned yourself that time you thought a line of tequila shots was a good idea. (Thankfully, even if Fido does get into the alcoholized variety of beer, most pet insurance providers do cover toxic ingestion.)
Rather than give your dog a beer, buy Spot a doggy beer. You might not be super stoked about meat broth and barley water, but your pup will like it much more than even the finest craft people beer.