Meet the Man Whose Quick Thinking Helped Raise More Than $8 Million for Las Vegas Victims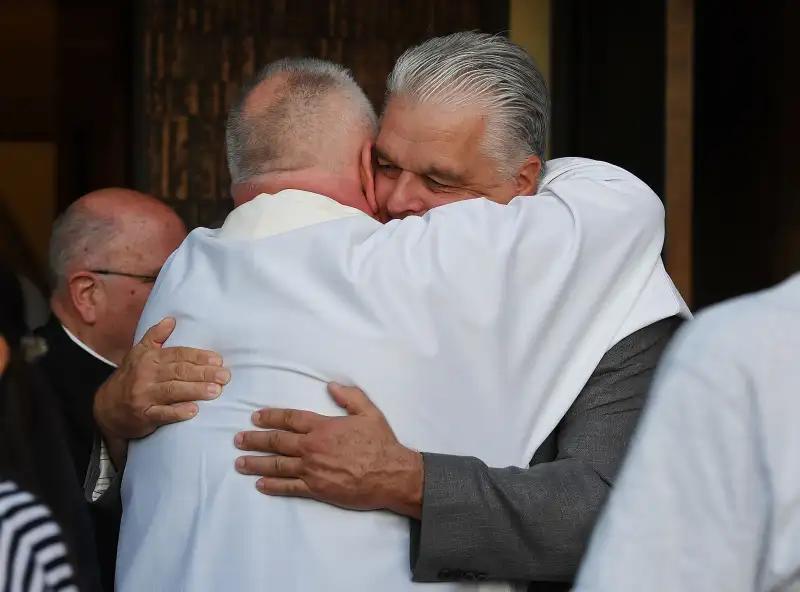 Denise Truscello—Getty Images
He had never seen anything like it.
Early Monday morning as millions of Americans woke up to devastating news of what turned out to be the deadliest mass shooting in modern U.S. history, Steve Sisolak joined his fellow Las Vegas officials to take a first look at the scene of the carnage, wading through the pools of blood and broken bottles left behind in the chaos.
That was before the lifeless bodies strewn on the ground were identified, before bloodied shoes, purses, wallets and baby strollers were removed, before the endless ringing of abandoned cell phones came to an end. And that was before officials knew the full extent of the massacre executed by a gunman that they would later announce took the lives of at least 59 people and injured 527 others during the Route 91 Harvest country music festival in Las Vegas Sunday night.
For Sisolak, the chairman of the Clark County Commission and a 2018 gubernatorial candidate, there was work to be done in those early hours. After coordinating with the Las Vegas Metropolitan Police Department to urge residents to donate blood, Sisolak thought of the next best method to help the victims: a fundraising drive.
Donating $10,000 of his own money, Sisolak created a GoFundMe page Monday morning with the intention of raising several thousand dollars more with the help of the city's sheriff's office. "I said, 'We're going to need money. Let's start a fund,'" he recounted in an interview with Money. "'Let's see what we can raise.'"
As of Wednesday morning, more than 66,000 donors from around the world contributed a total of more than $8.5 million — 16 times the initial goal of $500,000. After the campaign went viral, Sisolak raised the goal to $10 million.
"It's really just amazing — it's heartfelt," Sisolak said Tuesday evening after learning that his fundraising drive had just jumped over $4 million while on the phone with Money. "Every time my phone rings, someone donates. The outpouring of generosity is incredible."
As families and loved ones of the victims continue to learn devastating news and residents wait in line for hours to donate blood, Sisolak and other officials are determining how to distribute the money. The donations will fund immediate causes like funeral expenses, transportation and housing, food and medical expenses, as well as long-term medical care, he said.
"The community will continue to pull together," Sisolak said. "We're strong."
The long list of victims includes a southern California special education teacher, a Nashville nurse who saved his wife's life during the shooting, an off-duty police officer who coached youth football and an Alaskan fisherman who traveled to Vegas to celebrate a successful season.
Sisolak's fundraising drive for their families and the hundreds of injured concertgoers and first responders has been promoted by prominent figures like Ellen DeGeneres, a number of bands and highlighted on GoFundMe's homepage. A number of high-profile donations to the GoFundMe include $400,000 from Las Vegas businessman Stephen Cloobeck, $100,000 from Wayne Newton and Kathleen McCrone and $50,000 from the NFL's Oakland Raiders, which will relocate to Las Vegas starting in 2020. Another $50,000 came from the NFL Foundation, and Kid Rock, Mike Tyson, The Chainsmokers and several other high-profile individuals donated $10,000 each.
Additionally, the total $8.4 million amount on the fundraising page Tuesday afternoon did not include the $3 million gifted by MGM Resorts, Sisolak said.
Having lived in Nevada since he earned his master's degree at the University of Nevada, Las Vegas, Sisolak appears to be focused on both short-term and long-term initiatives in the recovery of the attack. He said he was not invited to meet with President Donald Trump during his visit to Las Vegas on Wednesday — though he added that he will be spending time with the victims and their families in the hospital.
On the issue of gun control, the Democrat told Money "that discussion definitely has to happen." In Nevada, for example, residents can carry an unconcealed firearm in public and they don't need a permit to buy a gun. Last year, state voters passed a measure requiring a background check for those purchasing guns through private parties. The measure was halted by the state's attorney general, which Sisolak said drew "outcry" from citizens — and more so now following such a significant mass shooting in Las Vegas.
But as for Sisolak, his efforts are still primarily focused on the victims. And any praise from those who consider him a Nevadan doing everything he can support those in this difficult time superfluous, he says.
"I'm not a hero," Sisolak insisted. "I'm just trying to help."