Here's How Much Steven Mnuchin and Louise Linton's Honeymoon Jet Would've Cost Taxpayers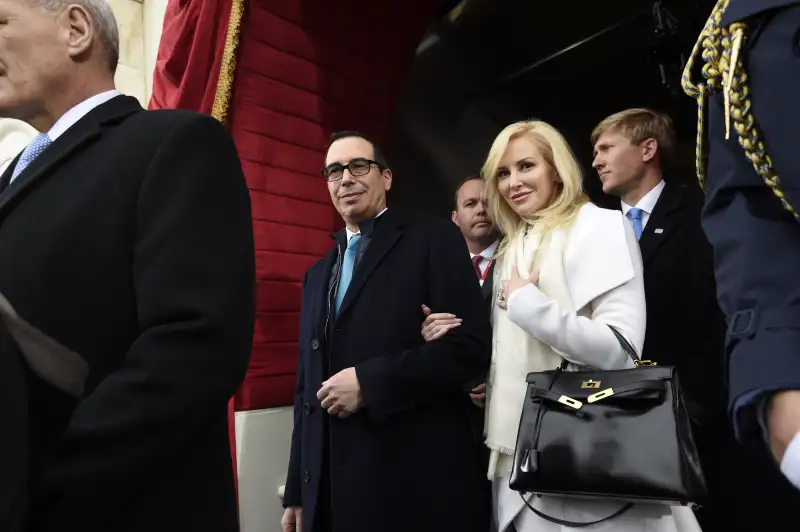 Treasury Secretary Steven Mnuchin had requested the use of a government jet for his European honeymoon with his wife Louise Linton earlier this year — a mode of travel that would have incurred $25,000 per hour of flight, according to estimates provided by the U.S. Air Force.
Mnuchin's request, confirmed by the Treasury Department and first reported by ABC News on Wednesday, was later withdrawn but sparked an inquiry from the Department's Inspector General. In August, Linton came under fire for flaunting her wealth on Instagram. In a comment, she criticized a woman for suggesting she and her husband would use government travel for leisure.
Indeed, Mnuchin's request has drawn scrutiny due to the couple's tremendous wealth outside of his cabinet position. A former Goldman Sachs executive, hedge fund chief and Hollywood executive, Mnuchin has a net worth of about $300 million, according to Forbes. And Linton, a Scottish actress, spent part of her childhood growing up in a Scottish castle owned by her parents.
A spokesperson for the Treasury Department told Money the request was made to ensure Mnuchin could access "secure communications" while traveling due to his role on the National Security Council.
"It is imperative that he have access to secure communications, and it is our practice to consider a wide range of options to ensure he has these capabilities during his travel, including the possible use of military aircraft," the Treasury Deparmtent spokesperson said. The request was withdrawn after "a secure communications option was identified."
The hefty $25,000 price mark per hour of flight would have funded all aspects of charting a plane, including paying for manpower, maintenance and standing support, an Air Force spokesperson told Money. The couple's honeymoon included visits to Scotland, France and Italy. According to ABC News, officials have said it is unusual to use a U.S. Air Force jet for such a trip.
The Office of the Inspector General for the department "is looking at all requests for and use of Government aircraft," Rich Delmar, counsel to the Inspector General of the department, told Money. That includes reviewing Mnuchin and Linton's use of a military jet last month to fly to Louisville and Fort Knox, Kentucky. The review will look into whether the couple used the trip to fall under the path of totality during the total solar eclipse that spanned across the U.S. on Aug. 21. Mnuchin denied that claim in an interview with the Wall Street Journal.
It was that trip which Linton highlighted on her Instagram page in August, where she used hashtags to highlight designer brands she wore while descending the jet with her husband. Jenni Miller, a mother of three from Portland, commented, "Glad we could pay for your little getaway. #deplorable."
"Aw!! Did you think this was a personal trip?! Adorable!" Linton responded. "Did you think the US govt paid for our honeymoon and personal travel?! Lololol." According to ABC News, it's possible Linton did not know of Mnuchin's request when she wrote that comment.
After coming under scrutiny, Linton made her Instagram private. She later apologized extensively in an interview with Washington Life, a magazine that covers the lives of the powerful and wealthy in Washington, D.C. Linton also appeared on the cover and in a full spread in the magazine, posing in ball gowns.