Meet Louise Linton, the Rich Actress Behind That 'Adorably Out of Touch' Viral Instagram Post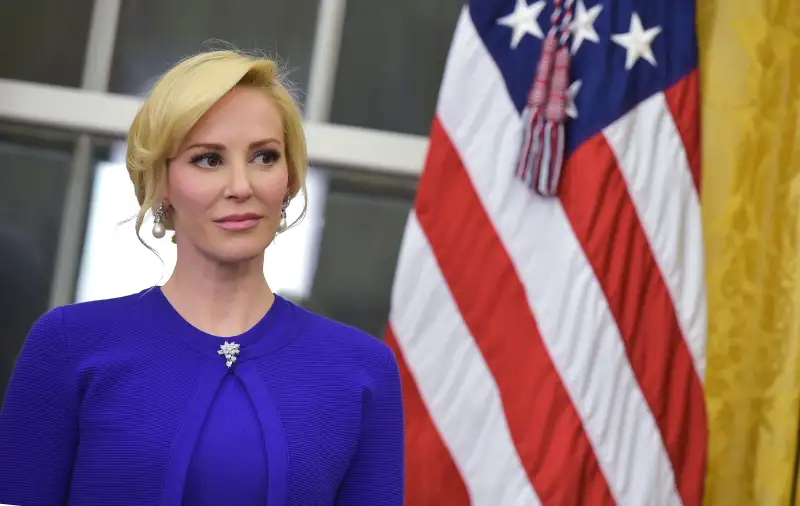 MANDEL NGAN—AFP/Getty Images
Fresh off a quick trip to Kentucky with her Treasury Secretary husband, Louise Linton shared a now-viral photo on Instagram of the duo descending from a United States military jet — taking the time to add hashtags of each designer brand she was wearing.
After it was posted Monday, the photo drew some criticism — notably from one woman who the New York Times identified as Jenni Miller, a 45-year-old mother from Portland, Ore. "Glad we could pay for your little getaway. #deplorable," Miller commented.
Before she made her Instagram account private, Linton used the opportunity to send a much lengthier response — appearing to shame the woman for her "cute" life and calling her "adorably out of touch."
//platform.twitter.com/widgets.js
"Aw!! Did you think this was a personal trip?! Adorable!" Linton wrote in response. "Doyou think the US govt paid for our honeymoon or personal travel?! Lololol. Have you given more to the economy than me and my husband? Either as an individual earner in taxes OR in your self sacrifice to your country?"
Linton apologized for her response to Miller and her Instagram post on Tuesday evening, CNN reported.
"I apologize for my post on social media yesterday as well as my response," Linton said. "It was inappropriate and highly insensitive."
Even before she married Treasury Secretary Steven Mnuchin in a lavish wedding ceremony attending by President Trump in June, Linton lived a life of luxury. Mnuchin's personal fortune — he's estimated to have a net worth of about $300 million, according to Forbes — has only added to Linton's privileged life. Her wealth — prominently displayed in the Instagram post of her wearing an outfit worth up to $4,600 with hashtags "#hermesscarf" and "#valentinorockstudheels" — stems back to her family in Scotland, where she grew up in a castle.
But this isn't Linton's first time under fire. Here's everything you need to know about the 36-year-old actress.
Vittorio Zunino Celotto—Getty Images
Her childhood and upbringing
Born in 1980 in Edinburgh, Linton grew up in the three-story Melville Castle in Dalkeith, Scotland. She attended the same boarding school as former British Prime Minister Tony Blair, and trained at the London Academy of Music and Dramatic Arts with a private coach.
When she was just 14 years old, Linton's mother, Rachel Hay, died from breast cancer. "She was an extraordinary, compassionate, selfless person," Linton told the Scotsman in 2009.
Before leaving for the U.S., Linton spent several months volunteering in Africa — an experience she wrote about in a controversial book that was criticized for its clichéd depiction of Zambia. In the U.S., she studied journalism at Pepperdine University in Malibu, Calif., and earned her Juris Doctorate in Law from the University of West Los Angeles while working as an actress.
Axel Koester—Corbis via Getty Images
Her life as an actress
Linton has appeared in small roles in a number of films and television shows. She appeared in thrillers like Cabin Fever and Intruder, as well as 2007's Lions for Lambs, which starred Robert Redford, Tom Cruise and Meryl Streep. She has also appeared on the small screen in shows including CSI: NY and Cold Case.
Earlier this year, Linton stepped into the role of interim CEO at Dune Entertainment, a motion picture production company, when her husband left for the Trump Administration. After Sen. Ron Wyden, a Democratic member of the Senate Finance Committee, raised concerns over her role at the company and how it would impact Mnuchin's divestment from the business, she announced she would resign.
Her controversial book
Linton came under fire last year when the Daily Telegraph published a portion of her memoir, In Congo's Shadow: One Girl's Perilous Journey to the Heart of Africa, about her volunteer work in Zambia during a gap year from college. The excerpt — published with the headline "How my dream gap year in Africa turned into a nightmare" — was widely criticized as clichéd, fabricated and a glaring example of the "white savior complex."
In the portion that was shared by the Telegraph, Linton wrote about how she hid as Congolese rebels raided a nearby village. "As the night ticked interminably by, I tried not to think what the rebels would do to the 'skinny white muzungu with long angel hair' if they found me."
However, Linton was accused of exaggerating and fabricating details from her experience in Zambia.
"I am genuinely dismayed and very sorry to see that I have offended people as this was the very opposite of my intent," Linton said on Twitter last year.
MANDEL NGAN—AFP/Getty Images
Her husband, Steven Mnuchin
Linton and Mnuchin wed in a lavish wedding in Washington, D.C., earlier this summer that was officiated by Vice President Mike Pence. Trump, First Lady Melania Trump, Ivanka Trump and Jared Kushner also attended the ceremony.
The couple reportedly met in 2013 at a wedding reception in 2013 and got engaged in 2015.
(In a spread in Town and Country Magazine, Linton detailed all of the jewels she wore to her wedding, including her oval-shaped engagement ring, a diamond necklace and 1920s cluster earrings.)
Before beginning his role in the Trump Administration, Mnuchin was a Goldman Sachs executive, hedge fund chief executive and Hollywood producer, with credits like American Sniper and Mad Max: Fury Road. Prior to being named Trump's Treasury Secretary, Mnuchin served as the Trump campaign's finance chairman.