'Too Good to Be True': Student Loan Borrowers Start to Doubt Forgiveness Plan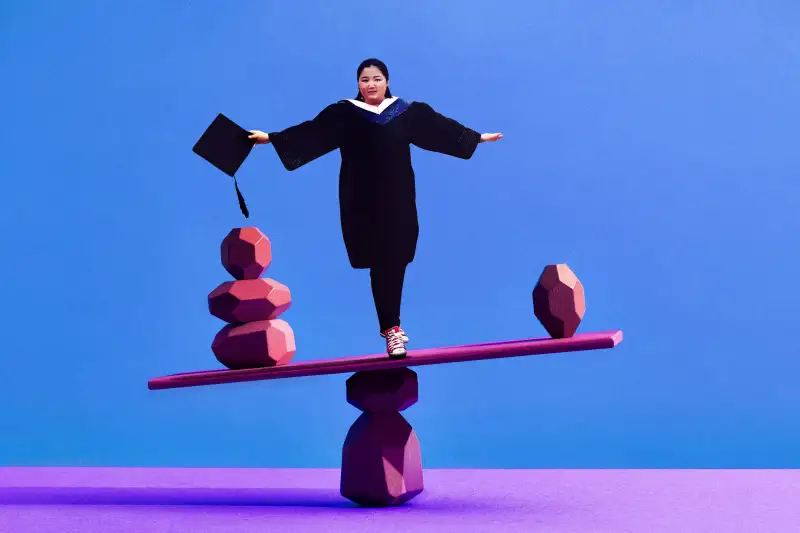 Student loan forgiveness, once a far-fetched idea from progressives, seemed to become reality in August when President Joe Biden announced a plan to cancel debt for some 40 million Americans. Six months later, many borrowers are back to dreaming.
As the Biden administration and conservative groups now debate their student loan forgiveness arguments before the Supreme Court, borrowers are worriedly wondering if the relief they were promised will ever come their way.
It's rare in U.S. politics that a president's order — or the fate of a court case — carries this much immediate weight for the finances of so many Americans.
If the Supreme Court upholds the loan forgiveness program, millions of student loan borrowers will have up to $20,000 of debt wiped out — potentially the difference of a couple hundred dollars in monthly payments. Borrowers say the result of the debt relief case could determine whether they're able to buy a house or repair their credit, while the uncertainty has complicated financial decisions.
Over the past few years, the pendulum's moved back and forth, from debt forgiveness being a campaign promise of Democrats on the trail, to borrowers feeling like forgiveness was a sure thing when the program was announced, to feelings of defeat when the government was forced to close the application portal. Now, it could all come down to the opinions of the nine justices on the court.
Student loan borrowers brace for the possibility of bad news
Sadae Bey, who works as a janitor in Richmond, Va., has about $30,000 in student loan debt and could owe more than $300 per month when repayment resumes. She received a need-based Pell Grant when she was in college, so she was expecting to have $20,000 forgiven when she learned about loan forgiveness. But with the program tied up in a legal battle, she's no longer optimistic it will happen.
"I'm hoping I'll only have to pay $10,000, but I honestly really do feel like... it's not going to change," she says. "I feel like the decision is going to be made that we're not going to get it."
Bey attended Norfolk State University, a historically Black university, and later enrolled at Virginia Christian University, but she withdrew before earning her degree in nursing because she couldn't afford another year of school.
As a Black borrower who hasn't finished her degree, Bey is part of two groups that advocates of student debt relief are especially keen on helping through the forgiveness program. Studies show that Black Americans have disproportionately high student loan debt balances, and people who haven't finished college struggle to pay off their loans at much higher rates than those with degrees because they tend to earn lower incomes.
Bey hasn't started paying her loans because she left school in 2020, after federal student loan payments were first paused. Between paying for car expenses, her electric bill and other everyday essentials, she can't imagine how she'd come up with the extra money to pay her loans each month.
She is far from alone in worrying about how she'd pay back her student debt if the pause ends: 59% of borrowers fear they may not be able to afford their loan payments, according to a Morning Consult survey.
"People need help," she says, and from her perspective, the government can afford to cancel this debt. "I feel like sending all the money to Ukraine — you know, they needed help, but it's like, we need help, too."
Future of loan forgiveness lies with the Supreme Court
With the case's oral arguments before the Supreme Court scheduled for Feb. 28, the attorneys are making their arguments in legal filings, debating whether wide-scale forgiveness is a constitutional response to the COVID-19 emergency or an overreach of executive authority. While no one knows for sure what will happen, some borrowers now say they are skeptical that the court, which has a conservative majority, will side with the president.
Mollie Johnson, a massage therapist and yoga teacher who graduated from the University of New Mexico in 2001, says she'd still owe more than $40,000 even if she gets $20,000 forgiven through the program.
Before she got divorced, Johnson was paying more than the minimum on her monthly bills because her husband made enough that she could put half her income toward chipping away at her debt. At one point, she'd whittled her debt down to $35,000, after originally taking out $54,000 in loans for her education.
Since 2015, she hasn't been able to pay, and the debt ballooned until interest rates were frozen when the pandemic started. If the loan forgiveness program is upheld, it'd give her hope that she could get out of debt completely some day.
"It would get me a lot closer to back when I only had $35,000 in debt," she says, adding that she's already paid back more than $54,000 — the amount she borrowed. "It has the effect of motivating people like, 'oh, maybe I can escape this debt. If I have a little bit of relief, then I can get on a schedule where I'm paying this debt down.'"
Borrowers like Johnson fear their balances will start snowballing again if the forgiveness plan isn't upheld and payments resume.
The scenario was not uncommon before the payment pause. Most of the more than 8 million borrowers enrolled in income-driven repayment plans, for example, were not paying enough each month to even cover the interest on their loans, so their balances grew over time, often to much more than they originally borrowed, according to a report from the Congressional Budget Office.
"It's crushing," Johnson says. "It's been crushing me for as long as I've had it."
Every day borrowers take to social media platforms like Twitter, saying there's no way they'll start paying loans again now that they've been paused since March 2020. Not paying has become their status quo.
That's not a realistic option — the government has strong powers to collect from borrowers' paychecks and tax refunds, whether they want to pay or not. But the administration does appear to be firming up other policies to help borrowers if it doesn't get the green light to move forward with forgiveness. The Education Department released a proposal earlier this month that would make one of the repayment plans far more attractive to borrowers. With the changes, monthly payments would shrink, and borrowers who earn less than $30,600 per year wouldn't owe anything.
The change, which doesn't require Congressional approval, could take effect later this year as payments resume, and it'd be permanent. The payment pause is currently set to expire after the Supreme Court weighs in on the legal challenges to the forgiveness plan.
Borrowers fear debt will remain 'crushing'
Kadyn Gutierrez, a 26-year-old from Willimantic, Conn., took out about $33,000 in loans to attend the University of Hartford and Eastern Connecticut State University, where she graduated in 2019. She received Pell Grants and would also stand to have $20,000 of debt forgiven.
Before the payment pause, Gutierrez was facing an unaffordable, nearly $400-a-month bill. As she was trying to get on a more manageable income-driven repayment plan, her loans continued to grow. The payment pause took effect shortly thereafter, which has kept her balance from getting any larger.
"Once they deferred the payments and they talked about student loan forgiveness, that was greater news than I could have imagined," Gutierrez says.
Fast forward a few months and Gutierrez realized this might be a situation where something's "too good to be true."
She's expecting a baby while earning about $30,000 per year from her copywriting job. She says it's important for student loan forgiveness to be upheld because it would benefit people like her — those who only have debt because they took a chance to better their education and are now barely making ends meet.
But right now, a legal win for loan forgiveness feels like a long shot, so she says she's back to planning for her future with the anticipation that she'll have to pay her full balance.
Gutierrez wants to buy a house in Indiana to have space for her growing family, but she says her student loan debt is proving to be an obstacle and with all the uncertainty around forgiveness, the possibility of having debt wiped out doesn't materially change her current situation.
She budgets based on the expectation it won't happen. Loan officers aren't considering how $20,000 of forgiveness would change her debt-to-income ratio for a mortgage approval.
"So it's not even a thought in my head," she says.
More from Money:
How Student Loan Borrowers Can Prepare for Big Changes Coming in 2023
Federal Student Loan Borrowers Are in Financial Trouble Despite Paused Payments: NY Fed