How the Restart of Student Loan Payments Could Hurt (or Help!) Your Credit Score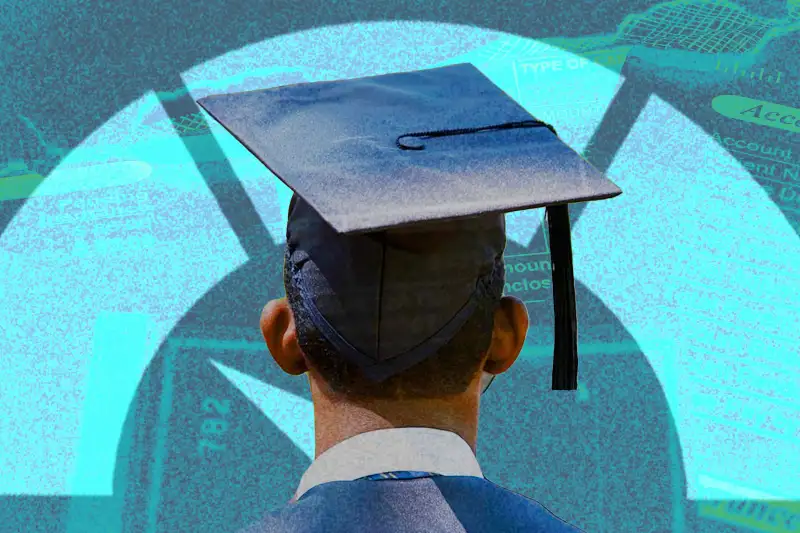 Olive Burd / Money; Getty Images
In the coming weeks, federal student loan payments will restart for millions of borrowers who have been off the hook for more than three years.
Although they've been warned it's coming, many of those borrowers aren't prepared to make the payments — and the aftereffects of this reintroduced financial burden have the potential to significantly impact their credit scores.
The student loan moratorium started in 2020 just as the pandemic began to take hold in the U.S. The payment pause initially provided borrowers with some relief, but, as inflation soared, that wiggle room diminished due to the increasing cost of basic necessities. Recent surveys show that borrowers have put their money to use elsewhere; when payments resume, the majority of them expect to default on the debt.
Many borrowers have fallen victim to this "reverse lifestyle creep," according to Betsy Mayotte, the founder and president of The Institute of Student Loan Advisors (TISLA), a nonprofit organization that provides free advice to borrowers.
"For a lot of people," Mayotte recently told Money, "that money just isn't there anymore."
Following the Supreme Court's consequential ruling to block President Joe Biden's initial forgiveness plan, some borrowers are now taking to social media sites like Twitter (aka "X") and Reddit to float the idea of simply giving up on their student loans — and that do-nothing strategy is starting to go viral.

Here's what you should know about how student loan payments could affect your credit after the moratorium.
What happens if you don't pay your student loans back
Immediately after the Supreme Court struck down student loan forgiveness, the Biden administration announced a new plan intended to blunt the financial consequences of missing payments when they restart (in addition to saying that the administration will try to find another legal avenue to forgive student loan debt).
Critics pounced on the plan as essentially another extension to the student loan moratorium, though the president has rejected that framing.
What the plan actually does is establish a 12-month "on-ramp" period — running from Oct. 1, 2023, to Sept. 30, 2024 — during which the Department of Education will not place the loans of borrowers who miss payments into default nor consider the loans delinquent. The department also said it won't report any missed payments during this period to the credit bureaus or debt collection agencies.
Simply put, missed federal student loan payments through September 2024 would have "no negative impact to credit scores," says Barry Coleman, a vice president at the nonprofit National Foundation for Credit Counseling (NFCC).
Because the biggest consequences of missing loan payments will essentially be suspended for a year, Biden's plan is buttressing the do-nothing strategy that some borrowers are proposing online. However, it's important to underscore that both the Education Department and the NFCC strongly advise against it.
"Our advice to borrowers is that they should make their student loan payments if they can afford to do so," Coleman says. "Develop a plan to begin making payments now."
Ultimately, borrowers will face consequences if they fail to make those payments after the on-ramp expires. Just like any other loan, missed or late payments could wreck your credit, but if left unchecked, abandoned student loans could result in debt collections and even wage garnishment.
'Struggling' borrowers face delinquency, default
A recent analysis from Wells Fargo found that the typical borrower will owe between $210 and $314 a month when payments resume.
Reintroducing a payment of that size each month is expected to shock many people's budgets. While student loan borrowers do have some breathing room given the Biden administration's "on-ramp," they won't have such leniency with their other bills.
According to a study released by the Consumer Financial Protection Bureau (CFPB) in June, the financial shock of restarted payments could lead to an uptick in defaults and delinquencies on loans like credit cards or auto loans.
"A lot of borrowers deprioritize their student loan payments relative to other debts, suggesting that some borrowers who are struggling but not currently behind on other payments may still struggle with the return of their student loan payments," the CFPB researchers wrote.
Likewise, a 2022 study from the New York Federal Reserve found that about 30 million student loan borrowers' credit scores "increased dramatically" during the moratorium thanks in part to provisions that brought loans out of delinquency status. The researchers said that when the moratorium ends, some of those borrowers will re-enter delinquency or default.
"The end of forbearance will have impacts on credit scores, borrowing, and household cash flow ... for the 38 million federal borrowers that have benefitted from the pause," they wrote.
How to improve your credit by paying down your student loans
While it might be tempting to skip payments if there are few consequences, there's still a strong case to make the payments if you're able to afford them.
For starters, student loan interest will begin accruing again starting Sept. 1, meaning your loan balance will start growing if you're not paying it down, and a higher debt balance could ultimately limit your access to credit (which is already difficult to obtain).
Another key reason: "On-time payments help to reduce student loan balances, which can help improve personal credit," Coleman says, highlighting that credit scores depend on a variety of factors and doing so won't necessarily guarantee your score will go up.
He stresses that borrowers should pay what they can, and if they run into financial difficulties, they have options. The on-ramp provides some leniency, yes. But beyond that, advisors at nonprofits like NFCC and TISLA are there to help.
Above all, start preparing for student loan payments to resume now.
"Do a deep dive into your personal budget to see where you are now and where you will be when required payments resume," Coleman says. "This will help you figure out what you need to do."
More from Money:
When Will Student Loan Payments Start Again?
Trendy Student Loan 'Hack' Backfires on Borrowers After Biden's Forgiveness Plan Fails