Debt Free or More Student Loan Payments? These 20 Million Borrowers Await 'Life-Changing' SCOTUS Decision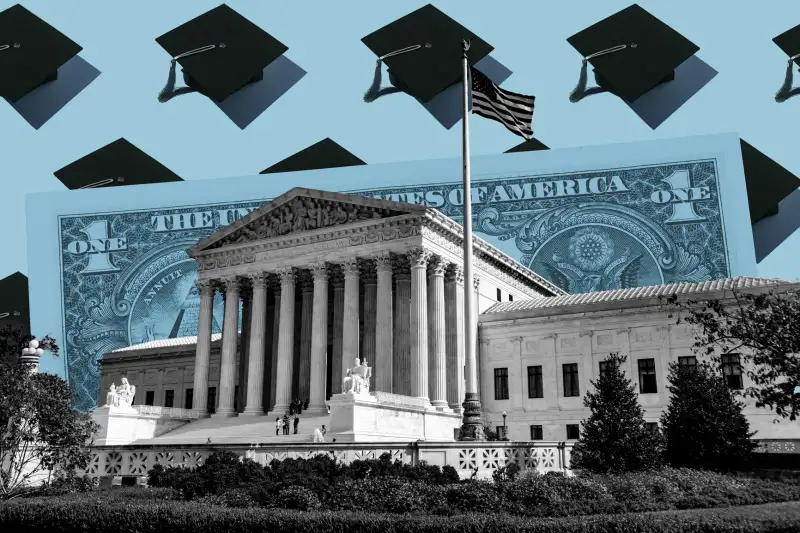 Sam Murphy remembers the first time she really envisioned life after student loan debt.
Last summer, Murphy, now 28, was forking her way through a macaroni-and-gravy dinner with her fiancé and his parents as they chatted about President Joe Biden's student loan forgiveness plan, which would cancel up to $20,000 of federal student debt per borrower.
If her $400-a-month loan payments were a thing of the past, Murphy realized she could focus on other financial goals, like saving for retirement, coming up with a down payment for a home and paying for her wedding. "It's definitely something that'd be life changing."
Biden's plan, of course, is now stuck in limbo as its fate is being decided by the U.S. Supreme Court. It's a highly anticipated ruling — coming sometime this month — for all Americans with student loans. But for the millions of borrowers like Murphy who would see their debts completely eliminated, the decision is all or nothing.
Either all of their debt is wiped away, and they won't need to worry about monthly loan payments ever again. Or the Supreme Court strikes down Biden's plan, and those borrowers will have to restart loan payments after a three-year pause.
Even before all the legal challenges, Murphy, who works for a tech company in the student loan industry, recalled some skepticism at the dinner table about how Biden's plan would ultimately pan out. Still, she couldn't help the excitement welling up over the prospect of her own remaining student loan debt — just under $10,000 — being totally wiped away.
"I'd be obviously excited to have the remainder of my student loan balance forgiven, especially because I'm getting married soon," Murphy says. "The debt would not only be mine at that point, but it would also be my husband's."
The Supreme Court's all-or-nothing decision
The federal government estimates that approximately 20 million borrowers are in Murphy's shoes: that is, eligible for total debt cancellation.
The Supreme Court's decision is especially consequential for this group, according to Betsy Mayotte, the founder and president of The Institute of Student Loan Advisors (TISLA), a non-profit organization that provides free advice to borrowers. Mayotte says that she's in near constant contact with borrowers in this position.
If it's upheld by the court, Biden's plan would cancel as much as $10,000 per federal student loan borrower who earns under $125,000 a year, and if the borrower ever received a financial-need-based Pell Grant, it would cancel up to $20,000. In total, an estimated 43 million borrowers are eligible for some level of forgiveness.

"I could either get it wiped away or I could start having to pay," says Abram Taber, a 40-year-old teacher based in Philadelphia. "It makes a big financial difference to my family."
Taber, a married father of two children, graduated with a master's degree in music education in 2007 with about $28,000 in student debt. More than a decade later and with $5,000 of debt cancellation through the Teacher Loan Forgiveness program, Taber's balance sits at just above $20,000. Since he received a Pell Grant, he is essentially eligible for total forgiveness under Biden's plan.

On the day Biden's plan was announced last August, Taber remembers a flurry of texts among his friends and colleagues. "Are you going to be debt free?" they messaged each other. Taber tried to temper his excitement. "Until I actually see that zero balance on my account, I'm not going to get too hyped about it," he remembers thinking.
Still, he hasn't mentally prepared himself to restart his loan payments if the Supreme Court rules against Biden's plan. Before the pandemic-era pause on federal loan payments, he was paying about $500 a month, he says, which includes a little extra to try to get his balance down quicker.
But at the beginning of the pandemic, his wife switched to freelance consulting, and with a newborn at the time, their situation quickly became "less stable." He was — and still is — grateful to be able to put his loan payments on hold. Restarting them, now with two kids and his wife freelancing, will be a challenge for his family.
As a public school teacher, Taber does have another shot at forgiveness if Biden's plan falls apart: the Public Service Loan Forgiveness (PSLF) program. This longstanding program forgives remaining federal student debt for borrowers who've made about 10 years of payments while working at a qualifying government or non-profit job.
Despite some temporary measures that recently made it easier to qualify, the program has had a notoriously low approval rate. Even though Taber has been teaching for more than a decade, getting proof of employment from past schools has been difficult. Plus, the payments he made to qualify for the teacher forgiveness program don't count toward PSLF. All said, he's still about four years out from possibly getting approved for forgiveness through this entirely separate program.
While the PSLF process has been a headache, he says he's glad to have a potential back up if Biden's plan is axed by the Supreme Court.
Forgiveness for those who need it most
Aside from total forgiveness, another reason the Supreme Court's decision is especially important for borrowers with a debt balance under $20,000 is that they are often the ones who need the relief the most, according to Mayotte.
She says it's usually not the headline-grabbing grads with six-figure debt that are struggling the most. Rather, it's borrowers with much smaller sums. Two groups in particular would benefit from Biden's forgiveness plan, Mayotte says. One, the borrowers who dropped out of college: They typically have low amounts of debt, but that debt is crippling nonetheless.
"The people who didn't graduate, they have debt and no degree," Mayotte says. "So they're worse off than when they started."
The other group is those who may have graduated with more than what Biden's plan would forgive but who "have been paying on their loans since the earth cooled," she says. In other words, people like Taber and Murphy, who have been weighed down by student debt for many years but have managed to pay down their balances to the point of qualifying for complete forgiveness.
"What they have in common is that they're struggling to pay their debt," Mayotte says. "The difference of having to resume payments could be the difference of whether they can pay their light bill or not."

On the other hand, borrowers who have six figures of student loan debt are more likely to have recently graduated with advanced degrees or from prestigious alma maters, Mayotte notes. She says they are often much more likely to land high-paying jobs that can support the loan payments, and knocking 10 or 20 grand off their balances doesn't make much of a difference to their monthly cash flow.
Budgeting when the 'money just isn't there anymore'
Mayotte worries that "reverse lifestyle creep," will to plague borrowers when loan payments resume.
Many borrowers haven't had to pay a monthly bill — the average is about $400, according to the Federal Reserve — for more than three years. In the meantime, the cost of living has soared. Since March 2020, when the payment pause first went into effect, inflation has surged 17.5%, according to data from the Labor Department.

With prices rising for housing, gas, groceries, vehicles and more, inflation has staked its claim on the wiggle room in borrowers' budgets that paused payments initially provided. Illustrating this point, a recent study from the Philadelphia Federal Reserve Bank found that nearly 1 in 3 borrowers who were making full payments before the pandemic said they won't be able to make payments in full when the pause ends.
"For a lot of people," Mayotte says, "that money just isn't there anymore."

That reflects Taber's experience: He's been putting the money that would have gone to student loan payments toward day care for his 3-year-old daughter. He's not sure yet what the alternative would be if payments were to restart. He says he might have to pull her out of day care with either he or his wife working less to provide care, "which means less money coming in overall."
While many borrowers were ecstatic when Biden first announced his forgiveness plan, that enthusiasm has morphed into deep skepticism and even pessimism. One recent survey found that two-thirds of Gen Z students are doubtful Biden's plan will survive the legal challenges before the Supreme Court.
Antoinette Mason, a 28-year-old borrower based in Maryland, says she wouldn't go so far as to say she's fully pessimistic. But the whole when-are-payments-restarting and will-forgiveness-actually-happen saga has left her feeling exasperated.
Last fall, a confusing approval letter from the Education Department went out to Mason and millions of other borrowers stating that their applications for forgiveness were accepted. That letter sparked some hope in Mason at first, but she says the news since then has dimmed her view.
"It's like well, here we go again, you know?" she says. "I'm of the mindset right now that it's going to be overturned."
More from Money:
Education Department Confirms the Student Loan Payment Pause Won't Be Extended Again
Over 600,000 Student Loan Borrowers Have Had Their Debt Forgiven Thanks to This Program
Interest Rates on Federal Student Loans Will Rise Later This Year