Facebook Will Start Paying People to Collect Their Personal Data. Here's How It Works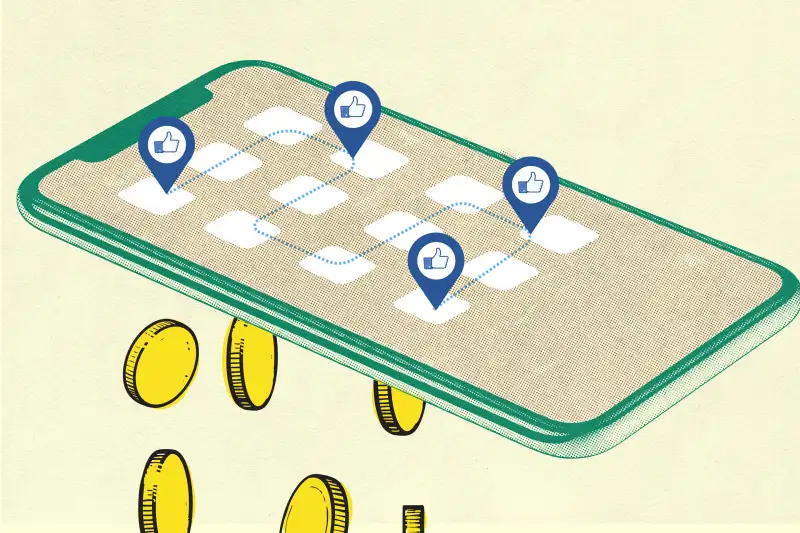 Photo Illustration by Lixia Guo; Getty Images; Shutter Stock
Facebook wants to pay you to use your phone ...while it watches what you do with it.
The social networking company announced a new app called Study from Facebook that, once downloaded, will collect data about your phone activity: which apps you download, how much time you spend on them, which features you use most, and your device information. In return for agreeing to those terms, Facebook says it'll give you money.
Users will be paid monthly and via their PayPal account, but no word yet about how much people would be compensated for the "reward-based market research program." The last time Facebook tried to reward users for market research — in a more under the radar fashion — it offered a $20 gift card for every month the user stayed on.
Facebook Research, as that version was called, launched quietly in 2016 and ended earlier this year, after it made a few enemies. It turns out the app marketed to teens, and used a certificate to bypass the App Store for more access to iPhones — a big no-no for Apple, of course.
"We've learned that what people expect when they sign up to participate in market research has changed, and we've built this app to match those expectations," says the announcement. "We're offering transparency, compensating all participants, and keeping people's information safe and secure."
The announcement goes on to say that it doesn't collect "user IDs, passwords, or any of the participant's content, such as photos, videos, or messages," and it does require users to be 18 or older. It also plans to remind users that they're still part of the program every so often, and give them the chance to review what they're sending. Once you've downloaded the app, you can supposedly stop it from continuing to collect your information by uninstalling the app altogether.
Still, there are plenty of reasons to be wary of a company with a history of misusing data, especially when it asks to track the very thing you carry around with you all day — and there are probably more secure ways to earn whatever pay they decide on.
The app will be exclusive to Android users in the U.S. and India (there was no indication of Study from Facebook coming to Apple's phones), available in the Google Play Store only to those who have been approved. To get approved, an Android user would register through one of the ads that Facebook plans to run "to encourage people to participate." Once Facebook decides the user qualifies (the qualifications seem to be limited to being older than 18, according to the announcement), they'll be invited to download the app.