The Surprisingly Small Paycheck Super Bowl Winners Got This Year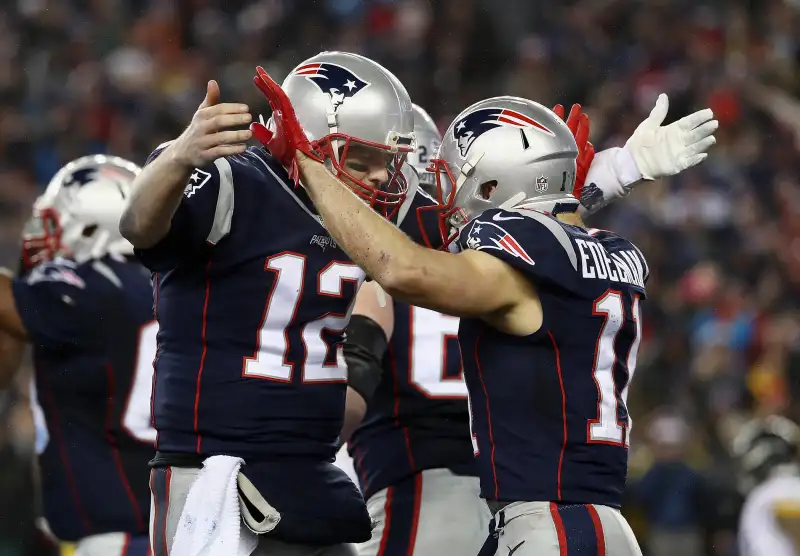 Winning the Super Bowl brings a lot of things: gridiron glory, a place in football history, a giant flashy ring.
But a big paycheck?
Not necessarily—at least, not by big-time professional athlete standards.
Postseason pay in the National Football League comes from the league itself, not individual teams or players' contracts, and every man on the 53-player roster is treated the same. Everyone, from New England's five-time Super Bowl champ Tom Brady down to third string rookie quarterback Jacoby Brissett, gets the same $107,000 bonus for winning.
"The league has never wanted its championship to be about money," says Robert Boland, director of the sports administration master's degree program at Ohio University and a former agent. "They want it to be about honor and legacy."
For players earning a league-minimum $450,000 salary, paychecks for postseason games, which started this year at $24,000 in the wild card round, are a pretty little bonus.
But for top players, postseason earnings are chump change. Take Atlanta's wide receiver Julio Jones, one of the highest-paid receivers in the game. His 2016 salary guaranteed him $13.5 million—or $843,750 a week—during the 16-week regular season. But after three weeks of play-off games and Sunday's championship, he'll earn a combined $156,000. (Members of the losing team in the Super Bowl still get $53,000 each. That's right—the losers earn more for one game than most of America makes in a year.)
Teams that make it to the Super Bowl also receive rings. Winners in recent years have added custom-designed, diamond-studded rings worth more than $30,000 to their trophy cases.
Of course, official Super Bowl earnings are one thing. Endorsement deals are another entirely.
If a player has a big game on football's biggest stage, he can immediately renegotiate endorsement deals. Going into the 2016 Super Bowl, for example, Denver Broncos linebacker Von Miller already had endorsement deals with Adidas and Beats by Dre. But a week after being named Super Bowl MVP, Adidas doubled down and announced Miller would be the face of its FREAK franchise. Later in 2016, Miller starred in EA Sports' commercial for the Madden NFL 17 video game, and he also became the face of Old Spice. He hit the talk show circuit and performed briefly on Dancing with the Stars. And of course, he came out of a long contract negotiation with the Broncos with a record setting six-year $114.5 million deal.
Boland's research has even found a correlation between Super Bowl champions and financial success long after their football careers end. Whether you're earning a living as a sports hero or have spun off your football success into a separate career, being a champion tends to keep you in demand, Boland says.
"The price is going up for everything they're doing for a long time."