The Super Bowl's 2 Quarterbacks Are Tops in NFL for Endorsement Deals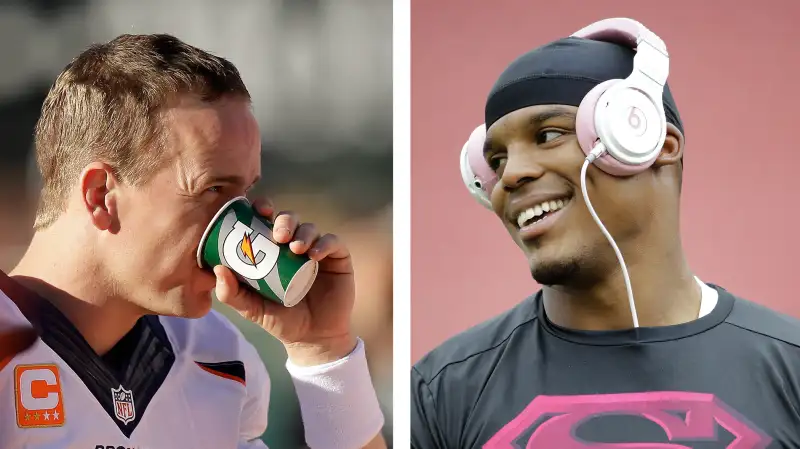 (left) Ezra Shaw/Getty Images; (right) Chris O'Meara/AP
Gatorade must be psyched. Among the sports drink brand's many spokespeople are Cam Newton and Peyton Manning, who just so happen to be the two starting quarterbacks in the year's most-watched football game, Super Bowl 50, on Feb. 7.
In other words, regardless of the outcome of this year's Super Bowl, Gatorade has already won thanks to increased exposure for the brand leading up to the big game—and perhaps afterward, with a strong likelihood that one of its spokesmen will be the Super Bowl MVP.
Because of the matchup at quarterback, Super Bowl 50 is being hyped as "a game for all ages, and likely one for the ages, too" by USA Today, and a huge changing of the guard in the league. On the one hand, there's "Old Man Peyton," as Wall Street Journal columnist Jason Gay put it, "a five-time MVP, a Super Bowl champ, and one of the most popular NFL players ever," who at 39 years old is clearly at the end of his career. On the other, there's the dynamic and powerful "26-year-old Newton, the presumed 2015 NFL MVP who has built a case as the best quarterback in the league."
The two may play the same position, but they couldn't be more different in terms of their approach, athleticism, and where they are in the arc of their careers. What they do have very much in common, however, is that they make big bucks by associating with major consumer brands—most obviously, Gatorade.
In fact, a report published by ESPN before the current NFL season began named Peyton Manning as the NFL's top dog in terms of endorsement deal money, with Cam Newton coming in second place, surpassing such perennial favorites as Drew Brees and Tom Brady. Manning earns $12 million annually from deals with brands like Nationwide Insurance and Papa John's Pizza, while industry sources estimated Newton would pull in roughly $11 million in 2015 as a spokesman for Under Armour, Beats by Dre, Dannon yogurt, Belk electronics accessories, and L'Oreal Drakkar Essence fragrance, among others.
What may be particularly surprising is that Newton emerged as a top endorser before his (likely) MVP season this year, and even before he was universally considered one of the league's best quarterbacks. Newton has been criticized this season by a certain subset of fans who think his celebrations are "arrogant" and too "in your face." Yet apparently an even larger—and undoubtedly, younger—group of fans is drawn to Newton for the fun and excitement he brings to the game. It doesn't hurt that Newton's signature move has been giving away footballs to kids after the Panthers score a touchdown.
Newton's big smile, muscular frame, running ability, and—let's be honest—skin color stand in contrast to the NFL's aging group of established, drop-back pocket quarterbacks like Brady, Manning, and Brees. In more ways than one, this could be a good thing for Newton.
"Those guys are boring," Peter Laatz, an executive at research firm Repucom, explained to Forbes recently. "Cam is more entertaining and more relevant with the millennial audience."
Both on and off the field, then, it looks like a torch is being passed—and the Carolina Panthers' Cam Newton is more than ready to run with it.