Supreme Court Nominee Brett Kavanaugh Has a $1 Million House — and Very Little in Savings. Here's What We Know About His Money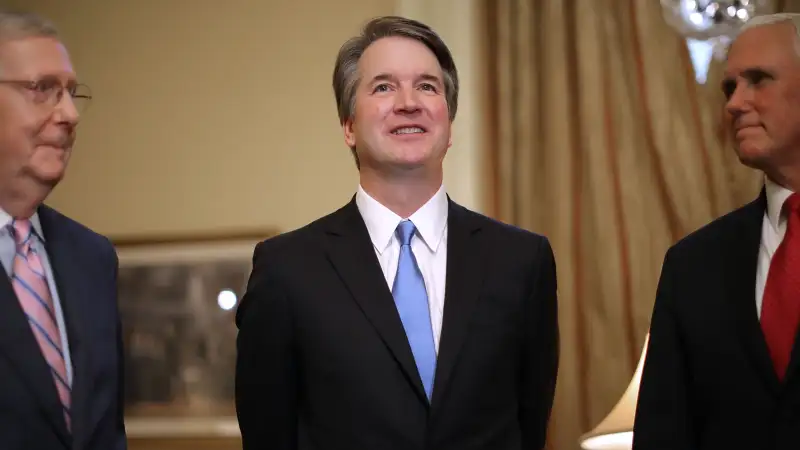 Chip Somodevilla—Getty Images
U.S. Supreme Court nominee Brett Kavanaugh has had a long career on the bench, leaving a lengthy paper trail for senators to examine during the upcoming confirmation process. But one part of his résumé doesn't require reams of disclosures: his financial history.
Disclosure forms obtained by OpenSecrets indicate that Kavanaugh appears to be low on assets and investments despite taking on a variety of positions before President Donald Trump picked him to fill Anthony Kennedy's soon-to-be vacant seat.
In his most recent filing, Kavanaugh reported working as a lecturer at Harvard Law School, a director at the Washington Jesuit Academy, an adviser at the American Law Institute and a basketball coach at the Blessed Sacrament School. In addition to his regular pay as a judge, he said he brought in about $27,500 in non-investment income, received no reportable gifts and had one loan that he recently paid off in full.
The 53-year-old added that he had up to $65,000 in assets, a designation that doesn't necessarily include items like mortgages or cars.
Kavanaugh lives with his wife, Ashley, and two daughters, Margaret and Liza, in Maryland. Property records show their home is valued at about $1 million.
Other details about his lifestyle are scarce, but there are a few factors that could explain why Kavanaugh doesn't have a lot in savings. For one, his house was pricey — it was purchased for $1.2 million, is two stories and has a finished basement. His kids also appear to attend the nearby Blessed Sacrament School, where tuition for Catholic students is about $10,000 a year.
However, Kavanaugh may soon be getting a raise. As an appeals court judge for the District of Columbia Circuit, he currently earns a $220,600 salary. If he joins the bench at the Supreme Court, he'll enjoy a pay bump: Associate justices take home $255,300 a year, according to the U.S. Courts website.
However, it might take a while for Kavanaugh's bank account to catch up to those of his fellow SCOTUS justices.
They're a wealthy bunch. According to the Center for Public Integrity, Stephen Breyer has the highest net worth on the bench with a minimum $6.15 million. Kennedy, the justice Kavanaugh is aiming to replace, was actually at the bottom of the rankings with an estimated $580,000 net worth.
Being on the nation's highest court comes with perks, as well. Because they're in such high demand, Supreme Court justices often travel all over the world for free. For example, Ruth Bader Ginsburg and Sonia Sotomayor flew to Italy in 2014 for a New York University event. Last year, Samuel Alito went to Spain, France, Germany and China to appear at conferences and give lectures.
That's one thing Kavanaugh can talk about with his potential new coworkers. Like them, he's also taken a number of trips on other people's dimes. Documents show Kavanaugh was reimbursed for travel to Colorado, Connecticut, Massachusetts, Indiana, Texas and New York for various teaching and speaking opportunities last year.