Americans Are Back in Love with SUVs. Is Cheap Gas the Reason?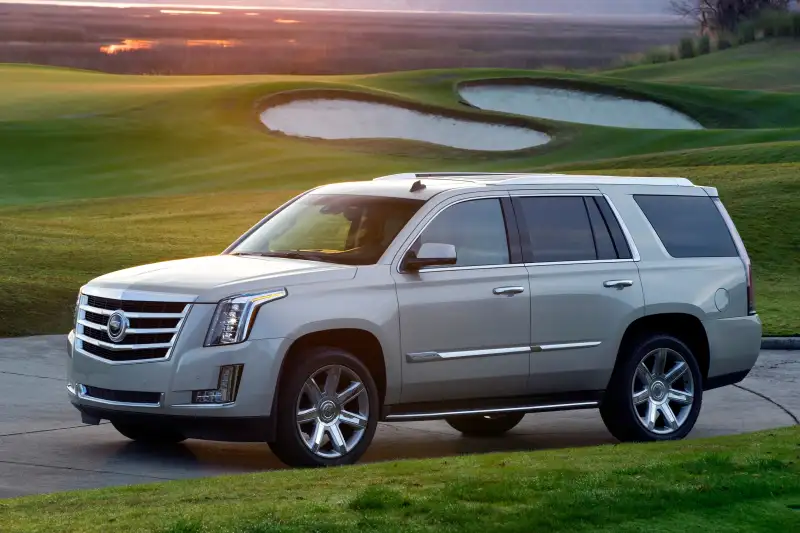 With the help of Black Friday promotions and the cheapest gas prices in years, the auto industry posted a brilliant November for sales. General Motors announced that sales were up 6% compared to a year ago, making for its best November in seven years. In fact, the Detroit Free Press reported that once all of the sales totals are in, last month could very well be the best November the auto industry has seen in 13 years, thanks especially to strong performances from GM and Chrysler (up 20%).
Ford sales in November were down 2% compared to a year, but even that is being considered a victory of sorts, because the results outperformed analysts' expectations. (Experts anticipated a sales decline largely because Ford is in the process of producing a new aluminum-bodied F-150 truck—the country's best-selling vehicle for more than three decades—and naturally sales are slumping while drivers await the updated model.)
What's interesting is that while Ford had a less-than-stellar month overall, a few of its vehicles experienced a terrific November in terms of sales. Two SUVs, the Explorer and the crossover Escape, did great business, up 13% and 22% compared to a year ago. And those impressive gains pale in comparison to their higher-end sibling. Ford's Lincoln brand was up 21% overall for the month, and sales of the Lincoln Navigator—a luxury SUV with a sticker price starting over $60,000—reached 1,433 for the month, a rise of 88% compared to a year ago.
Similarly, one of the Navigator's luxury SUV competitors, the Cadillac Escalade (MSRP from $72,970), saw sales increase a whopping 75% in November, even as Cadillac as a whole experienced a 15% decline for the month. Several other GM trucks and SUVs, including the Chevrolet Silverado, GMC Sierra, and Buick Encore, also had booming Novembers, with sales up 24%, 57%, and 72%, respectively.
Yet another SUV-centric auto brand, Fiat Chrysler's Jeep, had a brilliant November, with sales up 67% for the new Cherokee and up 27% overall. Meanwhile, Toyota, which beat expectations with a mild 3% sales increase in November, made a point of noting how well its trucks and SUVs did for the month. "Consumer demand for light trucks continues unabated and Toyota dealers set new November sales records for light trucks and SUVs," Toyota division group vice president Bill Fay said in a press release.
What explains the surge in SUV sales? To some extent, the category's performance is emblematic of the auto industry having a strong month overall. But decreasing gas prices are probably playing a role as well: Apparently the dip under under $3 per gallon seemed like a cue to some consumers that it was time to consider an SUV again. The fact that new trucks and SUVs are more fuel-efficient than their older counterparts helps the cause. On the other hand, only rapidly decreasing gas prices—and short memories on the behalf of consumers who griped not long ago about dropping $100 on fill-ups—can explain the reported increase in sales of gas-guzzling Hummers on used car lots recently.
Toward the end of November in particular, dealerships were offering especially aggressive promotions on SUVs of all shapes and sizes. Ford's rivals were very aggressive with deals on light-weight pickups, likely with the idea of wooing buyers before they have the chance to purchase the new Ford F-150, soon to be widely available. Finally, the Black Friday shop-a-thon weekend seems to have instilled in consumers a mentality for splurging on high-priced automobiles, especially when it seemed like the deals were good.
"Arguably more than other Black Fridays, this one seemed to have been positioned as a big ticket Black Friday," LMC Automotive's Jeff Schuster said, according to Bloomberg News. "It's the 65-inch TVs, big appliances or cars that consumers focused on."