Tax Day 2017: All the Best Freebies and Deals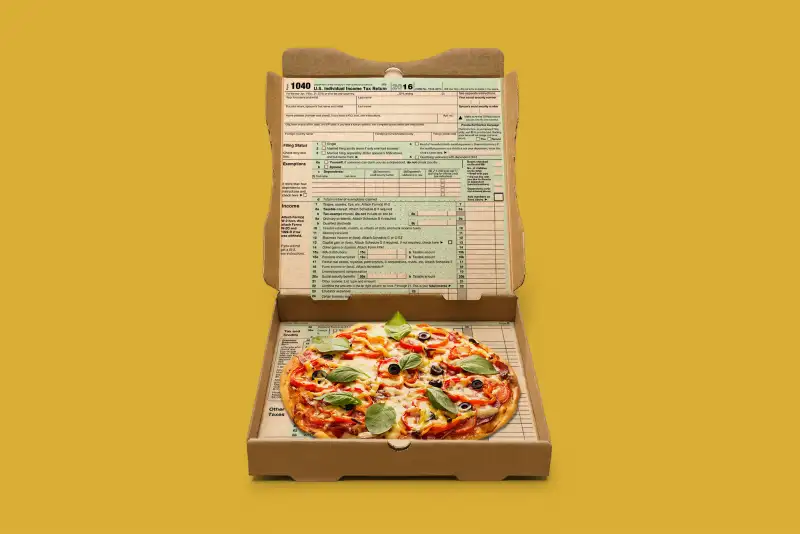 Photo illustration by Money; Getty Images (2); 1040 courtesy of IRS
Unless you're getting a big refund, Tax Day is generally a bummer. And if you are expecting a fat check back from the government, you're probably handling your taxes wrong—so that's a bummer too.
One thing that everyone can celebrate about Tax Day is the abundance of special discounts and freebies available all across the country, no matter state you file in. We've rounded up a bunch of worthy giveaways and deals below. Take note that some are valid well before and sometimes after the last day to file taxes, which is Tuesday, April 18, this year.
Bob Evans: Use this coupon for 30% off your entire purchase at Bob Evans restaurants on April 18.
Bruegger's Bagels: From April 12 to 19, a Big Bagel Bundle—including a choice of 13 bagels and two tubs of cream cheese—costs $10.40, or about $3.50 off the normal price.
Bertucci's: On Tuesday, April 18, small pizzas are priced at $4.18 during lunch hours (normally $8.49), and cheese, margherita, or pepperoni dinner pizzas are priced at $10.40 each (normally around $19).
Boston's Restaurant: This Dallas-based sports bar chain offers a free single order of wings to anyone registered with its MyBoston's Rewards program. The freebie is available only on Tuesday, April 18—which the company has bizarrely dubbed as Gilmorgan Day.
Chuck E. Cheese: From April 18 to 20, guests get one large cheese pizza for free with every large pizza purchased at regular price.
Firehouse Subs: Look for a coupon on this chain's website or Facebook page for a free medium sub with the purchase of another sub, chips, and a drink, from April 18 to 20.
Great American Cookies: Each customer can get a free Birthday Cake Cookie on April 18, no purchase or coupon required.
Hot Dog on a Stick: All customers get a free Original Turkey Dog, no purchase necessary, on April 18.
Hungry Howie's: When you buy a one-topping large pizza at normal price, you can get a one-topping medium pizza for just 18¢ by entering the code TAXDAY with orders. The promotion is valid for online orders only at participating locations from April 17 to 19.
Kona Ice: The company's shaved ice trucks will be parked near post offices and tax prep centers for its annual "no taxation without relaxation" giveaway, on April 18 this year. Trucks will hand out free shaved ice cups for everyone.
McDonald's: Note that this is not a national promotion, but customers at McDonald's in select regions—including South Florida—can buy a Big Mac or Quarter Pounder for just 1¢ when they purchase one at regular price on April 18.
Noodles & Company: From April 12 to 18, use the code TAXDAY17 with online orders and you'll get $4 off a purchase of $10 or more.
Office Depot: Use this coupon and you can shred up to 5 lbs. of documents at Office Depot for free, now through April 29.
Planet Fitness: Look for a coupon at the website starting this Saturday for a free HydroMassage good between April 15 to 22.
Quiznos: Members of Quiznos's Toasty Points rewards program get 10.40% off their total purchase on April 18, plus new rewards members get a free four-inch sub after registering.
Schlotzsky's: On April 18, customers who purchase a medium drink and bag of chips get a free Original Sandwich at Schlotzsky's.
Sonny's BBQ: The Irresistible Ribs Special (IRS—get it?) offers rib orders, which come with two sides and homemade bread, for half price all day on April 18.
Staples: Use the linked coupon to shred up to 2 lbs. of documents for free, but only through Saturday, April 15.
Tavern62: This bar and restaurant in the Upper East Side of Manhattan has a 50% discount on all alcoholic beverages throughout the day on April 18.
Whisper Restaurant and Lounge: From 11:30 a.m. to 10 p.m. on April 18, martinis are priced at just 18¢ with the purchase of each entrée at this Los Angeles establishment.
World of Beer: Customers age 21+ are welcomed to a free draught beer or $5 off your check at participation locations on April 18.