Teach Your Kids Financial Values...Via Cellphone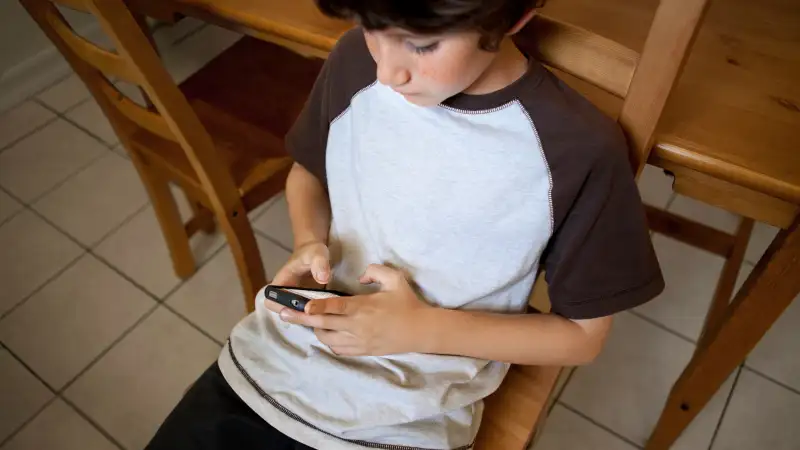 Catherine Ledner—Getty Images
After I have helped clients prioritize their financial goals, they commonly ask me a followup question: How do we teach these values to the next generation?
Start early, I tell them. And use a smartphone.
Let me explain. For many children nowadays, a smartphone will be their first valuable possession. They start asking begging for one when they're around 8 or 10 years old, depending upon how many of their friends already have one.
We don't know what impact early adoption of technology will have on our children once they become adults. As a financial coach, I see that parents are overwhelmed. New technologies are available every year, making parents feel like Maggie Smith's Dowager Countess character on Downton Abbey: "First electricity, now telephones. Sometimes I feel as if I were living in an H.G. Wells novel."
The purchase of a child's first smartphone is an ideal opportunity for parents to pass on their values to children. I encourage active discussions between parents and children about the family's intent for the phone, many of which may be reflected in the values below.
Open communication: From the beginning, outline the consequences if a child dodges her parents' calls or ignores their texts. Talk about how this cellphone is meant to keep the family connected, not just to fuel her social life.
Hierarchy: Parents can exercise their authority through a variety of smartphone parental controls.
Check-in at tuck-in: Parents enforce this by keeping the charger in their room or in the kitchen. The cellphone needs to be in that spot when the child goes to bed, thereby preventing distractions from the phone and friends during sleeping hours. One client who uses this system was surprised when her daughter handed her the phone before she left for a sleepover: "I guess I need to check this in," she said. Success!
Geolocation: If a parent would like the security of knowing a child arrived at a destination safely, or technological proof that a kid is being truthful, they can track the phone's location with an app such as Life360.
Setting limits on texting/minutes/data: Some carriers offer this feature with unlimited family plans. Or parents can take the more rudimentary route below.
Wise resource management: What messages do we communicate when we give a kid this unlimited resource without requiring any payment from them? How do we engender a strong work ethic? One way is to subscribe to a plan that charges by the minute or unit. You won't save money, but your child will learn to budget her resources. You can buy a TracFone, give her a monthly allotment of minutes, and explain she has to buy her own if she surpasses the allowance.
Work orientation: Taking this line of thinking a bit farther, if a child uses up her monthly allotment on a pay-as-you-go plan, she now has a choice. Either she stops talking — which could backfire if she can't check in with parents — or she finds a way to get more minutes. TracFone minutes can be purchased anywhere at increments as small as $10, so it's easy for a child to get more minutes if she's willing to earn the money. Or alternatively, she can ask for minutes as gifts for holidays and birthdays. Either way, the child will need to become resourceful, and it's never too early to exercise that muscle.
Predictability: Americans love to control our environment. In the financial realm, that often takes the form predictable expenses. In the past, roaming charges could exponentially increase your bill if you weren't careful. These days, data usage (used for streaming video, sharing photos, or downloading apps when a phone isn't on a wi-fi connection) is the variable that can quickly escalate the monthly total. Take these variances into account to select a plan that works best for your family, and make sure everyone understands the plan's overage policies to avoid nasty surprises when the bill arrives.
In sum, a smartphone is an opportunity to teach a child about what really matters. Technology is just like money: It is simply a tool to make us more effective in the important stuff. But children are especially likely to subvert that understanding, mistaking technology or money as the end goal in life. So it is worth the time to guide their consumer choices, and their values, while they are still at home.
----------
Candice McGarvey, CFP, is the Chief Story Changer of Her Dollars Financial Coaching. By working with women to increase their financial wellness, she brings clients through financial transitions. Via conversations that feel more like a coffee date than a meeting, her process improves a client's financial strength and peace.