A Startling Number of Teachers Are Renting Their Homes Out to Help Pay Bills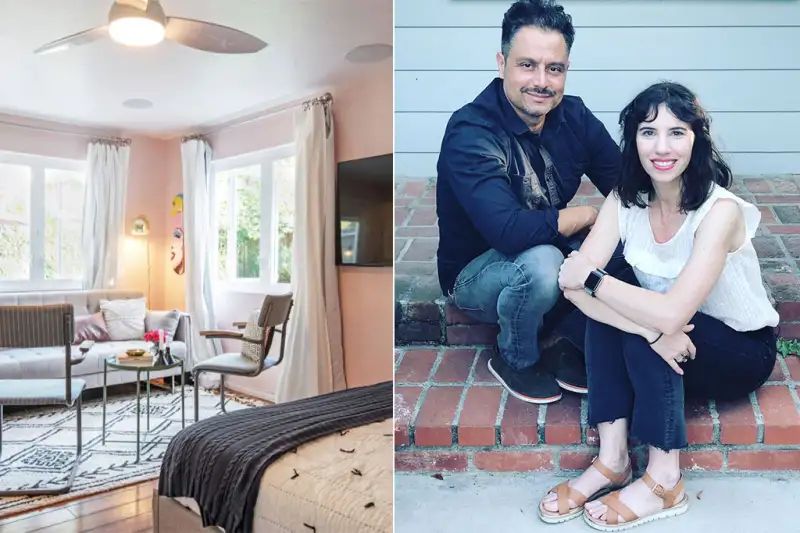 Room: Courtesy of Airbnb; Courtesy of Jennifer Bankston
Eighth grade English teacher Jennifer Bankston's 30-minute lunch break isn't much of a break anymore.
It's instead an opportune time to respond to inquiries — while chomping down on a salad before her next class starts — from people all around the world who are interested in staying in her Woodland Hills home, located in the northwest Los Angeles neighborhood that sits along the Santa Monica Mountains. Bankston doubles as a host on Airbnb, the popular hospitality service where homeowners rent out rooms in their homes or their entire households to guests.
"It is a juggle," Bankston, who became an Airbnb host two years ago, says. But it's a necessary one. Both she and her husband, Louis, are teachers in the Los Angeles Unified School District, where they say they haven't received a raise in years. Together, they earn around $4,000 a month in take-home cash from teaching. With Airbnb, they said they make anywhere from $2,000 to $4,000 a month renting out their guesthouse for about $100 a night on their Woodland Hills property. "It's like having another teacher's income on a good month," she says.
One in 10 Airbnb hosts, or about 45,000 people, are teachers, according to a new study from Airbnb. (In May 2017, educators, librarians and other professions in those fields made up 6.12 percent of employees in the U.S. workforce, according to the Bureau of Labor Statistics.) A teacher on Airbnb earns about $6,500 on average a year — a sizable chunk of change to add to their annual classroom salaries, which have seen little growth in recent years as salary freezes and budget cuts stifle substantial raises or improvements to their benefits. In 2017, the report found that teachers on Airbnb earned $160 million in total, with $54 million of that income coming during summer breaks between June 1 and August 31.
It's unclear if there has been an influx of teachers on the platform in recent years in part because Airbnb hasn't conducted a study on the subject before. But it's hardly surprising that teachers are taking advantage of the gig economy. Working a second or third job is commonplace for teachers in the U.S. as some educators struggle to make ends meet with dwindling salaries, suffering pension plans and budget freezes. While many teachers work extra jobs throughout the school year, summer — which ideally serves as a vacation for teachers before prep for the next year begins — is instead used as a chance to make more money. Bankston, for example, has also rented out her entire Woodland Hills home during the summer to make even more cash.
That money helps Bankston and her husband pay off their mortgage — which much of their income goes toward — and pay off years of credit card debt. "If it weren't for the Airbnb, we would not make it," Bankston, who has been a teacher for 19 years, says. "We would have to move out of our house." The added boost also provides more financial stability — especially as they inch closer toward retirement amid a precarious time for their retirement benefits, Bankston says.
The average salary for a public school teacher in the U.S. was $59,660 during the 2016-17 school year, according to the latest data from the National Education Association. That number differs drastically across states, ranging from the lowest with teachers in South Dakota earning on average $42,025 a year and the highest with those in New York earning $79,152, according to 2015-16 school year estimates analyzed by Money. Educators often say they never got into the profession for the money, but protests and walk-outs in states with particularly low teacher salaries last year shed light on the financial hardship many educators face.
For some teachers, like Skate Stone, the added income of an extra job or a platform like Airbnb helped him and his wife retire from their day jobs. The 65-year-old Airbnb host based in Bernal Heights neighborhood of San Francisco ended his four-decade-long career as a music teacher at a creative arts school in the city two years ago and has now been an Airbnb host for six years. He and his wife rent out three rooms in their home year-round, earning about just as much as they did when he was still teaching and she was working various administration jobs.
"It always seemed like a pie-in-the-sky idea that somebody else can do, and that I would need to keep working for many more years," Stone says.
"My tiny little teacher pension wouldn't really make it work," he says.
Airbnb has faced several of legal battles regarding restrictions for short-term rentals in a number of cities across the country, including Los Angeles and Miami, as officials make sense of an economy infiltrated with home-sharing sites and ride-sharing apps like Uber. Teachers who are hosts on the platform tell Money they hope any potential restrictions in the future won't stifle their business, as it has become something they depend on.
But these hosts face other challenges in managing their listings, too. Ana Rubio, who just began her 19th year as a teacher and is based in Miami, had to remove her listing for about a year after her home suffered damages from Hurricane Irma in 2017. Before then, she charged $60 a night for her master bedroom — an extra load of cash that helped her contribute to her 403(b), a retirement savings plan for employees at public schools and nonprofits. Airbnb is a third job for the single mother, who said she earns $50,000 as a physical education teacher at an elementary school in the area, and another $6,000 as a swim coach at an aquatics program based at the University of Miami.
Nearly a year after the hurricane hit, she's ready to re-list her property — and reap the finanical benefits it brings her.
"I'm scared about my future," Rubio says. "But this is giving me a real sense of relief."