5 Must-Have Tech Tools and Apps for Retirees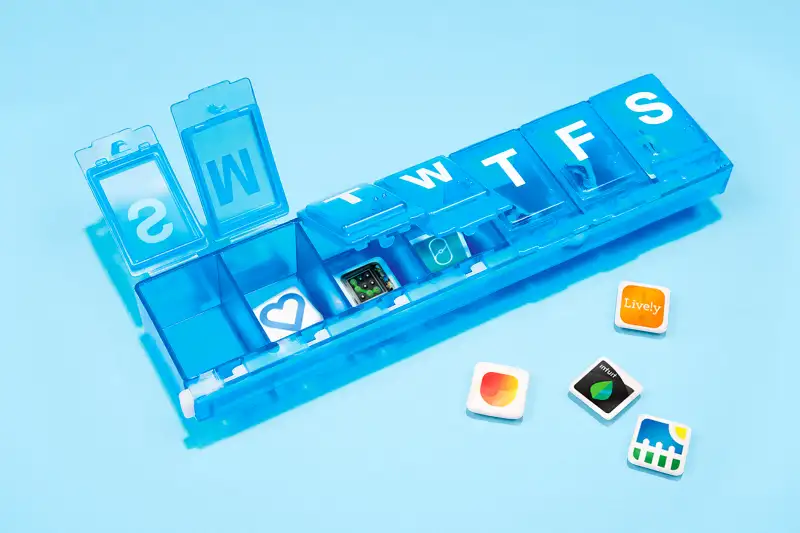 Photograph by Daniel Ehrenworth
Forget the rocking chairs and early-bird discounts. What will really improve your life in retirement is an Internet connection. New devices, apps, and other software make it easier for retirees to stay healthy, live independently, and enjoy their lives to the fullest. "Technology is changing both our expectations and life in retirement," says Joseph Coughlin, head of the MIT AgeLab.
As the population of Net-connected retirees grows—58% of people ages 65 and older use the Internet, according to the Pew Research Center, up from 14% in 2000—there's greater opportunity to use electronic gear to reach out to family and friends, manage your health, protect your finances, and preserve your quality of life. Here's new and innovative technology that can do just that for you or someone you love.
Get face-to-face
Communicating with family and friends is the top reason seniors go online. All you might need is Skype or Facebook on your iPad; many main-stream products work fine for older users, says Tom Kamber, executive director of the nonprofit Older Adults Technology Services in New York City. But what about a retiree who's an Internet holdout?
The Grand Pad tablet, part of a subscription-based service, makes it easy to connect with friends and relatives via video calls. It also has simplified online access for limited activities, including sharing pictures, checking the weather, and—coming soon—hailing an Uber ($53 to $60 a month).
Calculator: I'm retired, how long will my savings last?
Stay healthy
Maintaining health is retirees' most pressing concern, according to a Merrill Edge survey. One key part of that is managing medications. Americans ages 65 through 79 get an average of 27 prescriptions per year, according to IMS Institute for Healthcare Informatics. Even if your pills amount to only a fraction of that, it's easy to slip up. But technology can solve the problem.
Medisafe, a pill reminder app for smartphone or tablet, has some nice visual touches, including showing you a picture of the pill you're scheduled to take. It can also send alerts to a family member if you miss a dose.
An app-free alternative is the new PillDrill. The tabletop device, which requires Wi-Fi for setup, will light up, sound an alert, and display dosage information when it's time to take a pill. Employing special pill strips and tags, it also tracks whether medications have actually been taken (pilldrill.com; $199).
Safeguard money
Financial elder abuse, including scams, hits at least 500,000 seniors a year, estimates the Centers for Disease Control. Keep an eye on an older relative's finances by setting up a Mint account for him or her and getting activity alerts.
For extra protection, sign your relative up for Nomorobo, a service that blocks telemarketers, who may prey on seniors. It works with many major carriers, but not on mobile phones or traditional analog lines.
For an especially vulnerable relative, set limits with True Link Financial's customizable debit card for seniors. Among other controls, you can prevent online and telemarketing purchases and confine spending to certain stores and certain amounts (truelinkfinancial.com; $10 a month).
Live independently
Most retirees want to stay in their homes, even if mobility-impaired. The Amazon Echo can make life easier if you have trouble getting around, says AARP chief of strategy and innovation Terry Bradwell. The voice-activated device is a remote control that can perform functions like reading audiobooks and answering questions.
A backup system for an older relative is Lively, built around a wristwatch that's also an activity tracker, a medication reminder, and an emergency call button. You can receive watch data remotely, seeing, for example, whether Dad has opened his fridge over the past 24 hours ($50 for the watch and $28 to $35 a month).
A less obtrusive safety net is a comprehensive smart-home system such as AT&T's Digital Life, which Bradwell got for himself. The deluxe version includes webcams and sensors, which can let you know if Dad left the stove on or unlocked the front door ($65 a month).