Why the Cult Around Tesla Is Eerily Similar to Apple's Fanboy Following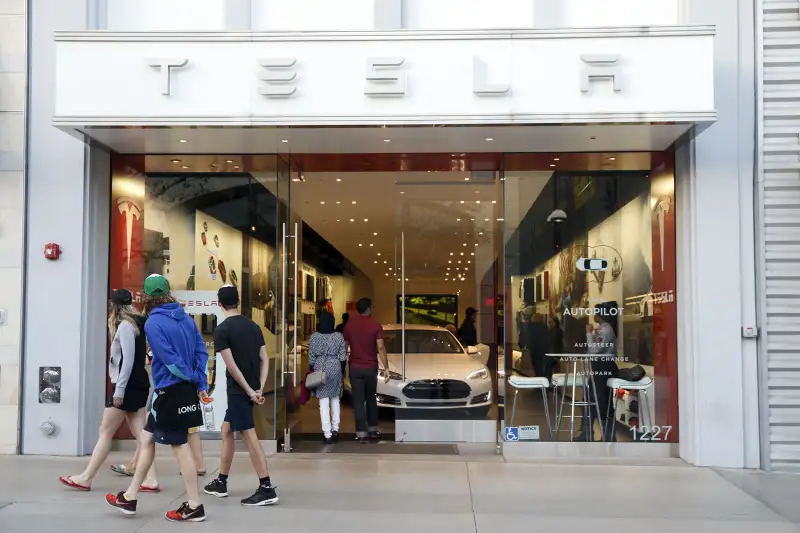 Patrick Fallon—Bloomberg via Getty Images
One look at the long lines stretching in front of an Apple store on the day of an iPhone launch reveals consumers are hardly rational when it comes to getting their hands on their favorite brand's latest product. Could the same be said of Tesla enthusiasts?
On Thursday, Tesla Motors is revealing its newest, most affordable car since the nascent auto company was founded in 2003. The Model 3 will start around $35,000, about half the price as Tesla's luxurious, highly praised Model S. The new vehicle is expected to have broad appeal--an electric car that's practical and within reach of the masses, rather than some small wealthy niche market.
At first glance, you might not think the typical Apple early adopter would have much in common with a Tesla owner. Buying a car (an electric car, nonetheless!) is a much bigger purchase than buying a cell phone. Bloomberg reports there's a $1,000 deposit, waiting list, and likely late deliveries with the newest Tesla model. Such issues don't enter the conversation when a new iPhone is up for grabs.
You might also assume that no one would be waiting on lines outside Tesla showrooms simply in order to put down a fat deposit on a car that won't be delivered for a year, maybe longer. But you'd be wrong. Eager buyers in places such as Germany, Sweden, British Columbia, and Massachusetts have been camping out for hours to do just this.
Such behavior might not make sense, but it's not surprising to auto insiders who understand the psychology of car (and tech) enthusiasts. "There's nothing particularly rational about Tesla, nor is there anything rational about spending tens of thousands of dollars with a new car company with new technology," Rebecca Lindland, senior analyst at Kelley Blue Book said. However, "if we look at it from an emotional standpoint, the same way that people look at Apple in an emotional way, then you have to take Tesla more seriously."
Bonding with like-minded people while waiting for one's chance to spend money on a beloved brand is also part of the experience. Curiously enough, consumer psychologist Kit Yarrow has compared waiting in line for an iPhone with attending Burning Man, in that it's "about human connection," and "people with shared values hang out together and have something to talk about."
People don't act this way with the product launch of just any old brand. It has to be something truly special that appeals deeply to a select subset of people. "We know that for many people, Tesla is as close as it gets to 'more than a brand' in the automotive space," KBB analyst Akshay Anand said. "Some consumers view it in the same light as an Apple, which is to say it's almost like a lifestyle."
Calculate: What would my auto payments be?
The similarities between Tesla and Apple don't stop there. Both companies have the notorious (and notoriously brilliant and prickly) founders in Elon Musk and Steve Jobs and Musk; the two companies have a revolving door of high-level employees; and most importantly, both Tesla and Apple focus heavily on every last detail in the design of their products. The net result is that there's a sort-of cult following around the two brands.