The Richest Man in Hong Kong, an 89-Year-Old Wartime Refugee Worth $34 Billion, Is Retiring
Money is not a client of any investment adviser featured on this page. The information provided on this page is for educational purposes only and is not intended as investment advice. Money does not offer advisory services.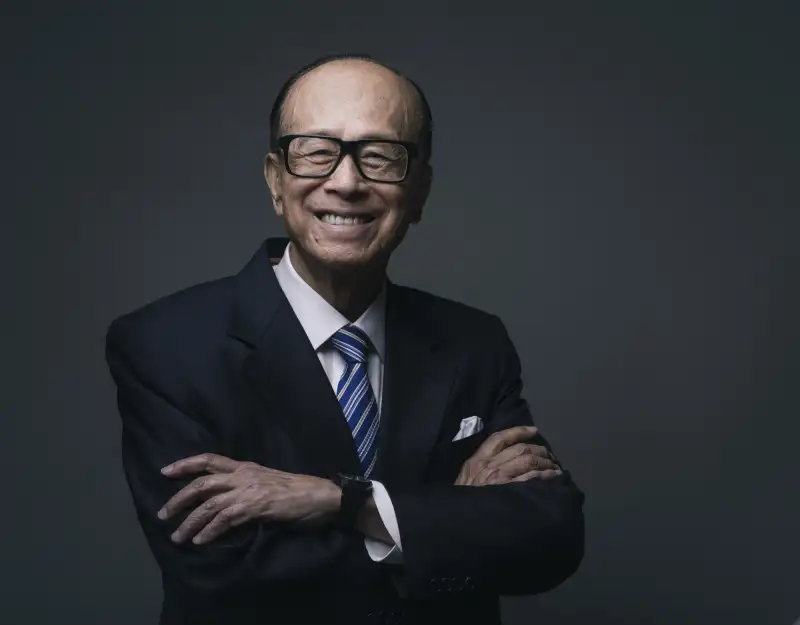 Li Ka-shing, a wartime refugee who used to sweep factory floors in Hong Kong for a living, retired after a career spanning more than half a century amassing one of Asia's biggest fortunes from building skyscrapers to selling soap bars.
The 89-year-old chairman of CK Hutchison Holdings Ltd. and CK Asset Holdings Ltd. will stay an adviser to the group after stepping down in May. Elder son Victor, 53, will take over a conglomerate that touches the lives of practically everyone in Hong Kong -- the family's Power Assets Holdings Ltd. generates their electricity and ParknShop supermarkets sell their groceries. The group also operates mobile-phone stores and Superdrug and Savers in the U.K., owns ports around the world and a controlling stake in Husky Energy Inc. in Canada.
"Looking back all these years, it's my honor to have founded Cheung Kong and to have served society," Li told a packed room of journalists in Hong Kong on Friday. It's been "my greatest honor," he said.
The retirement came on a high note as Li's four biggest companies -- CK Hutchison, CK Asset, CK Infrastructure Holdings Ltd. and Power Assets Holdings Ltd. -- reported higher 2017 profits. All four stocks rose, though announcement -- including two of the earnings -- came after the end of trading in Hong Kong.
With a fortune of about $34 billion, according to the Bloomberg Billionaires Index, Li has been a fixture as the city's richest man for an entire generation of Hong Kongers and spearheaded an era defined by a handful of swashbuckling Chinese immigrants who built large empires across Asia. For many, he is the face of the changing fortunes of Hong Kong as the former colony's British elite gave way to Chinese dynasties.
"Li's retirement symbolizes the end of an era," said Joseph P.H. Fan, a professor at the Chinese University of Hong Kong, who has researched family-run businesses for two decades. "No one can replace Li Ka-shing as the legendary founder of the largest conglomerate in Hong Kong."
His retirement announcement illustrates his confidence over business continuity, given that he has prepared his son for several decades, Fan said.
Uber-Capitalist
Li personifies some of the conflicts that came from the region's rise: Dubbed "Superman" by local media for his business acumen, he symbolizes inequality in a city with one of the most lopsided wealth demographics on the planet. He is a property developer who has won admiration for his entrepreneurial skills and a manager with companies so dominant that they often stifle smaller competition.
He also is an uber-capitalist who courted communist leaders. A major figure in China's emergence as an economic superpower, Li is the most prominent among a generation of Hong Kong tycoons who charged across the border after Deng Xiaoping and his successors promoted economic reforms. His investments in the mainland span across industries ranging from energy to retail and infrastructure.
Starting with some well-timed local property investments that cemented his wealth, Li built a business empire that included retail, energy, ports, telecommunications, media and biotechnology companies worldwide. Overseas, Li-controlled companies are among the biggest foreign investors in the U.K.
For many in Hong Kong, Li is a dealmaker and investment guru on par with the likes of Warren Buffett. Li's track record includes a $15 billion profit on the sale of his Orange mobile-phone unit in the U.K. to Germany's Mannesmann AG in 1999. He is a major investor in technology startups such as Facebook, Spotify and Siri. During public appearance, he'd routinely be asked for prognostications on stocks, the real estate market and the economy.
From Orange to Duet
Even toward the end of his career, he didn't slow down his dealmaking. In 2015, the mogul restructured his major holdings into two companies, one housing his property assets and the other holding the rest. He followed with the A$7.4 billion ($5.8 billion) takeover of Australian power provider Duet Group in 2017.
Li was born July 29, 1928 in Chaozhou, a city in southern China's Guangdong Province. His father was a school principal but the young Li's formal education stopped at high school as invading Japanese troops reached Guangdong. Fleeing war-torn China for Hong Kong in 1940, Li found factory work while also caring for his ailing father, who soon died from tuberculosis. By the time he was a teenager, Li was working 16 hours a day at a plastics trading company.
After the war, Li made his first fortune as a manufacturer of plastic flowers. His career as property mogul began in the late 1950s when, unable to renew his lease, he bought the site of his factory.
Political Connections
In the years to come, Li invested in local real estate as others sold, most notably in 1967, when riots inspired by Mao Zedong's Cultural Revolution in China rocked Hong Kong and sent property prices plunging.
His most symbolic coup as a businessman may have come in 1979, when he bought control of trading house Hutchison Whampoa from Hongkong and Shanghai Banking Corp. Li quietly negotiated with the bank, now called HSBC Holdings Plc, to buy Hutchison shares for less than half their book value. HSBC agreed and Li became the first person of Chinese origin to own one of the British-founded companies that had dominated the local economy since the colony's founding in 1841.
That reputation helped Li make inroads in China, where he mixed extensive political connections with financial interests. Li was a senior adviser to the Chinese government on Britain's 1997 handover of Hong Kong and served on the committee that drafted the Basic Law, the city's mini-constitution under Chinese rule.
16-Hour Workday
Close Chinese ties had their downside too, particularly in the U.S., as critics including former President Ronald Reagan's defense secretary to ex-Republican Senate leader Trent Lott voiced concerns about Li's relationship with China -- allegations denied by Li's camp. The concerns got real enough for a U.S. national security review to thwart Li's bid to buy part of Global Crossing Ltd., which operated a fixed-line communications network in North America, in 2003.
Li maintains an intense schedule well into his 80s, saying in a 2016 Bloomberg interview that he works as many as 16 hours daily, seven days a week. Long after he became a billionaire, Li wore a simple Seiko watch rather than a Rolex or other luxury brands preferred by his wealthy peers. In his 80s, he made a small upgrade to a Citizen that cost around $400, he told Bloomberg in 2016, but even then chose something simple and durable.
Li is no stranger to tragedy. His wife died in 1990 and his son Victor was kidnapped in 1996. The kidnapper was apprehended and executed in China.
Wrestling With Inequality
Then there was Hong Kong's inequality, which Li wrestled with during his latter years.
"If the government set policies through the emotive lens of populist sentiments, it might make you feel better, but not necessarily fare better," Li said in a 2014 interview with Chinese media group Caixin. "When a society is mired in discord, it will dent its economic vitality, which is hardly good for anyone."
In 2014, just days before the start of student-led democracy demonstrations in Hong Kong, he traveled to Beijing and met with President Xi Jinping. After the protests began, Li urged the students and their supporters to go home, saying their message had been heard.