The Write Stuff: 2 Friends Open a Stationery Store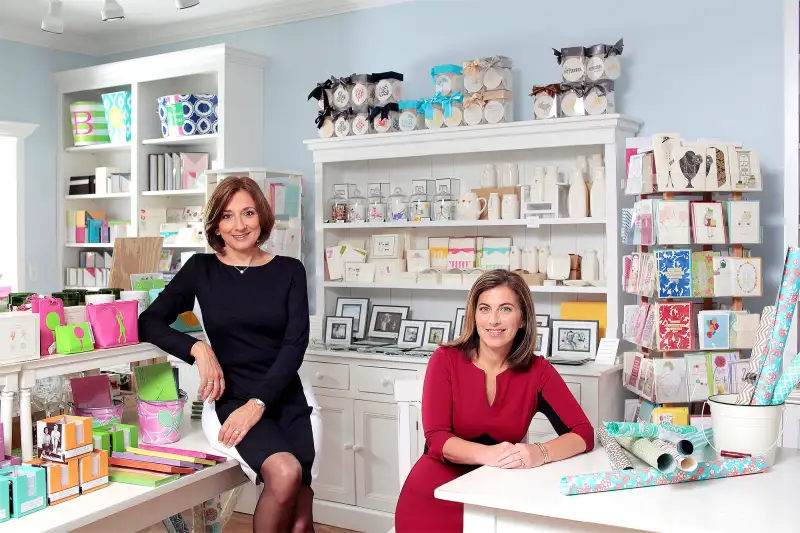 In 2007, Pittsburgh stay-at-home mom Evvy Diamond found herself getting itchy. With two of her three sons getting ready for college, she felt it was time for her to earn an income.
Meanwhile, her friend Amy Bass, a VP at a money-management firm, was hitting a midlife crisis: "As I approached 50, I decided I could no longer work for someone else. I needed to own something."
In time, the two friends' goals would align.
As Diamond pondered what to do, she recalled her love of notepaper. "Even as a child, I would save the last piece of stationery of every set because I didn't want to part with it," she says. Inspired, she bought a letterpress and tried her hand at designing cards.
Buoyed by the response from friends, Diamond rented a booth at the 2007 Stationery Show in New York, which landed her several small orders. Then she thought she got her big break: 5,000 cards for a prestigious New York shop. Only that $12,500 order was canceled before she got paid -- and she was left holding the cards. "I knew I could sell them, but it wasn't going to happen out of my garage."
Within weeks, she signed a lease for a small retail space nearby, and opened a boutique called Nota Bene to sell made-to-order stationery (her own and others'). Soon Bass began lending a hand after work, and Diamond quickly realized she needed her friend's business savvy. So they struck a deal: Bass invested $25,000 and signed on as full-time partner. "We're like two pieces of a puzzle," Diamond says.
The shop makes most of its revenue -- on track to be $500,000 this year -- from wedding invitations. But the women found a niche with in-house printing to personalize notecards from vendors like Crane and William Arthur. They've also begun stocking items like calendars and pottery, which get people in more regularly. "We found people were coming in for invitations and buying gifts," Bass says.
Nota Bene has plenty of online competition in these areas, but "people still want the personal connection," notes Diamond. Same goes for the owners. Bass says the greatest reward is when a satisfied client says, "Oh, my gosh, I need to give you a hug."
BY THE NUMBERS
Amount needed to start up: $20,000
Diamond's small initial investment went toward rent, paper, album samples, and fixing up the retail space. She tapped savings from sales generated by her home-based business, along with a line of credit and credit cards.
Pay Bass gave up to work for Nota Bene: Six figures
Bass and Diamond pay themselves $40,000 salaries and reinvest the rest of their profits. Both have working spouses, so aren't relying on their pay for groceries. That said, Bass says she's learned to budget more carefully.
Projected annual revenue growth for the next three years: 25%
Nota Bene's owners plan to expand their bridal business by marketing to wedding planners. Some brides spend $10,000 on invitations, programs, and thank-yous. "But we can also work with women who only have $500 to spend and make it feel special," says Diamond.