To Get Your Kid Into a Great College, Do These 7 Things This Summer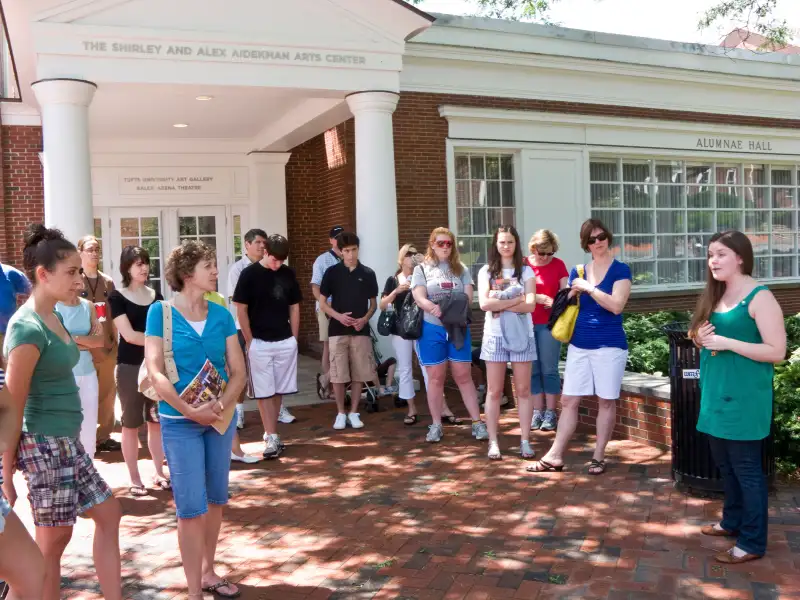 The sun is shining, the ice cream man is making his rounds, and the lucky pencils used for finals have been worked down to their nubs. It's officially summer, and the last thing your soon-to-be high school senior wants to do is scour college websites or draft application essays.
Still, a college applicant's greatest asset is time. So while most teens want to kick back and forget about school, here are seven ways you and they can use these sunny months to their admissions advantage:
1. Plan campus visits, actual or digital. Understanding which schools are a good fit for your child, beyond GPA and test scores, is paramount to admissions success. Getting a feel for any given institution can be as easy as walking the campus or diving into a school's website. An in-person visit is a great way to demonstrate interest, but if the thought of sitting in a car with a teenager for four hours listening to "Lemonade" on repeat is more than you can bear, a digital visit will often suffice.
Related: 6 Smart Ways to Save on College Tours
2. Solidify a recommendation strategy. Whether these requests are made now (ideally) or in September, start thinking about who should write your child's recommendations. Most students will need at least two. They should choose teachers who have seen them grow as much as succeed, and who can speak to different strengths and personality traits. While educators definitely deserve a summer break, a polite request sent over the summer is a good idea. (Just don't expect an immediate response!)
3. Comb through the activity résumé. It's your blessing and your curse: Parents remember everything. No matter how much children talk about their activities at the time, you'll recall the specific accomplishments that busy teens often forget. Encourage them to craft or update their résumés while this year's roster of activities is still fresh in their minds, then do a review for obvious omissions. Compiling this document helps applicants organize and prioritize their accomplishments, and creating succinct descriptions inspires them to contemplate achievements that can be expanded upon in supplements.
4. Familiarize yourself with the applications. The Common Application is allowing students to use last year's platform with the promise that all information will transfer over to the new one, live on August 1. Select sections of the new Coalition Application went live in May, and the rest of the application will follow in July. The UC application, which allows students to apply to the many schools in the University of California system, should be released shortly. Dig in now and help your child input your family history, income info, activities, and other basic details. It will be one less thing to do when the leaves turn and homework begins to pile up again.

5. Conquer the personal statement. I say "conquer" and not "start" because this daunting piece of the application can absolutely be completed—from brainstorming through the final polish—over the summer. Lucky for you (and your kid!), the personal statement prompts for the Common App and the Coalition are already out, and dovetail enough that students can write one essay (with minor tweaks) for both platforms. It can take weeks of mulling over topic options, freewriting, story sculpting, and editing to craft a winning essay. But while the personal statement is notoriously one of the toughest elements of the college application, all students can write one that is compelling and effective. The key ingredient is time.

NEWSLETTER: COLLEGE_PLANNERSign up for COLLEGE_PLANNER and more View Sample
6. Grind out those supplements. Most schools will wait until August or September to release their supplements, but you can expect many of them to ask why you want to go there, or what campus activities and communities you'd like to join. These pesky assignments add up fast. The more essays your child can tackle over the summer, the better. Start with early decision or early action contenders (which often have October 15 or November 1 deadlines) and move forward from there.
7. Research scholarships and financial aid. While many scholarship opportunities won't be announced until closer to the fall, it's never too early to start looking for opportunities to ease the financial burden of tuition. In your school research, you can also begin to pinpoint relevant financial aid and scholarship opportunities, help your child brainstorm for essays if the questions are already available, and gather the materials you need to fill in your FAFSA.
A few final tips: Tread lightly. Remember, this process belongs to the applicant—you are simply a guide. Seek help if you need it. There are plenty of online resources to help students and parents through the process, from school selection to essay writing. Also, consider buying your future college applicant a Mister Softee cone or two (extra sprinkles) as a reward for advance preparation. Any student who buckles down on the application process over the summer earns that much and then some.
Stacey Brook is a writer, admissions expert, and the founder and chief advisor of College Essay Advisors, an education company that offers online courses and in-person college essay advising to students around the world. Brook has over a decade's worth of experience and teaches the Supplemental Essay Writing course at nytEducation: The School of The New York Times. She has helped more than 1,000 students build lifelong writing skills while crafting compelling and effective admissions essays.