This 29-Year-Old CEO Got His Big Break by Cold Calling Stars Like Kevin Hart and Blake Griffin. Here's His Secret to Success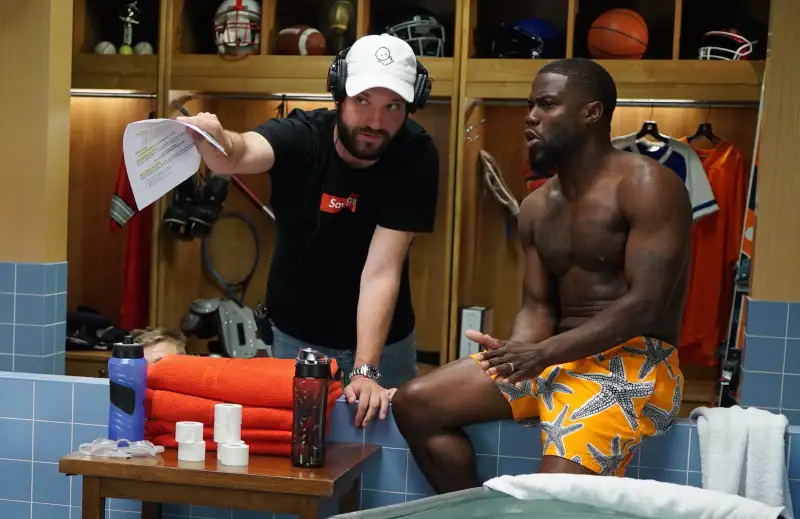 Entering the top echelon of Hollywood to work with major stars is hard enough when you're 30. But Michael D. Ratner, 29, has done it by looking at the business in an unconventional way.
The film school graduate is founder and CEO of OBB Pictures, a production company that specializes in quick, addictive digital videos, many of them sports-related. Recent clients include ESPN, Netflix, Verizon, and Vice, and its videos have featured the likes of Sean Penn, Kevin Hart, and NBA All-Star Blake Griffin. Its latest production, Historical Roasts, is a Netflix original series coming to the streaming giant next year and led by Comedy Central's Jeff Ross.
Ratner capitalized on his education, early opportunities, and an entrepreneurial spirit to become a power player in the digital entertainment world. He talked to Money about how he successfully cold-pitches celebrities, why he doesn't allow himself to get nervous, and what he tells people trying to build their own in-demand Hollywood startup.
Hustle Early and Hard
Ratner knew since he was a teen that he wanted to make movies and TV shows because they were "awesome," in his words. But there was one problem: He didn't know what that meant. Growing up in Long Island, New York, he made his way to an undergraduate education at the University of Pennsylvania in Philadelphia simply because it was the best school he was accepted at. After majoring in film, he took his next major step toward his career, studying filmmaking as a graduate student at New York University, where he met many of the people he still works with today.
A summer internship at Relativity Media became pivotal. The company, a movie studio that also operates as a sports agency, tasked the young talent with creating short-form content on a shoestring budget with its signed athletes. "They were two-to-three-minute videos going up on YouTube or Twitter around 2012, and these videos were getting millions of views. I took note of how crazy it was," Ratner says. (One, #WeartheHair, follows NBA star Chandler Parsons as his hairstyle is mimicked. It was featured on SportsNation, in the Wild Wild West days of viral online video.)
The path to a massive audience without the headaches of traditional production opened up. Relativity ended up offering Ratner a full-time executive job, but with his individualistic ambitions, he declined. Then after graduating from NYU, the company gave him a first-look deal, a kind of contract that allowed him to leverage the resources of Relativity to create what he wanted and get it out into the world.
After moving to Los Angeles, Ratner found his first slam-dunk idea. "We quickly got quite hot. I pitched a 30 for 30 [documentary for ESPN], Gonzo @ The Derby," he says. The short about the writer Hunter S. Thompson and the Kentucky Derby included an appearance from none other than Oscar winner Sean Penn.
Always Stay Cool
Relativity was soon enveloped in bankruptcy, at which point Ratner's deal with the company "lost its value," he says. "That's when I decided to spin out earlier than I would have. I started my own thing."
He took a leap of faith and formed OBB in 2014 with his brother Scott. Soon they sold The 5th Quarter, a mockumentary-style parody of 30 for 30, to Verizon's now-defunct go90 mobile video platform. "I knew they were spending lots of money so I pitched this idea. I said, 'I just directed a 30 for 30, and it did really well,'" Ratner says. He also relied on his background making a comedy film in graduate school that ended up screening at the Tribeca Film Festival, The 30-Year-Old Bris, to close the deal.
Whether pitching old-timer ESPN execs or an A-list comedian, the process doesn't change much for Ratner. "It comes down to a couple things: doing your homework prior and then relatability. I still think this is a people business. People want to work with people they like," he says. Ratner does the same thing for everyone he's pitching: look them up, figure out what they've done in the past, and then find their interests.
While putting together The 5th Quarter, Ratner knew he had to cast a mega-famous athlete. Relying on his connections from past work, he didn't waste any time.
"I cold-called Blake Griffin. I got in touch with him because I had seen his Kia commercials, and I knew he was looking to do more comedy. I pitched him two different episode ideas," Ratner says. The one Griffin ultimately agreed to sends up the story of Danny Almonte, a baseball player who turned out to be too old to play Little League, but in the basketball realm.
"I confidently pitched him the idea over the phone. I knew I had like 60 seconds. He was like, 'The one about the little boy is funny. I'll do that,'" Ratner says. When asked if he was anxious about the prospect of failing to convince an active NBA legend, he says, "I didn't let my head get there. I was just laser-focused on making it happen. I just don't let that self-doubt creep in."
Keep Changing Things Up
The fast-talking Ratner knows how to strike at the right moment, in part because he seems unable to stay still. Following his go90 deal, he and the small OBB staff linked up with Lionsgate and Kevin Hart's LOL digital network. Ratner pitched an idea for Hart himself to interview top athletes while they sit in ice baths, the joke being that a squirming Hart is far more uncomfortable than the people he's interrogating.
Ratner should have been the uncomfortable one, presenting to a top-level comedian when he had primarily worked with athletes. But he found his way in. "I knew [Hart] was a huge Sixers fan," Ratner says. So he tailored his pitch, discussing the possibility of a shoot with a player and Hart loved it. The resulting show, Cold as Balls, is without a doubt Ratner's most popular creation, he says, having reached "well over 100 million viewers."
Cold as Balls, now in season two, couldn't have happened without everything that came before it. But OBB is still hungrily expanding. While it's known for its sports-related content, Ratner says the company is expanding into everything from horror to music and beyond.
And apparently it's working. "We've been profitable the past couple years, and revenue has grown dramatically," Ratner says. (He and the company won't disclose exact revenue figures.)
All It Takes Is a Single Yes
So how does one sign A-list stars when they're still in their 20s? It helps, Ratner advises, if you believe in yourself more than most people around you.
"You'll hear 'no' more than 'yes' in a pitch room," he says. "It can be really demoralizing. But it only takes one yes to ultimately get a show on the air or to get some recognition. It's weird, but in our business, if you get one person out of 100 to say yes, you're going to have a good career."
There is one other secret to Ratner's process: Sometimes it's worth shutting up.
"Less is more," he says. "You have this big idea in your head, you try to explain everything in five minutes. If you try to get it all in there, you're going to miss things you're going to sort of jumble your words. My advice is: cleanly deliver the overarching idea, and keep them wanting more."