The 50 Best Places to Work, According to LinkedIn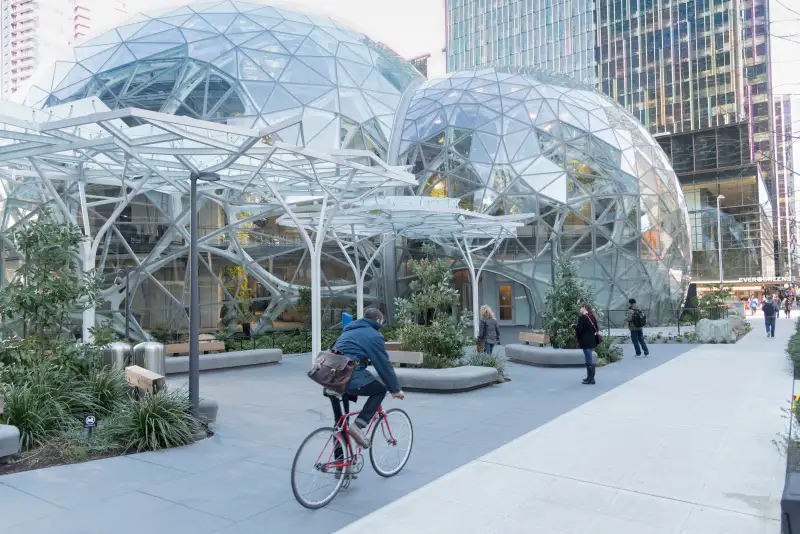 As Amazon continues to expand its reach into just about every part of people's lives, it's also become the most desirable place to work.
LinkedIn just released its third annual list of the top companies to work for, and Amazon hit No. 1 for the 2018 ranking, toppling former leader Alphabet (Google's holding company). The employment-related site sorted through data from its 546 million users around the world to come up with the selections.
"We look at the actions of professionals, what people are doing, the jobs that are really sought after these days, rather than just what they're saying," LinkedIn news editor Laura Lorenzetti says.
While she notes that all the top employers are extremely close, Amazon's ascent seems to reflect employees' drive for purpose in what they do every day, as opposed to simply a hope for lucrative pay and lavish perks.
"Amazon is willing to innovate in big ways and take risks," Lorenzetti says. "We heard over and over [from job seekers] that they really want to make a difference. They want to see their work come to life."
That's not to say perks don't matter. One of the intriguing patterns in LinkedIn's 2018 list involves companies that are trying to offer new, enticing possibilities for health care to employees. Amazon and JPMorgan Chase & Co. (No. 18) recently partnered with Berkshire Hathaway to develop a company that aims to cut enormous costs and burdens in health coverage for their staffs. Apple (No. 6) is launching medical clinics to deliver exceptional coverage for its workers.
And then there are the more fun extras, like Alphabet's newest offices that offer sky-high dog parks, indoor fire pits, and bouldering walls. Or Tesla's carpool program, which allows staff to drive a coveted Tesla to work and then hang onto it for the weekend.
Here are all the 2018 LinkedIn Top Companies ranked below. For more details on the specific companies in the top 50, click here. And, thinking about applying for a gig? You better get your LinkedIn profile in shape.
Amazon
Alphabet
Facebook
Salesforce
Tesla Motors
Apple
Comcast NBCUniversal
The Walt Disney Company
Oracle
Netflix
Spotify
Uber
McKinsey & Company
Adobe
Airbnb
Time Warner
Dell Technologies
JPMorgan Chase & Co.
LVMH
IBM
Samsung Electronics
Deloitte
Verizon
Goldman Sachs
PwC
Boston Consulting Group
Live Nation
Morgan Stanley
EY
Stryker
Cisco
Dropbox
National Basketball Association
Accenture
Nike
WeWork
Citadel
Kering
National Football League
Square
ADP
Capital One
Twitter
Box
Johnson & Johnson
Starbucks
PepsiCo
JLL
Tableau Software
Abbott