What It's REALLY Like to Work at Trader Joe's, According to Former Employees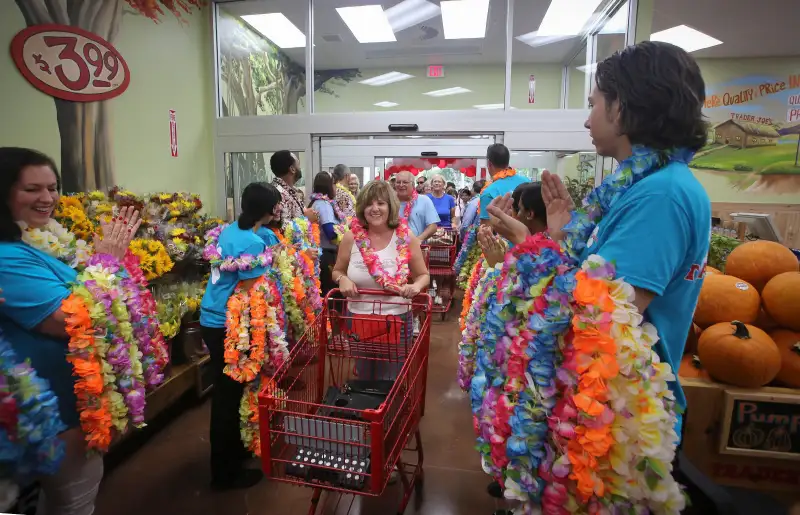 Bruce R. Bennett/The Palm Beach Post/ZUMA Wire—Alamy
When you work at a Trader Joe's, you have to smile. A lot.
Iveta Linnell, 36, appreciated the "positive environment" of being an employee at the supermarket chain more than anything else. She was a crew member for five years at a Cape Cod, Massachusetts, location before leaving about a year ago to pursue a career as a registered nurse.
"Trader Joe's is Trader Joe's because of the kind of people they hire. They're mostly hardworking, and it really shows," Linnell said. "They're helpful, smiling, and enjoying their jobs. They have a great group of people."
But Mario, another former Trader Joe's crew member who worked in its bustling Union Square location in Manhattan with an adjoining wine store, had a more mixed reaction. His duties included "smiling too much," he said. Mario, who also quit about a year ago, did not want his last name published so as not to harm his relationship with the company.
"There are people you work with who want to make a difference in someone's day at the market and then there are people who cringe at the idea that they have to find three bottles of coconut almond milk for an upset millennial," he said. While he added that the in-store work culture "ranges," he was struck by "how overwhelmingly nice most people I worked with were."
"What I always heard the most often [from customers] was, 'Oh, everybody's so helpful here,'" Linnell laughed. "That was the No. 1 comment."
Why people love working at Trader Joe's
Trader Joe's has a glowing reputation, and not just among its loyal customers who seek out the store's cheaper prices on everything from olive oil to snacks. It's known as an exceptionally generous company for employees. It ranked No. 70 on the job site Glassdoor's list of the 100 best places to work in 2018. Reviews from current and former employees tout Trader Joe's solid pay as well as health insurance and retirement benefits that are available even to part-time crew members. Crew on average have the potential to receive a 7-10% annual increase in salary, according to the company, and get a 10% discount on all products in the stores.
Both Linnell and Mario found that Trader Joe's lived up to its image of offering relatively comfortable compensation and benefits. "I was fortunate to have a job that could give me a stable income so I could start my life here in New York City," Mario, who had previously worked service gigs at delis and fast-food restaurants, said. "To get health insurance and a paycheck at the same time was perfect for someone like me."
Michael Nagle—Getty Images.
'I felt appreciated and supported'
The advantages of a job at a Trader Joe's can extend far beyond straightforward matters of pay and benefits, however. Linnell, who immigrated from the Czech Republic 14 years ago, felt that the experience was transformative in her time living in the United States. She'd previously worked in a convenience store, cleaning hotels, food service, landscaping, and promoting. Or as she puts it, "I did it almost all."
"I have not one bad thing to say about it," she said of the Trader Joe's job. "Honestly it's been like the only job in America, and I've worked a lot of jobs, where I felt appreciated and supported."
The work of a Trader Joe's crew member—as opposed to a supervisor, known as a "mate" in the company lingo, or a store manager, known as a "captain,"—is structured in a way that allows for variety. Employees rotate all tasks across a store, from running cash registers to stocking shelves and cleaning. "It's perfect because it breaks down your shift. You don't get tired doing one repetitive thing," Linnell said.
'Strong friendships' that last
What might surprise the casual Trader Joe's shopper is how tight-knit the staff is behind the scenes. Employees come from widely different age groups and backgrounds, according to Linnell, though that doesn't stop them from having conversations or forming bonds. She frequently went out with coworkers after afternoon shifts for a drink, and over her time, made "strong friendships" she continues to this day.
"When I changed my career [to nursing], I still remained working at Trader Joe's just for the social aspect," Linnell said. She continued working there part-time for another year and even after that picked up a shift during one summer.
Madeline Gray/The Palm Beach Post/Zuma Press, Inc
A rigid organizational structure
Not every Trader Joe's employee, of course, feels the same kind of warmth there. Mario made friends working at his store, but regarded the social atmosphere as a "bubble" that was constraining on his other ambitions.
"Many young people, especially those in college, plan their lives around work, not just their work schedule. You see people living with coworkers, dating, marrying even," he said of Trader Joe's staff. "But it can be easy to get swept up in the company culture."
And while the atmosphere might seem outwardly friendly, "You can't have too many independent ideas for improvement, unless you want to become manager," Mario noted. One Glassdoor review similarly comments that a con of working at Trader Joe's is "not being able to make effective change to organizational structure." Other reviews complain about inflexibility in scheduling and difficult managers, both of which Mario observed.
"It is a practice of ours to be flexible with our crew members... It benefits us to make sure our crew members are happy," said Trader Joe's PR director Kenya Friend-Daniel, adding that needs for individual stores differ and that she could not comment on any one case without knowing the specifics of the situation.
Managers who make six-figure salaries
If you do find yourself liking a job at Trader Joe's, it can become an exceedingly stable career. The company is committed to promoting from within its ranks, and captains can make around $100,000 a year, according to Mario and Glassdoor's data. (The average hourly pay for a crew member is listed at $13.87 on Glassdoor; Trader Joe's said it does not comment on salaries.)
But as with any job, it's not for everyone.
"I started thinking bigger for myself," Mario said, unless you want to move up to a managerial position. "[It wasn't] a life for me."